GARDEN BY THE BAY, Interior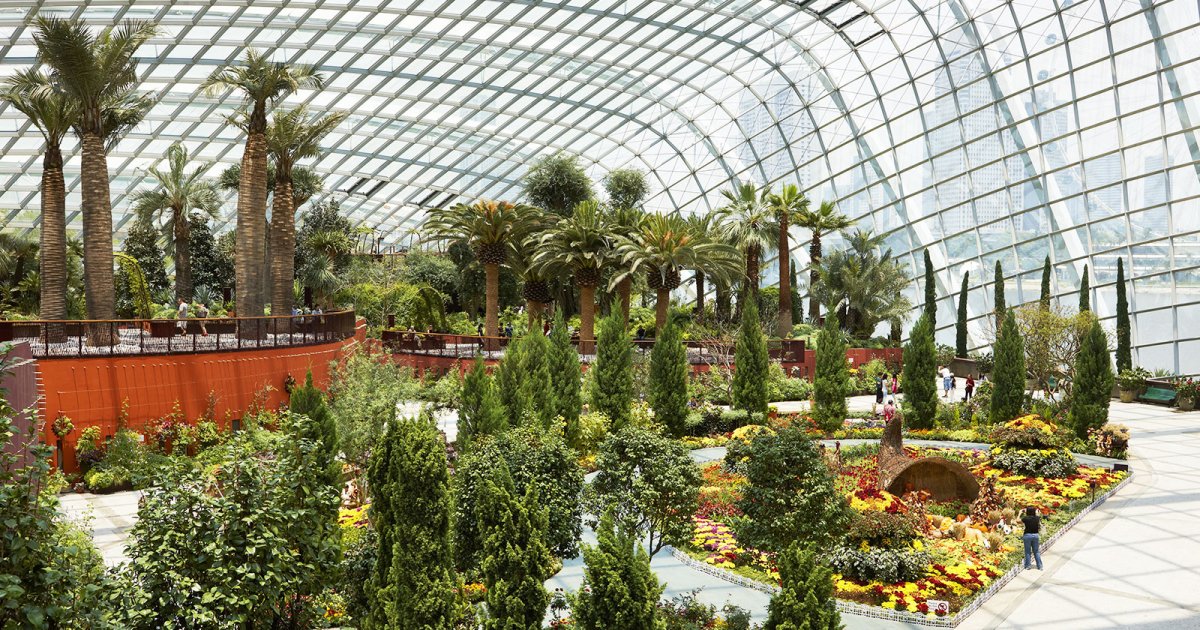 Audio File length: 2.23

Language: English / USA
At whatever point you enter the park, you're sure to be struck by the Supertrees, the tree-shaped, man-made structures between 25 and 50 meters high that dominate the Gardens. But what purpose do they serve, you might be wondering? As you can see, they are vertical gardens with unique, exotic ferns, vines and orchids, but they also perform a wide range of other functions. They are equipped with environmental technology that mimics the ecological functions of real trees, so they absorb solar energy, just as occurs naturally with photosynthesis, and they also collect rainwater and regulate irrigation.
You'll find supertrees everywhere here, including in the greenhouses, where they draw in and release air to cool the inside temperature.
Gardens by the Bay has two large greenhouses along the seafront: the Flower Dome and the Cloud Forest. Both designed by Wilkinson Eyre, they are intended to showcase eco-sustainable technology, and are architectural masterpieces. The roofs of both the greenhouses stand without the support of columns, and they also collect rainwater and distribute it through the supertrees.
The Flower Dome is the largest glass greenhouse in the world, and reproduces a mild, dry climate, suitable for plants from the Mediterranean, Australia, South America and South Africa. Inside, it is divided into seven different "gardens", and there is even an entire olive grove.
The taller of the two, the Cloud Forest, will carry you off into the cool, humid conditions of the tropical mountain regions between 1,000 and 3,000 meters. Inside, you can admire the spectacular, 42-meter-tall "Cloud Mountain", completely covered with orchids, ferns and moss. You can take an elevator up to the top and then walk back down the winding path. A 35-meter-high waterfall cools the environment just enough for the plants.
An interesting fact: every day, at 7.45 p.m. and 8.45 p.m., the Supertrees come alive in a marvelous show of light and music called OCBC Garden Rhapsody.
Our visit to the Gardens by the Bay ends here. MyWoWo would like to thank you - see you again at another Wonder of the World!