GARDEN BY THE BAY, Introduction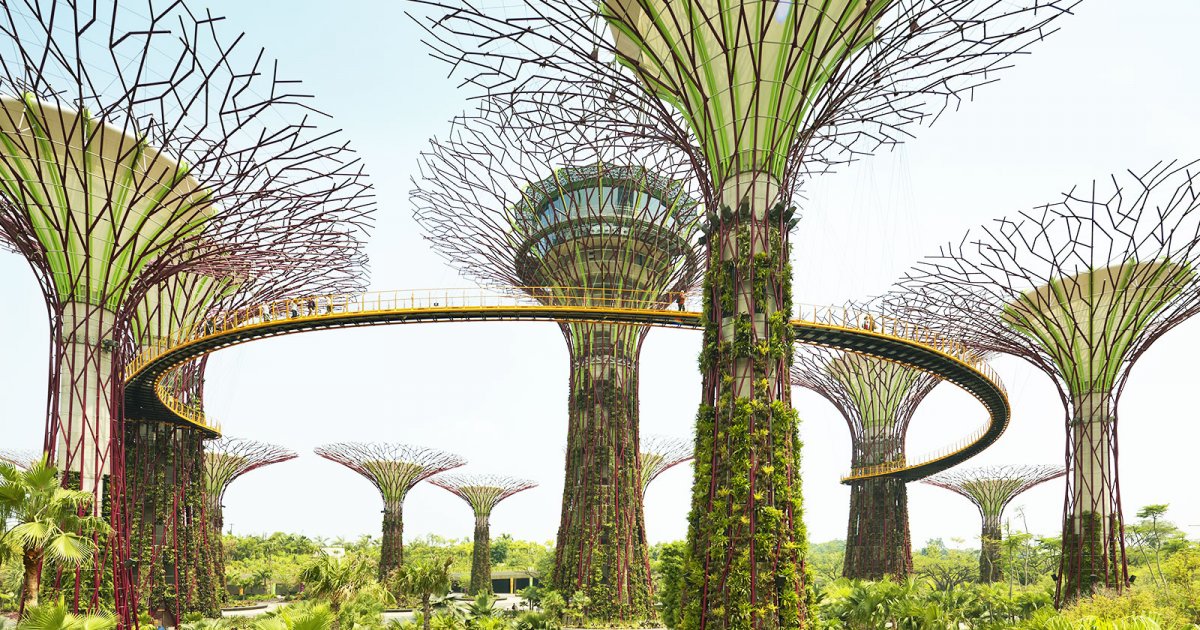 Audio File length: 2.12

Language: English / USA
Hi, my name's Scott, and I'm your personal guide. Along with MyWoWo, I'd like to welcome you to one of the Wonders of the World: Gardens by the Bay.
Gardens by the Bay is an ultra-high-tech natural park spread over a square kilometer and looking onto Marina Bay, in the center of Singapore, featuring sci-fi biospheres, huge greenhouses, bizarre sculptures and the famous Supertrees: artificial, high-tech mushroom-shaped trees.
Over six million tourists a year visit the three splendid gardens that make up the park: Bay South Garden, Bay East Garden and Bay Central Garden.
Bay South Garden, opened to the public on June 29, 2012, is the largest of the three, and its aim is to show off tropical horticulture and the art of gardening.
The design of the garden was inspired by an orchid, a symbol of the tropics and of Singapore. The Vanda Miss Joaquim orchid is the country's national flower.
The imaginary orchid can be seen along the seafront, in the enormous greenhouses, resembling petals, while the pattern on the ground reproduces the shape of the leaves, the paths and roads running through the flowers and plants represent the blossoms and the water pipes and communication lines the roots.
The Bay East Garden looks onto the bay for two kilometers, bordering on the Marina. It is conceived as a series of large tropical gardens in the shape of a leaf, each with its own specific landscape design, character and theme.
The Bay Central Garden was created as a link between the other two, and offers a truly delightful three-kilometer walk along the waterfront.
I suggest you take a stroll along the park's OCBC Skyway, a long walkway that offers breath-taking views of the gardens and the city.
An interesting fact: the park is continually under construction, and that is an irrigation system in the pipeline along the seafront aligned with the direction of the wind, so that the wind itself can carry the sprayed water on the gardens to cool them.