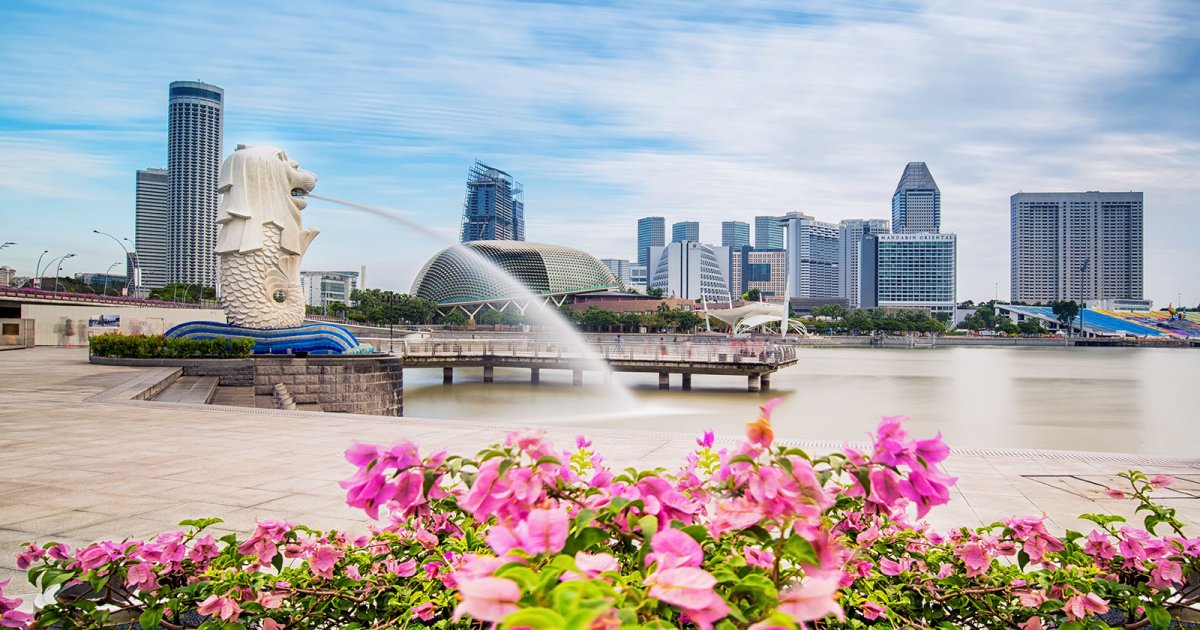 Audio File length: 2.34

Language: English / USA
At the foot of the Helix Bridge is Merlion Park, a Singapore landmark and an important tourist attraction, visited by over a million tourists every year.
The park, which covers an area of 2,500 square meters, was designed by the Singapore Tourism Board in 1964, but was not opened until September 15, 1972.
It owes its name – and fame – to the original statue of the Merlion, a mythical creature with the head of a lion and the body of a fish, the mascot and the national personification and emblem of Singapore.
The name Merlion is formed by "mer", i.e. sea, and "lion". The body represents the origin of Singapore as a fishing village, known as Temasek, meaning "sea town" in Javanese, while the head is a reference to the original name of Singapore: Singapura, meaning "lion city".
The Merlion was created by Alec Fraser-Brunner, a member of the Souvenir Committee, for the logo of the Singapore Tourism Board, and it was used since March 26, 1964. Although the Singapore Tourism Board changed its logo in 1997, the Merlion is still officially the symbol of the city.
The Merlion statue, which was initially placed at the mouth of the Singapore River, was sculpted by Lim Nang Seng between November 1971 and August 1972. It is 8.6 meters high, weighs 70 tons, and is also used as a fountain.
Merlion Park was officially opened during the ceremony for the installation of the statue, officiated by the then Prime Minister, Lee Kuan Yew.
Don't be surprised, however, when you see two Merlion statues in the park; after the first one was placed there, a smaller one, just about two meters tall, was added. Other statues can be found around the city, while on the island of Sentosa there is a gigantic 37-meter-tall copy of the Merlion!
Let me leave you with an interesting fact: on Saturday, February 28, 2009, at 4.26 p.m., the Merlion statue was seriously damaged and had to be restored. You know what caused the damage? A bolt of lightning, so powerful that it broke the statue in several places.