SRI VEERAMAKALIAMMAN TEMPLE, Introduction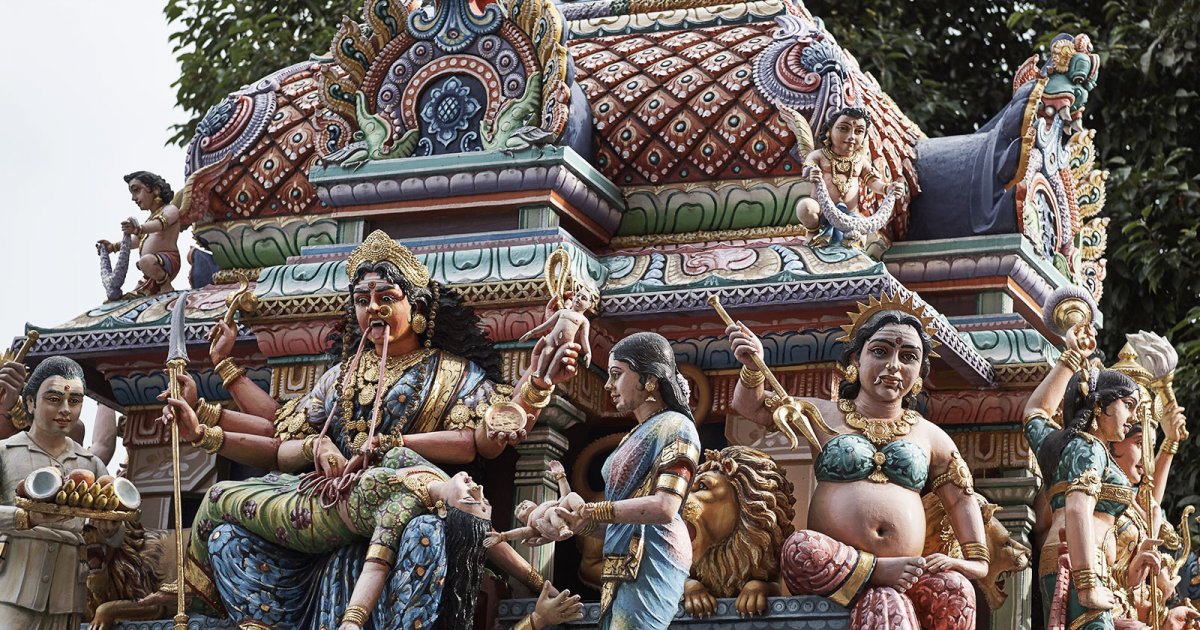 Audio File length: 2.27

Language: English / USA
Hi, my name's Marcy, and I'm your personal guide. Along with MyWoWo, I'd like to welcome you to one of the Wonders of the World: the Sri Veeramakaliamman Temple, one of the oldest temples in Singapore.
Built in 1881 by Indian pioneers who came to work and live here in the 19th century, the temple was the first to be built in the Serangoon area, the Indian neighborhood, and it acquired a central role in the cultural and social life of the city's Hindu community. At that time, there were some 13,000 Indians in Singapore, many of whom lived here in the Serangoon area.
The most colorful, striking temple in Singapore, it is dedicated to the fierce goddess Kali, depicted with a garland of skulls, who tears out the guts of her victims, yet also spends moments of peace and tranquility with her sons Ganesh and Murugan.
The choice of the goddess Kali as the main deity of the temple is significant. Considered a powerful goddess and a destroyer of evil, her presence here was a response to the acutely felt need of migrants to feel safe in a new land.
It seems that worship initially took place in a small shrine with carvings and inscriptions around a clay statue of an angry Sri Kaliamman, i.e. the goddess Kali, triumphing over evil. Over the years, further sanctuaries and rooms were added, expanding the temple considerably. In 1908, a statue of the goddess was ordered from India for the central shrine. In the same year, a shrine was also built to the goddess Sri Periyachi Amman, protector of children, and others were added over the years.
In October 1983, the temple was expanded again, and reconstructed with its characteristic front tower, eight main cupolas and many other smaller ones.
The style of the temple is in keeping with the Tamil temples in the South of India, in contrast with the style of the Indian temples in the north-east of Bengal, where the cult of the goddess Kali is extremely widespread.
Let me leave you with an interesting fact: for many years, the temple was also called "Soonambu Kambam Kovil", i.e. the temple of the village of lime, because many Indians who frequented the temple worked in the lime kilns in the area.