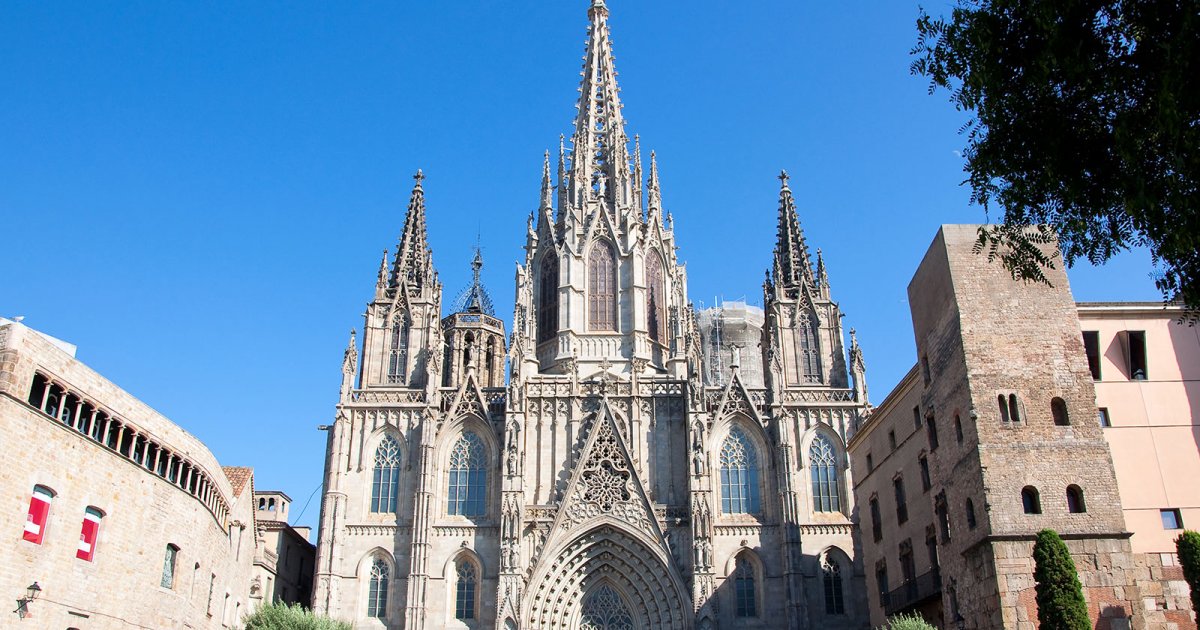 Audio File length: 2.26
Author: STEFANO ZUFFI E DAVIDE TORTORELLA

Language: English / USA
You're now standing in Plaça de la Seu in front of the Cathedral's main façade located atop a large staircase.
Like I mentioned, the Cathedral of Barcelona was only completed at the end of the 1800s, but has always been based on the original project of the 1400s.
You'll firstly notice that the construction style is varied and light, and quite different from the severe Catalan Gothic style that prevails in the rest of the Quarter: it seems to be closer to the taste of French Gothic cathedrals or Northern European Gothic ones. As you can see, the façade is made of perforated stone reliefs with large vertical buttresses that divide it into five sections, with the main portal in the center. The façade is crowned atop by three towers richly decorated with ornamental sculptures: the central tower reaches a height of 70 meters.
The main portal is set back and is quite opulent. Note also how the triangular upper element accentuates its solemnity. Keep in mind that prior to the completion of the nineteenth-century façade, the Cathedral was accessed from the left side, using the door of St. Ivo (Sant Iu) that's crowned by a pointed arch typical of Catalan Gothic style. This is the cathedral's most beautiful and oldest door, and you should immediately go see it while walking around the Cathedral's exterior along Carrer dels Comtes: pay special attention to the symbolic sculptures depicting the struggle between good and evil. The statue up high depicts St. Ivo.
Continuing along the side, after the corner tower near Plaça del Rei go along the back of the Church, which was completed in the second half of the 1300s in the same French Gothic style, full of windows with pointed arches, spires, and sculptures.
Continuing clockwise you'll reach the cloister wall, along which the Portal of Piety and the Portal of Saint Eulalia lie, also both in Gothic style. Shortly after you'll pass in front of the portal of the Chapel of Saint Lucia, with geometric sculptures and scenes from the life of Mary.
You're back in front of the façade again and you can now go inside the Cathedral.
FUN FACT: in addition to the patron of lawyers, St. Ivo is also the protector of the Flanders, which is where the workers engaged in the Cathedral's construction came from.