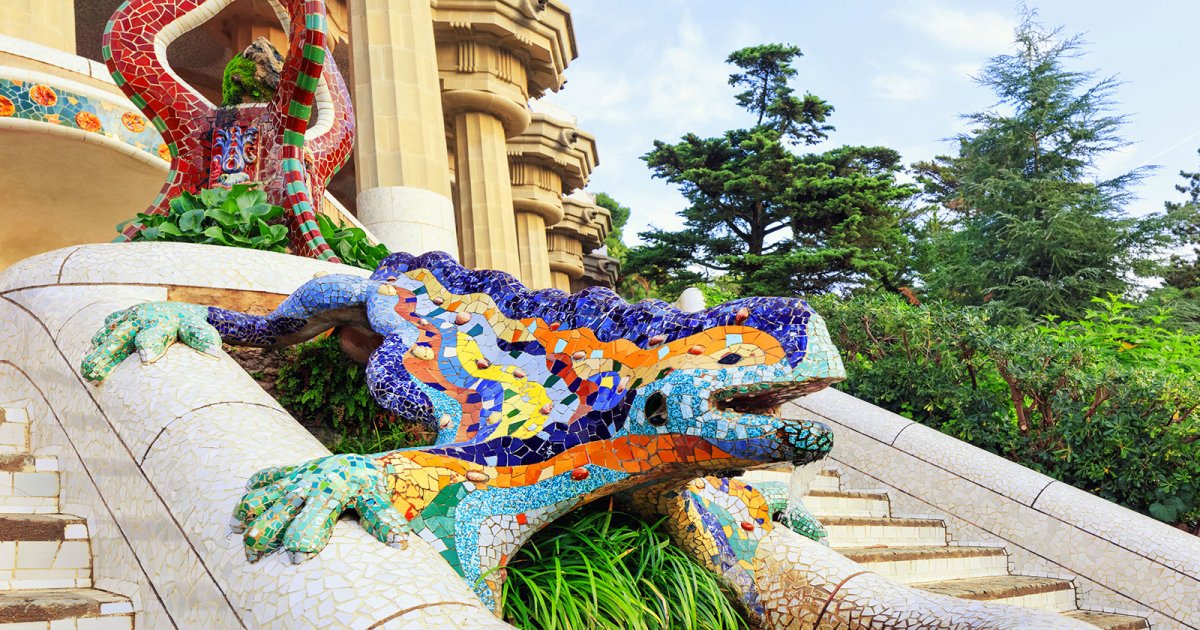 Audio File length: 2.29
Author: STEFANO ZUFFI E DAVIDE TORTORELLA

Language: English / USA
If you're wondering why the park is built on a slope, you should know that Gaudí himself did not want to level it. In fact, thanks to careful water collection and pipe work, he managed to transform this arid and inhospitable area into a paradise of vegetation! Some of the park's most absurd displays, like the sculpture of the happy salamander, hide valves and faucets.
The name of the park written out in colored ceramic tiles welcomes you from the entry gate. To the right and left you can see the only two buildings that were actually built: the sample villa and the caretaker's house with a strange roof with pinnacles.
And now begin to climb the long staircase that leads you to the top of the hill, where you'll find the park's symbol: a nice, smiling salamander covered with fragments of colorful ceramic tiles.
Color abounds in this park: Gaudí has covered all of its structures with lively majolica tiles, giving the complex a fairy-tale like appearance. Highly ahead of the times, the architect worked with recycled materials: he reclaimed the processing waste from an industrial ceramic factory's dumpsite and turned it into bizarre mosaics that became the distinguishing feature of his art.
The building that you can see at the top of the staircase with a cupola ceiling is called the "Temple of a Hundred Columns", even though there are only 86. As you can see, it is a mixture of Greek architecture and liberty decorations, with concrete stalactites hanging from the ceilings and walls that look like rocks, reminding you of Gaudí's passion for nature. Here and there, instead of a column, you'll note a ceramic rosette.
But going over sloping and covered passages carved into the slope and supported by spiral columns, you can go up even higher! You'll finally reach the large terrace crowned by a balustrade-bench, a continuous wave that envelops and welcomes you, offering up the famous view of Barcelona and the spires of the Sagrada Familia.
In the small villa at the park's entrance you'll find the Gaudí House-Museum, where besides projects and paintings you can admire the original furnishings of his bedroom and studio.
FUN FACT: Gaudí was nicknamed the Architect of God because he especially wanted to build works that let man and God communicate.
And with this we have finished our tour of Güell Park. MyWoWo thanks you for staying with us, and will see you at the next Wonder of the World!