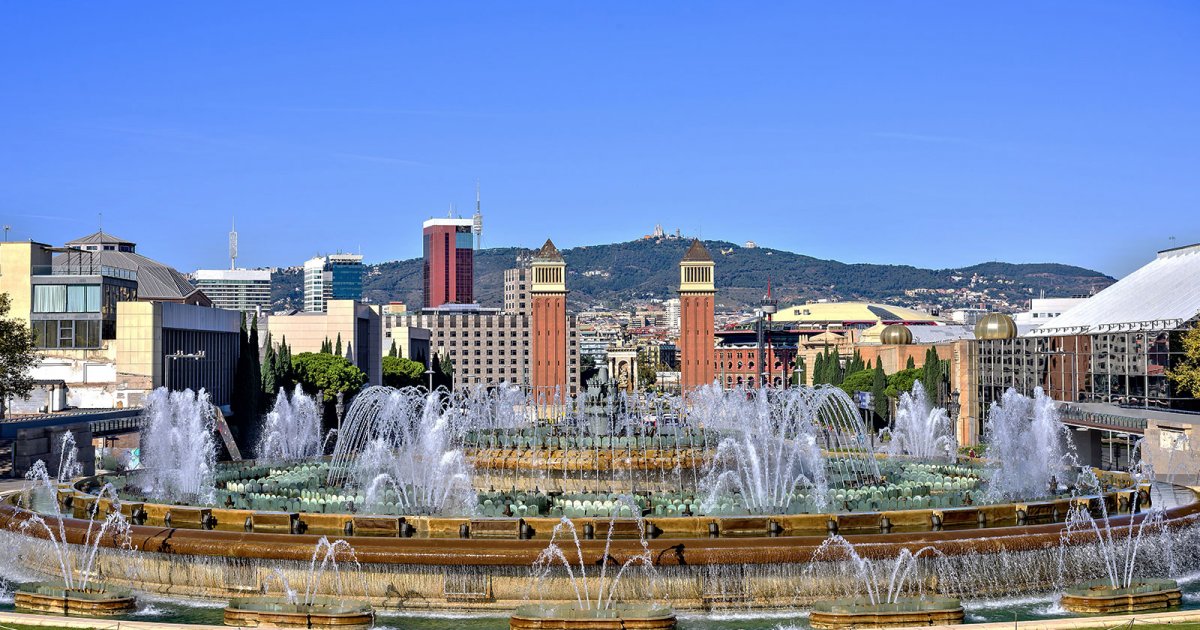 Audio File length: 2.05
Author: STEFANO ZUFFI E DAVIDE TORTORELLA

Language: English / USA
Let yourself be enchanted by its colorful jets of water and the wonderful sounds accompanying them: this fountain is universally recognized as magic! The font màgica is ready to amaze you, so get as close as you can and make some room for yourself amidst all the people who often gather in great numbers to wait for the show.
The fountain marks the beginning of the path to Montjuïc Hill, along the stretch of Avinguda de la Reina Maria Cristina, and is dominated by the imposing mass of the Palau Nacional, the seat of the Museu Nacional d'Art de Catalunya, whose façade proudly stands on the steps holding the fountain.
The spectacular fountain was designed for the Universal Expo of 1929. It took over 3,000 men close to a year to build it, in a real race against time.
This elliptical fountain is ready to delight you with the water show it puts on during various evenings depending on the season: in June, July, and August it's from Thursday to Sunday, and the rest of the year only on Fridays and Saturdays. About every 30 minutes, a fan of colored lights rises towards the sky of Barcelona and the water is colored like an enchanted spell with musical accompaniment.
Every movement of water is based on different color combinations that have been designed according to the show's soundtrack, which ranges from classical music to the most popular pop songs of recent times. Among the latter, a special mention goes to Barcelona, written and performed by Freddie Mercury, the leader of the rock band Queen, together with the opera singer Montserrat Caballé. After having watched the show, you won't be able to hear this piece without thinking about the magical fountain of Montjuïc.
FUN FACT: as you can imagine, water is precious in an arid country like Spain. But after the Catalan Government issued an anti-drought decree in 2008, the Font Màgica implemented a recirculation system to avoid wasting even a drop of valuable drinking water.