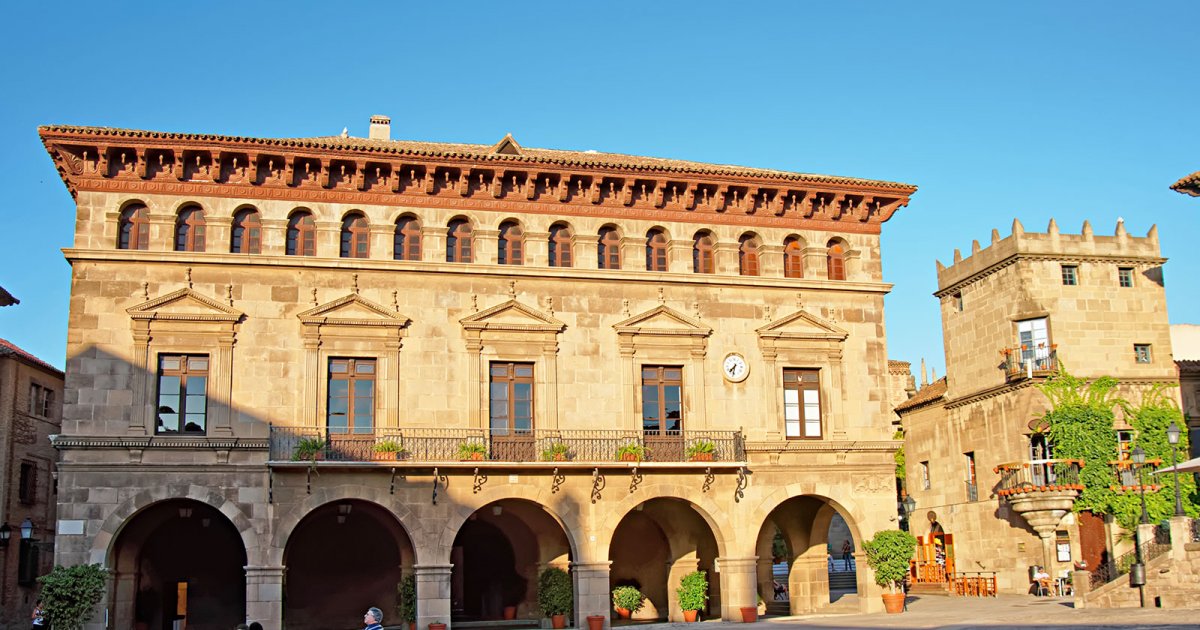 Audio File length: 2.39
Author: STEFANO ZUFFI E DAVIDE TORTORELLA

Language: English / USA
This "Spanish village" built on an area of about 49 thousand square meters offers a view of 117 monuments and buildings that have been reproduced in scale, and not reduced, from the 15 regions of Spain. This real architectural museum was created in 1929 to showcase the variety of the country's building styles for the Universal Exposition.
In this miniature Spain known as Poble Espanyol, you can stroll between the white and narrow streets of Andalusia, admire the stone houses and towers of Aragon, observe examples of pre-Romanesque art in Asturias, or visit a Catalan Romanesque monastery.
Enter through the Puerta de San Vicente, a copy of the one found in the walls of the Castilian city Ávila, and you'll find yourself in Plaça Castellana. This area is dedicated to the mid-west regions, especially Extremadura, with reconstructions of the elegant palaces in Cáceres and Plasencia.
Plaça Mayor offers the opportunity to admire buildings from different regions, from Asturias to Cantabria, from Castilla and León to Aragon.
Once you've gone down Calle de Alcalde Zalamea, go up the staircase of St. James, which is the exact copy of the one built in Santiago de Compostela. This area is dedicated to Galicia, a community in northwestern Spain. And on this path you'll reach the gracious Placeta de la Iglesia and, moving on, Plaça Aragonesa. Here you can admire the beautiful bell tower of Utebo, which is the perfect fusion of late Gothic style and the art of the Arabs in the Iberian land, the so-called mudéjar.
Walk behind the bell tower and you're suddenly in Andalusia, in Plaça de la Hermandad, with bright, white buildings decorated with climbing vines that make you feel the heat and light of Spain's south. Take Calle de Levante and you'll emerge in Plaça de la Font, whose buildings represent the Catalan provinces. Behind the square you'll find the sculpture garden.
After visiting Poble Espanyol, I'd like to remind you that nearby you'll find the Fundació Fran Daurel, where you can admire the works of Miró, Dalí, and Picasso.
FUN FACT: just like the Eiffel Tower in Paris, this miniature Spain was built to last only six months and then be destroyed. But it was such a success that it is still standing after almost 90 years!
And with this we have finished our tour of Montjuïc Hill. MyWoWo thanks you for staying with us, and will see you at the next Wonder of the World!