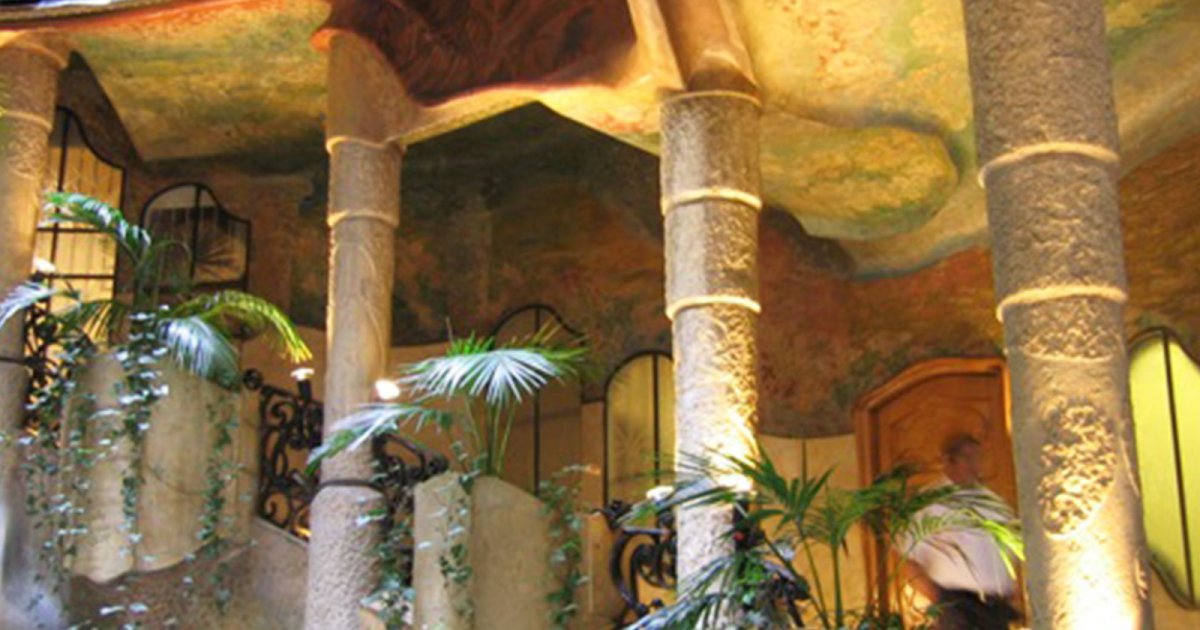 Audio File length: 2.39
Author: STEFANO ZUFFI E DAVIDE TORTORELLA

Language: English / USA
If you are amazed by the sinuous waves of Pedrera's façade, just wait until you see the interior, where there isn't a single straight line! The visitors' entrance is on Carrer Provença. Unfortunately, since the Caixa Catalunya bank bought the building in 1986, the only spaces open to the public are the roof terrace, the Espai Gaudí, an apartment, and the exhibition halls.
The interior is built around two separate courtyards, one circular and one oval. You can take the elevator and start your visit from the apartment, which is divided into two units on the fourth floor of the building. The first shows a video about the social and architectural history of the city in the 1910s and 20s. The second unit takes you on a trip through time, and you find yourself in the home of a bourgeois family of the early 1930s with original elements and period furnishings.
In some of Pedrera's details you can also admire a decoration technique called "trencadís", which means "handful". You should know that at the end of the 1800s it was customary to insert scintillating ceramic fragments into the mortar of Catalan building's coatings. This type of decoration was usually done very slowly, but one day while visiting a colleague's workshop, Gaudí tried to break a tile and throw the fragments in "handfuls". Some famous examples of this lucky invention are the façade of Casa Battllò and the cheerful salamander on the fountain at the entrance of Güell Park.
Now go to the attic, which is home to "Espai Gaudí" and offers a retrospective dedicated to the master, showing other examples of his typical nature-inspired architecture. I absolutely recommend taking a walk on the terrace, both to enjoy the coming and going on Passeig de Gracia, and to admire the line of chimneys towering on the roof, which can also be admired from a series of staircases.
Before going back down to the first floor, stop to observe the sculptural decorations of the staircase and the patterns formed by the woven lines in the wrought iron hand rails.
FUN FACT: Casa Milà's roof has been called an outer-space garage and an alien runway... so much so that director George Lucas took inspiration from Pedrera's chimneys for the soldiers' costumes in his Star Wars movies.
And with this we have finished our tour of Casa Milà. MyWoWo thanks you for staying with us, and will see you at the next Wonder of the World!