PLAÇA DEL REI, History Museum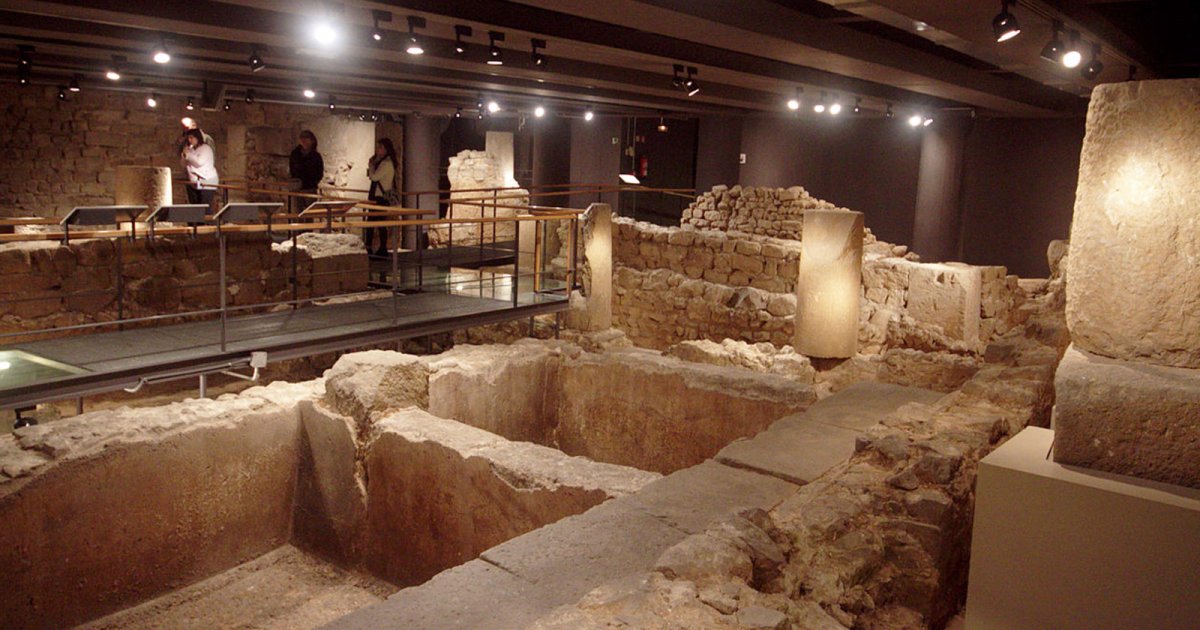 Audio File length: 2.53
Author: STEFANO ZUFFI E DAVIDE TORTORELLA

Language: English / USA
Like I was saying, visiting the interiors of the Plaça del Rei palaces is a wonderful itinerary, both in terms of architecture, and in terms of art and history.
The entrance of MUHBA, Barcelona City's History Museum, is at the 15th-century Casa Padellás, with its beautiful arcaded Gothic patio. The charts and graphs are very clear and help you recognize the historical epochs and buildings that you will come across.
Your visit starts with "Barcino", the Roman name for Barcelona, with maps, drawings, sculptures, and various objects. If you take the elevator and go to floor "-12" (which means 12 BC), you'll dive directly into the treasure trove of underground archaeological treasures. In a very large area that stretches under the Cathedral's foundations, you can walk through the ancient streets past palaces and shops; there's even a frigidarium, which is a room devoted to cold-water baths, which probably formed part of a spa complex.
The pagan city becomes Christian in the last part of the underground, where you'll find ruins of religious buildings from the early centuries AD, as well as the walls and reconstruction of a necropolis. Continuing along the walls of the episcopal palace, you'll reach medieval Barcelona, with everyday objects, ceramics, documents, and miniature codexes.
From there you'll go to the Reial de Santa Agata Chapel, a 14th-century construction with a single vaulted nave and large windows. The great 15th-century painting on the altar depicts the Adoration of the Magi, and above it you can admire the Crucifixion, with panels of the life of Jesus and Mary at its sides.
Your visit ends in Saló del Tinell, a beautiful example of 14th-century regional Gothic style, where official receptions of the Royal Palace were held. The hall is 33 meters long and delineated by seven large arches that support the weight of the wooden ceiling. The remains of 14th-century frescoes on the wall tell the story of the conquest of Majorca by King James I.
FUN FACT: Casa Padellás wasn't always where you see it today: in 1931, to make way for Via Laietana, it was dismantled stone by stone and accurately moved and reassembled.
And with this we have finished our tour of Plaça del Rei and Barcelona City's History Museum. MyWoWo thanks you for staying with us, and will see you at the next Wonder of the World!