PLAÇA SANT JAUME, Generalitat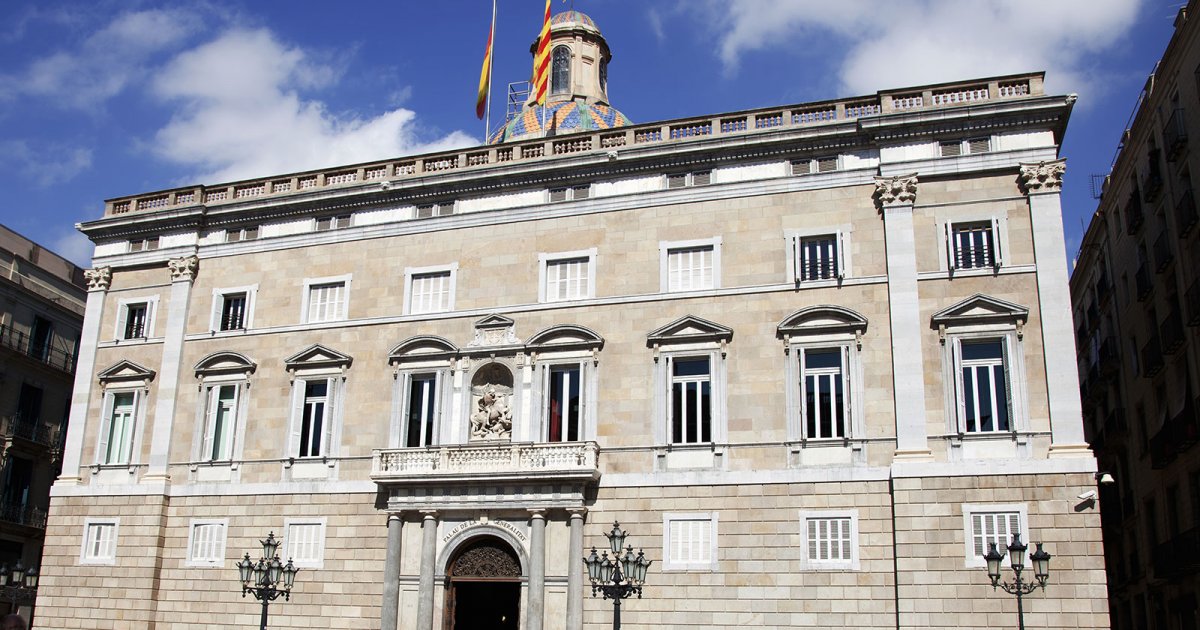 Audio File length: 2.39
Author: STEFANO ZUFFI E DAVIDE TORTORELLA

Language: English / USA
Once again you're in the animated St. James Square, almost directly in front of the Renaissance façade of Palau de la Generalitat. While the Town Hall is the center of the city's civic life, the "Generalitat" established in the mid-1300s is the political body representing Catalan independence as a whole. This building is the result of a series of architectural interventions that have gradually changed and enlarged it up to including two entire blocks.
The main façade is noble and severe and was built towards the end of the 1500s; it is one of the very few examples of Renaissance style in Barcelona, and was inspired by the Roman palaces of the period. In the niche at the center, above the balcony, you can admire an animated 19th-century statue called St. George on Horseback Slaying the Dragon. The four black granite columns beneath it are from Troy in Turkey. From outside, you can already see the multicolored dome of the 17th-century chapel.
Before entering, take a walk around the entire palace, which will surprise you with its length: it extends almost to the Cathedral! A Neo-Gothic bridge connects it with Casa dels Canonges, the official residence of the President of the Generalitat. The side that overlooks Carrer de Sant Honorat gives you a glimpse of the building's fourteenth-century origins, while the side facing Carrer del Bisbe Irurita shows the impressive façade created at the beginning of the 15th century, decorated with sculpted episodes that illustrate the story of Saint George and the Dragon. You should remember that St. George is the patron saint of Catalonia.
If the palace is open to the public, don't miss the chance to visit it and admire its beautiful Catalan Gothic style of the early 15th century. On the patio a double row of slender arches and a lovely externally perforated staircase leads you to the first floor where you can see Saint George's Chapel with its beautiful Gothic façade, while the interior was renovated in the 1600s. Don't miss "Saló de Sant Jordi" either, a great Renaissance reception hall with modern decorations, the raised orange grove, and the carillon of bells on top of the building.
FUN FACT: next to the building, you can also see Caixa from the square, which was founded in the 1400s and was one of the first banks in Europe.
And with this we have finished our tour of Plaça Sant Jaume, in the heart of Barcelona's Gothic Quarter. MyWoWo thanks you for staying with us, and will see you at the next Wonder of the World!