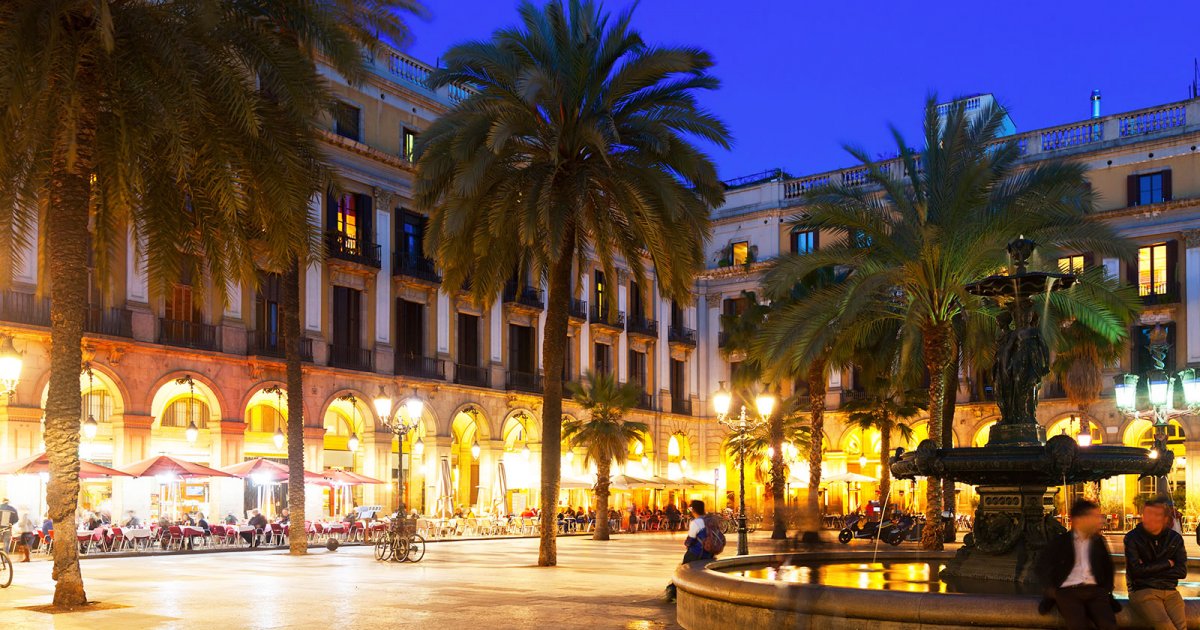 Audio File length: 2.47
Author: STEFANO ZUFFI E DAVIDE TORTORELLA

Language: English / USA
Rambla dels Caputxins is the most spectacular part of the Rambla for its monumental buildings: it gets its name from the Capuchin Friars who had their monastery here, of which you can still see the 17th-century cloisters incorporated into Hotel Oriente. Turning onto Carrer Nou de la Rambla, you can admire Casa Güell, which was built at the end of the 1800s by the genius architect Gaudí for the industrialist Eusebi Güell. This building is a masterpiece, and you should definitely go inside as well. There is a large hall at its center that's dominated by a tall, slender dome full of perforations, which looks like a starry sky. With total creative enthusiasm, Gaudí designed everything here: the furniture, private chapel, gates, every ornamental detail, a "garage" underground for carriages (truly prophetic!), and especially the chimneys that make the palace's roof look more like a fairy-tale forest. And if you want a special treat, as soon as you leave the palace go to the nearby, charming, 19th-century Plaça Reial and look at the streetlights: they were Gaudí's first project after he earned his degree in architecture.
In Rambla dels Caputxins you'll also find the Gran Teatre del Liceu, which is the city's main opera house dating back to the mid 1800s. It was built using the Scala Theater of Milan as a model, and is one of the most famous and demanding international venues for operas. In 1994 it was ravaged by fire: it was a bad blow for Barcelona, which was enjoying a period of international celebrity after the success of the 1992 Olympics and the redesign of the entire city. The theater was reopened in 1999.
FUN FACT: the fire of 1994 has perhaps the most mind-blowing cause in the entire history of accidents: they wanted to put an iron curtain between the stage and the hall to prevent future fires. But during the works, a blowtorch ignited the curtains!