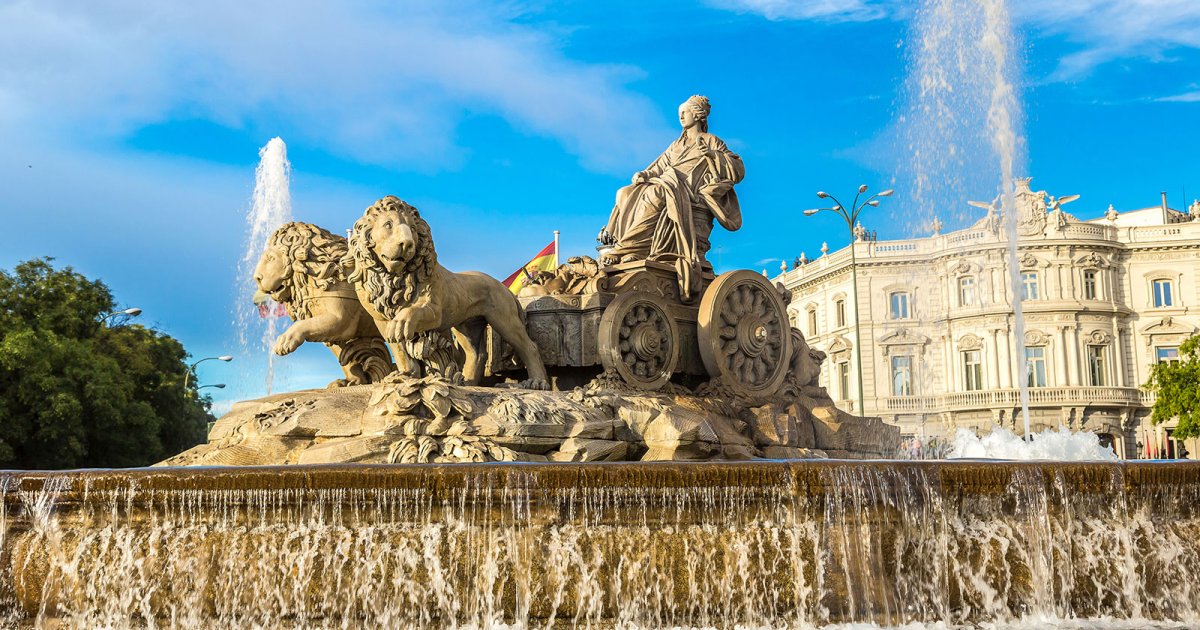 Audio File length: 2.21
Author: STEFANO ZUFFI E DAVIDE TORTORELLA

Language: English / USA
Hi, I'm Ed, your personal guide. Together with MyWoWo, I'd like to welcome you to one of the wonders of the world.
Today I'll accompany you through the Plaza de Cibeles, which is one of the most lively and popular places in Madrid!
You're still right in the middle of the museum "triangle", not far from the Prado and the Thyssen Museums. The fountain that you see in the center of the square is dedicated to Cybele, the goddess of plentiful fruits of the earth, and was commissioned by King Charles III along with the Neptune fountain, which is the symbol of the riches of the sea.
The fountain was built towards the end of the 1700s and was made by various sculptors. At first it was located in a different part of the road, and served as a public fountain. Once it was moved to the center of the square, it became a spectacular decorative element. But keep in mind that the original sculpture only had the goddess on a chariot drawn by two lions, and the angels, base, and the water features were added later.
If you love soccer, you should know that this fountain is a sacred place for Real Madrid fans! When Real Madrid wins a championship cup, they gather here and the captain puts their characteristic white scarf around the goddess' neck.
Now look at the impressive "Palacio de Telecomunicaciones" in the fountain's background: this was the mail, telegraph, and telephone services headquarters that was renamed "Palacio Cibeles" when it became the main offices of the municipality and the cultural center called "Centro Centro" in 2007. Completed in 1917, it consists of an original mixture of styles. The octagonal central tower is 70 meters tall and you can go all the way up to the top to enjoy its magnificent viewpoint. Where the postal service's vehicles once parked is now a spectacular Glass Hall that winds between Calle Alcalá and Calle Montalbán. I suggest walking all the way down it, as you'll be amazed by the incredible lightness of this glass coating that actually weighs five tons and is suspended thirty meters above the ground.
FUN FACT: during the Christmas season, a picturesque ice rink and a giant manger scene can be found in Palacio Cibeles.