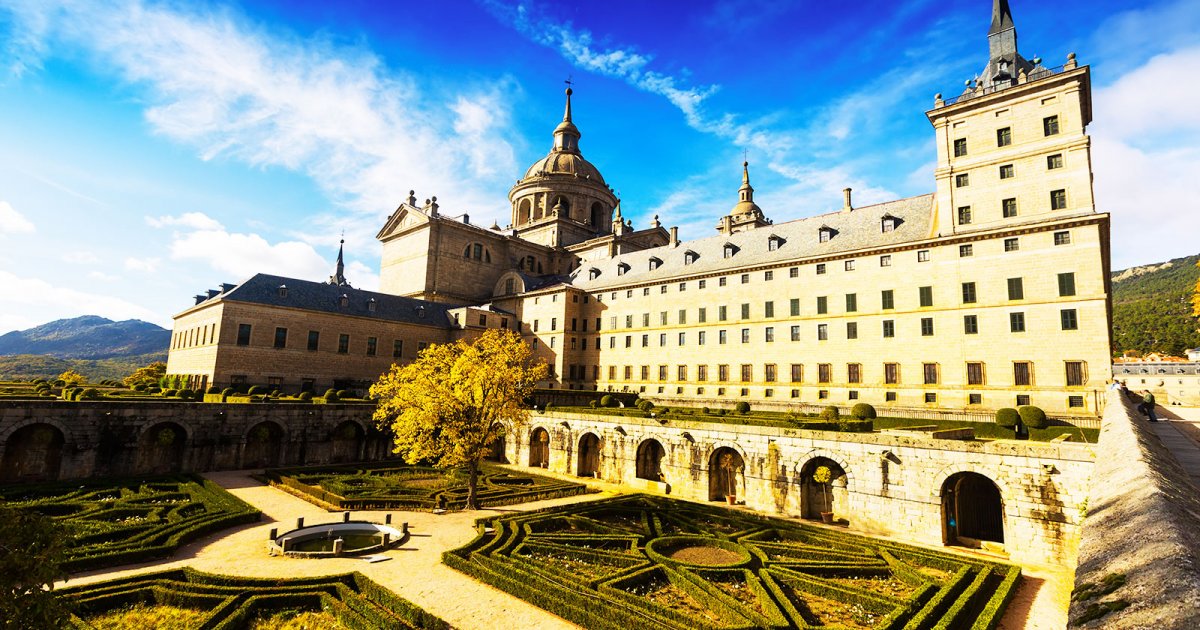 Audio File length: 2.41
Author: STEFANO ZUFFI E DAVIDE TORTORELLA

Language: English / USA
Visiting the entire Escorial can take a whole day if you want to see all the historical areas, apartments, sacred buildings, and rich museums; but if you only have a little bit of time you should limit your tour to the church and its immediate surroundings.
To visit the interior, go along the left side of the building. Your tour begins with the long Hall of Battles, made by Italian painters using ancient ornamental motifs and depicting two victorious battles along the walls.
From here move on to the Summer Palace, which is now home to some magnificent museums. The first floor houses an excellent Museo de Pintura/Art Gallery with religious paintings from the Venetian school (Titian, Veronese, Tintoretto), Flemish school (from the great painters of the 1400s up to Rubens and Van Dyck), and of course the Spanish school with paintings by Ribera, Alonso Cano, and Zurbaràn.
On the next floor down you can see the Museo de Arquitectura/Architectural Museum with its projects and documents on Escorial's history; the museum also has the most important and controversial painting in the entire complex.
Now pause the audio and go to El Greco's Martyrdom of St. Maurice.
This El Greco masterpiece was commissioned by King Philip II. With this large four and a half by three meter composition, the Cretan-born artist who had studied in Italy and recently moved to Spain had hoped to become the Court's permanent painter, or at least join the group of artists working for the king. But Philip II instead refused the work, as he was annoyed by its fluorescent colors and the magical drama of the crowded scene.
To fully grasp Philip II's austere style, you should visit the Palacio nearby to see the royal family's apartments. The most interesting rooms are the reception halls decorated with landscapes of the imperial palaces, immense Habsburg Empire maps, and paintings of battles. Philip II lived in the last apartment on the second floor until his death. As you'll immediately notice, the third floor furnished for the Bourbons in the 1700s is much richer in decorations, furniture, and comforts.
FUN FACT: Philip II died at the Escorial in 1598 when he was only 61 years old; he was so religious that he had his bed strategically placed so that he could watch the services celebrated in the church until his last breath.