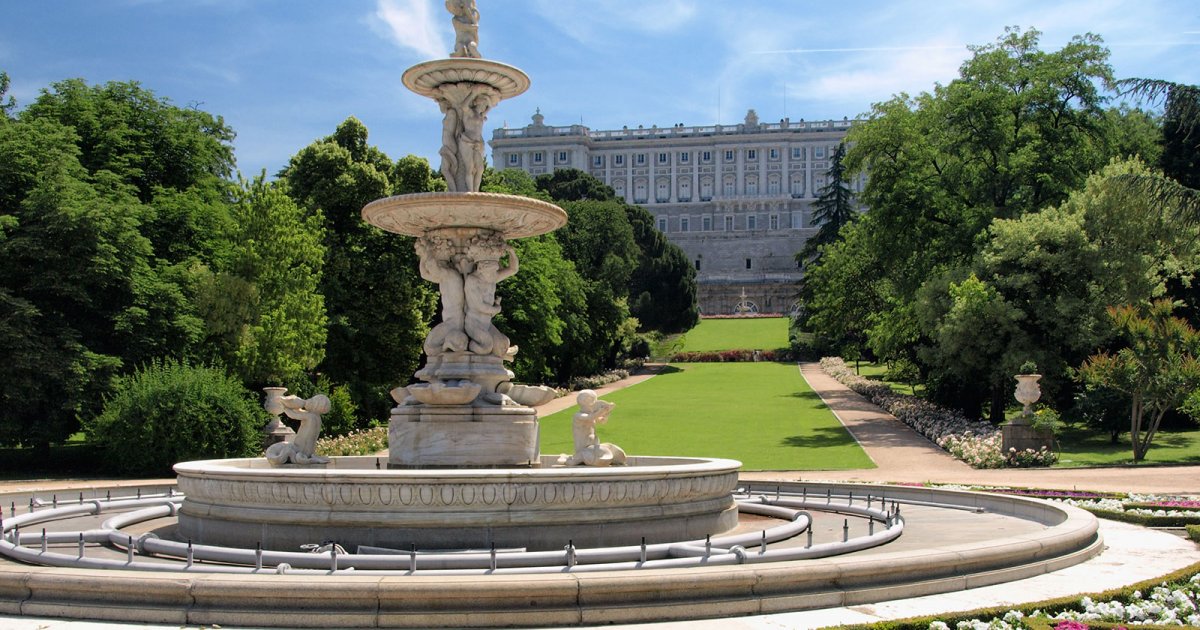 Audio File length: 2.40
Author: STEFANO ZUFFI E DAVIDE TORTORELLA

Language: English / USA
After walking along the fence enclosing the 20 hectares of Campo del Moro Park, you'll reach the Paseo de la Virgen del Puerto, the public's only open access to the park.
Don't be fooled by the modest gate! A breathtaking view awaits, revealing the beautiful and cared for "green" area that stretches up to the Royal Palace. The main garden path laid down in the mid 1800s is interrupted by two beautiful white marble fountains: the Fountain of Shells and the Fountain of Tritons. Unfortunately the latter is inaccessible because it's already inside the Royal Palace grounds.
Under the stone steps, surrounded by shrubs and artificial rocks, you won't be able to visit the "Buonaparte Tunnel" either because it is currently closed. It is an artificial cave built in the early 1800s to connect the Royal Palace with the park.
To walk through the park, heed my advice: get a map or take a picture of one, otherwise you'll get lost in its labyrinth of paths!
Starting from the bust of Juan Carlos I (the king who opened the park to the public), take the "Paseo de Circunvalación". Passing a rustic roof that protects a strange six-wheeled wagon, you'll reach the "Estanque de los Carruajes", or "Coach Pond", one of the park's most romantic spots with real ducks and stone frogs. Opposite the pond there is a Carriage Museum which is now closed. On the right after the bridge, you'll see a beautiful rose garden dominated by a fountain, and on the left a miniature bamboo forest, and among all of this you'll see some of the numerous and amazing peacocks that roam through Campo del Moro Park.
Now pause the audio and go back onto the wide Paseo de Damas.
Among centenary plants, decorative vases and even quaint wicker trash cans, you'll reach the delightful "Chalé del Corcho", or "Cork Chalet" that was built in the second half of the 19th century. Shortly after, another gem: the "Chalecito de la Reina", or "Queen's Cottage" in Tyrolean style, whose roofs seem to invoke a snow that hasn't fallen on Madrid for years.
FUN FACT: you might be wondering, who is this Moro that the park is named after? To find out, leave the statue of Queen Isabella II at your back, and after a pond and a grove you'll find an avenue dedicated to Ali Ben Yusuf. He is the "moro" who shortly after 1100 tried to recapture Madrid in vain. His troops were "camped" on these lands, where the peaceful gardens of the "Campo del Moro" now lie.