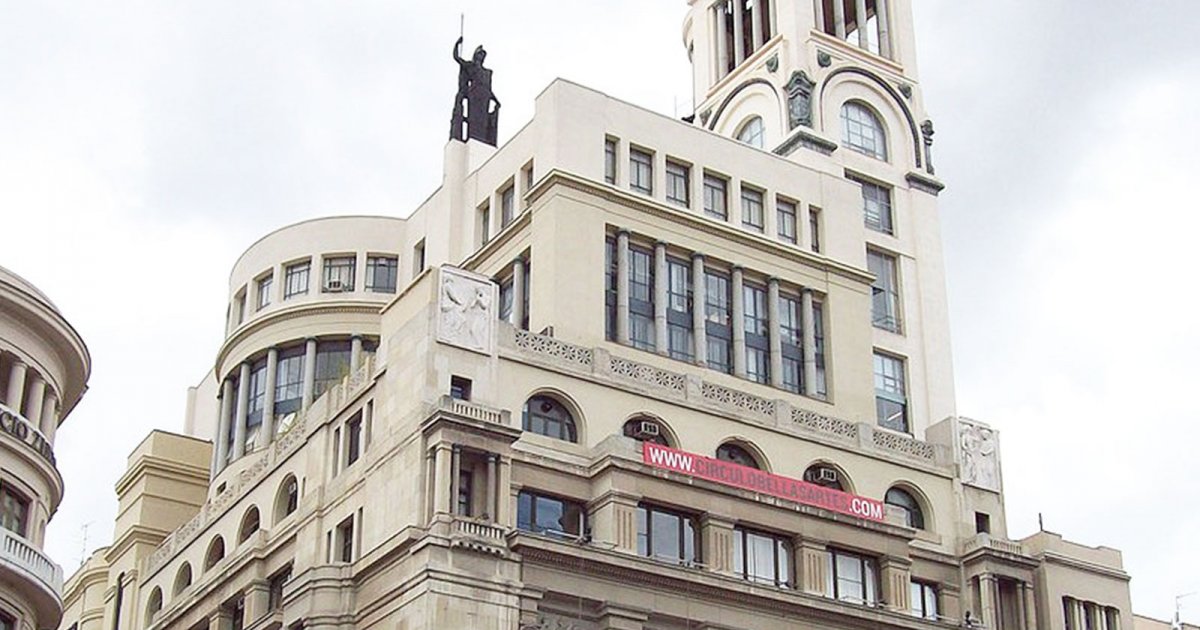 Audio File length: 2.09
Author: STEFANO ZUFFI E DAVIDE TORTORELLA

Language: English / USA
While facing San José Church, which you can recognize for its exposed brick and the statue of Our Lady of Carmen high up on the facade, you can't help but notice a very curious construction made up of differently sized blocks, kind of like Legos. This is the Círculo de Bellas Artes located at the intersection of two emblematic streets in Madrid, the Gran Vía and Calle Alcalá.
Built in the 1920s, the Círculo de Bellas Artes building was the subject of heated controversy even before it was built, thanks to its highly original style. Today, however, these linear and severe walls with a floral style that once bothered the more conservative citizens now proudly stands out among the surrounding buildings that have a more uniform style.
On top of the façade you can recognize the Greek goddess Minerva, spear in hand, helmet on her head, and flanked by the animal she held sacred, the owl. The goddess of wisdom watches over this glorious cultural institution that was founded in the late 1800s and is dedicated to art in all its expressions. The Institute promotes different activities on its five floors, and there's even a radio station. The historical Ballroom and the impressive Hall of Columns both host social events, such as the Carnival Masquerade.
At the main entrance on Calle Marqués de Riera you can buy tickets for one of the many scheduled events or to go to the "Azotea", which is the terrace on the seventh floor where you can take in the beautiful scenery next to Minerva. The historic café is instead called "La Pecera", or aquarium, for the height of its windows opening onto Calle Alcalá.
FUN FACT: one of the Institute's students at the beginning of the 1900s was Pablo Picasso. Another fun fact: the institute's theater originally had such a small stage that the actors could only move sideways!
Thus ends our visit of the Gran Via in Madrid: MyWoWo thanks you for staying with us, and will see you at the next Wonder of the World!