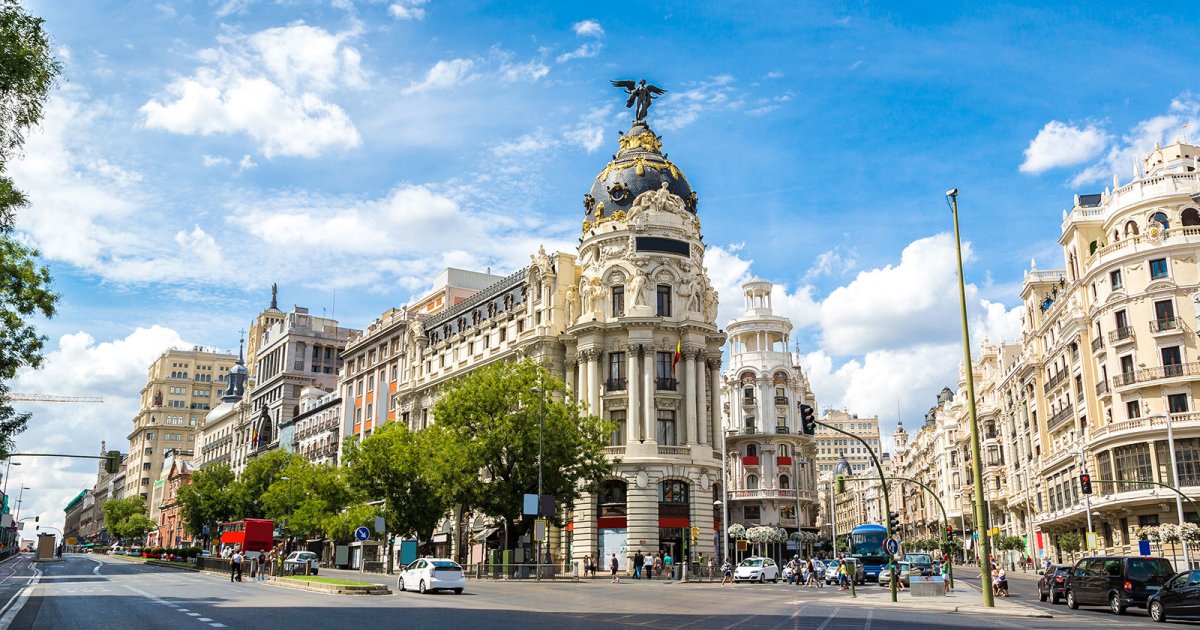 Audio File length: 2.31
Author: STEFANO ZUFFI E DAVIDE TORTORELLA

Language: English / USA
Hi, I'm James, your personal guide. Together with MyWoWo, I'd like to welcome you to one of the wonders of the world.
Today I'll accompany you along the Gran Via, which is one of the most characteristic areas of Madrid!
The idea of a Gran Vía, or a "Great Way" connecting the capital's new eastern districts with the western ones and going around the narrow and chaotic central streets came about in the mid 1800s, but it wasn't until the beginning of the next century that the project designed to turn Madrid into a modern, cosmopolitan, European city was finally approved.
And so on April 4th, 1910, King Alfonso XIII was accompanied by his wife and other members of the royal family to strike the first blow to the so-called "priest's house" with a silver pickaxe; the building was located next to the present church of San José and was the first of many buildings taken down over a forty-year period to make way for the new road.
You can follow the architectural evolution of the Gran Vía yourself simply by going along it: in fact, the initial stretch is characterized by Art Nouveau style buildings from the beginning of the 1900s, while the end of the road has a more dominant rationalist style, and the last buildings are almost skyscrapers.
You can start from the Metropolis Building, which is the boundary between the Gran Vía and Calle Alcalá, which is easily recognized for the winged victory towering high on its dome. Then there's the Grassy Building with its two overlapping circular towers of different sizes. It takes its name from the famous jewelry shop, but also has a refined Clock Museum with more than five hundred pieces from the 1500s to the 1900s.
Now pause the audio guide and go to Gran Via, number 2.
Number 2 is La Gran Peña Building, which was once the seat of the Grand Military Circle, and is now a boutique hotel with a panoramic terrace. But it is not alone, as there are many historic buildings on the Gran Via which now house hotels with panoramic terraces and spectacular outdoor pools.
FUN FACT: remember the funny movie "Women on the verge of a nervous breakdown"? The terrace of the apartment where the complicated affair took place had a great view precisely on the Gran Via.