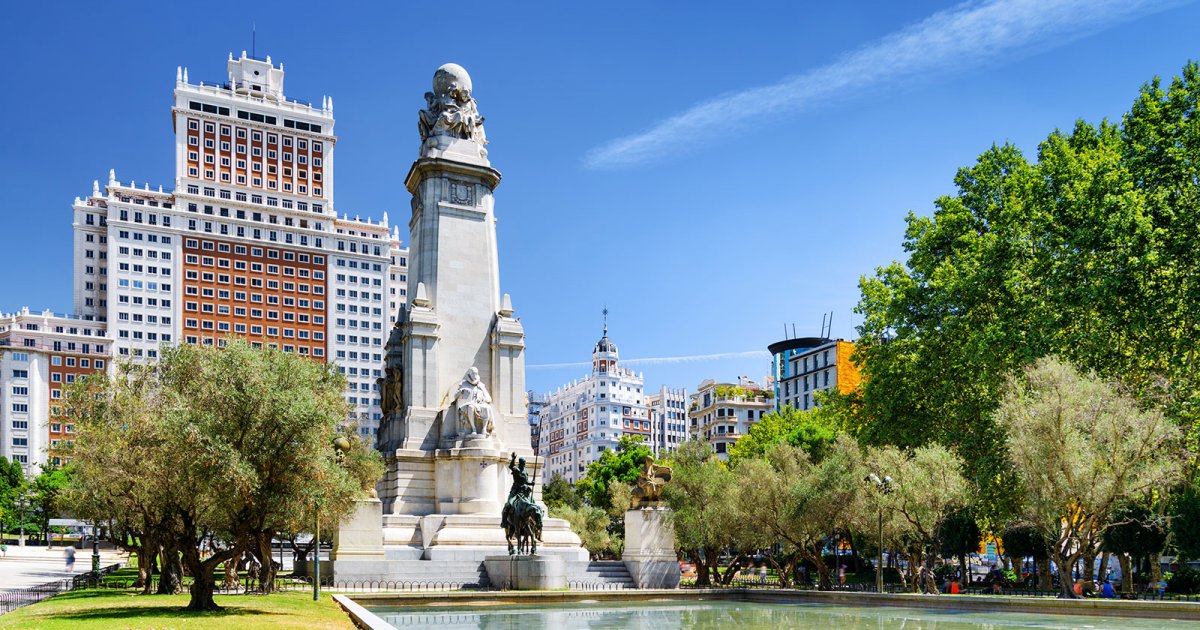 Audio File length: 2.21
Author: STEFANO ZUFFI E DAVIDE TORTORELLA

Language: English / USA
And now we've finally reached Plaza de España, one of the city's largest squares forming the great interlude between Calle Gran Vía and its perfect uphill extension, Calle Princesa. The square is dominated by a pair of towers, España Tower and Madrid Tower which were designed by the Otemandi brothers, one an architect, the other an engineer, and were built in the fifties as proud skyscrapers of a capital which was casting itself towards modernity after the horrors of the civil war.
If you want to admire them in their entirety, I suggest going to the very center of the square, passing by the shells fountain until you reach the pool reflecting the granite monument dedicated to Miguel de Cervantes. This impressive sculpture was erected in honor of the third most important centenary of Spanish literature: "Don Quixote". Under the stone figure of the writer you can see his literary sons in bronze, Don Quixote and Sancho Panza, and to make the playing field even they've been joined by the novel's two main female characters, Dulcinea and Aldonza.
From here you can fully appreciate the facade of the España Tower with its characteristic tiered structure. 115 meters and 25 floors high, it was the tallest skyscraper of Madrid and included a hotel, apartments, offices and a shopping center, and was connected by thirty elevators: now this Madrid version of the Empire State Building lies abandoned, a victim of having switched hands too many times in addition to constant controversy. It should be restored soon and will be home to a luxury hotel.
The left skyscraper known as the Madrid Tower is 142 meters tall and for a brief period it was the world's tallest building in reinforced concrete. At the end of the square at the corner of Calle Bailén don't miss the delicious, eclectic architecture of the Real Compañía Asturiana de Minas Building from the late nineteenth century. On the opposite corner you can see one of the capital's few examples of modernism, the "Casa Gallardo".
FUN FACT: if you look closely at the Cervantes monument, you can also see the five continents depicted, symbolizing the universality of this work, which is famous worldwide.