MODERN MADRID, Cuatro Torres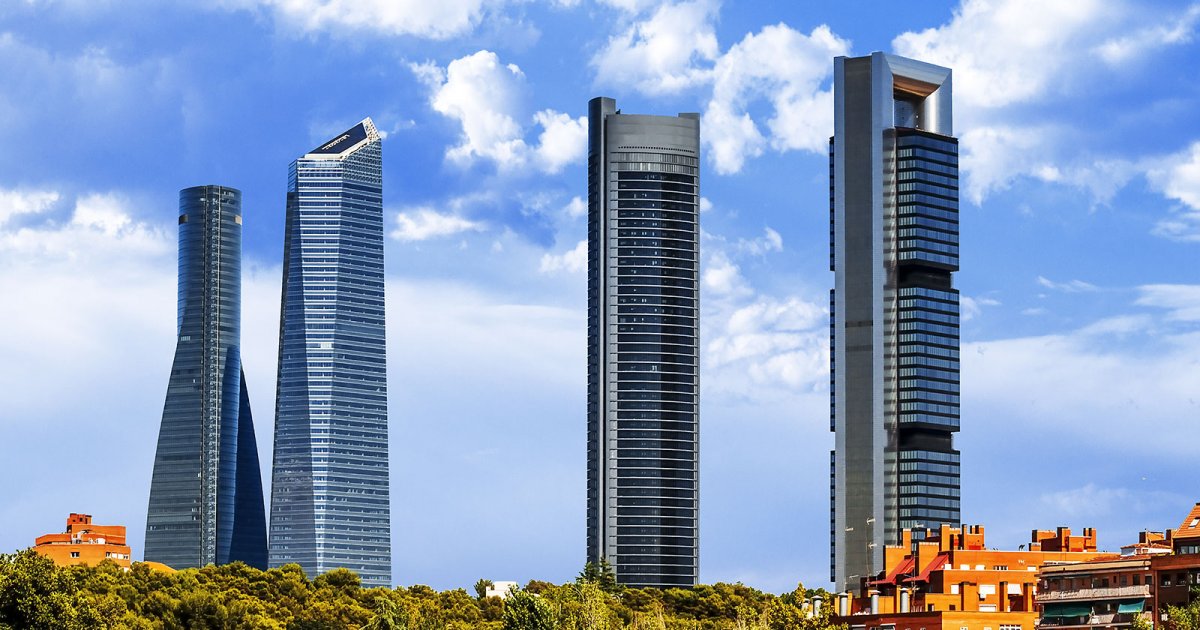 Audio File length: 2.15
Author: STEFANO ZUFFI E DAVIDE TORTORELLA

Language: English / USA
You're now at the northern limit of the Paseo de la Castellana, in front of the "Cuatro Torres Business Area" office center, a feather in the cap of the capital's new skyline.
If you're a soccer fan, it's interesting to note that during a huge economic boom the four towers were erected on the land where Real Madrid's training grounds once stood; now the team trains at an area near the airport, the futuristic "Ciudad Real Madrid" of Valdebebas, which covers over a million square meters.
The works began in 2004 underground with a complex network of tunnels used to direct traffic not only to the garage, but also to some neighboring routes like the M30, the first of four of Madrid's bypasses.
The lowest of the four towers is the Espacio Tower, which was finished in 2007, and is "only" 230 meters tall. It houses several embassies (Australian, Canadian, British, and Dutch), and even a chapel on the 33rd floor. As you might be able to guess, the name Espacio comes from its shape, as it looks like a rocket ready to fly into space. It is reflected in the Torre de Cristal, which is the tallest skyscraper of Spain at 249 meters. It has an impressive 600 square meter "vertical garden" at its oblique, square top.
Then there is the PwC Tower, which is the only one designed by Spanish architects. It is a five-star hotel up to the 31st floor, and the remaining 21 floors are occupied by the offices of the auditing firm that gives the building its name.
The last of the group is the Cepsa Tower, which is also known as the Foster Tower after its architect, and has three separate blocks of offices of the Inditex oil group.
FUN FACT: after nearly a decade of economic crisis where some of the buildings' floors were empty, it seems that this area is finally picking up the pace of the past. Works on a fifth skyscraper should start soon, known as Caleido Tower, which will "only" be 181 meters tall and is designed to house a "vertical" university campus as well as a clinic and shopping center.
And with this we have finished our tour of Modern Madrid: MyWoWo thanks you for staying with us, and will see you at the next Wonder of the World!