MUSEUM CERRALBO, Mezzanine And First Floor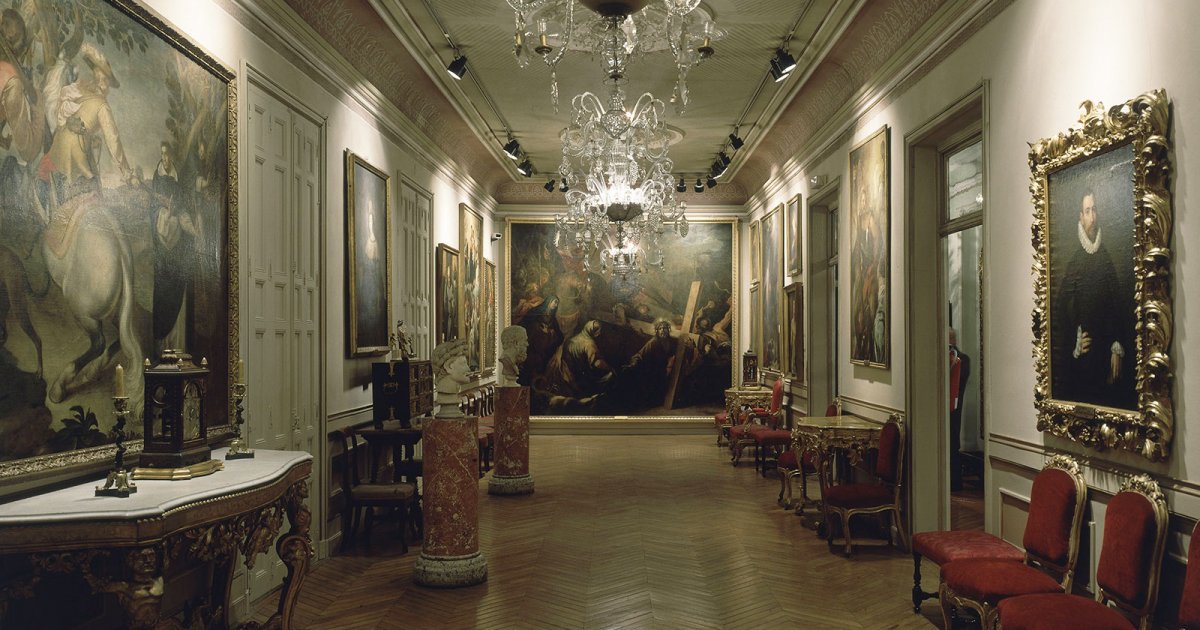 Audio File length: 2.38
Author: STEFANO ZUFFI E DAVIDE TORTORELLA

Language: English / USA
You are now in the first of three consecutive rooms, all overlooking the garden, which take their name from the color distinguishing the walls and upholstery. The Red Salon was the private office of the Marquis: from here go to the Yellow Salon, which is the only one that still has its original upholstery. Here it's easy to imagine the noble family eating their meals while sitting at the central mahogany table under the beautiful crystal chandelier from Bohemia.
The third salon, called the Pink Salon, was created by Doña Amelia, the stepdaughter of the Marquis and co-founder of the museum, as a kind of women's study, work, and leisure salon.
The last room of this wing of the palace was the illustrious Marquis' bedroom, who as you may have figured out from the furniture, was rather austere.
Unfortunately the palace's other wing, the winter wing, is temporarily closed to the public, so you have to go back to the Great Door entrance to climb the majestic Grand Stairway: the first part is made of marble and the second has an iron railing from the Monastery de las Salesas Reales.
Now pause the audio and go to the armory.
You are now on the first floor, also called the main floor, because despite having a similar layout to the mezzanine floor, it was decorated in a much more lavish manner because it was the arena for receptions, parties, and dances. You are in the armory, which has a collection of more than four hundred pieces. At the end on the left side, you can see a small bathroom with a marble tub overlooking the garden.
I suggest paying particular attention to the exotic Arab Hall: in addition to the fine kilim rugs adorning the walls, you will see curious musical instruments and weapons that come from Morocco, Japan, the Philippines, and China. Finish off visiting the first set of rooms with the "Estufa Salon", which was once a greenhouse for keeping indoor plants which was later transformed by the Marquis into a study for exhibiting archaeological finds.
FUN FACT: this museum is the only house-museum in Madrid that has been rebuilt exactly as it was in the 1800s and 1900s, and is a valuable record of a noble residence and the daily life in Madrid in those times. You'll also be able to feel this special charm.