MUSEUM CERRALBO, Temple Of Debod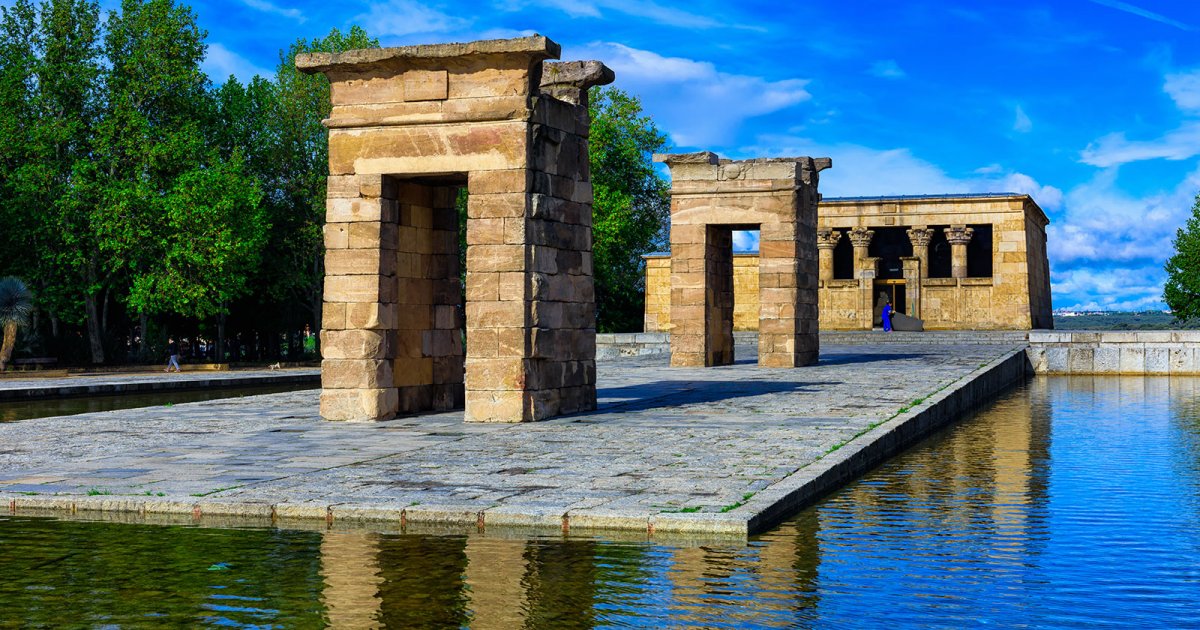 Audio File length: 2.34
Author: STEFANO ZUFFI E DAVIDE TORTORELLA

Language: English / USA
A short distance from Museum Cerralbo and preceded by palm trees that almost seem to be waiting to prepare you for the surprise, you'll find the Temple of Debod, an ancient corner of Egypt that has been transplanted into the heart of Madrid.
You should know that this architectural jewel is the gift with which Egypt thanked Spain for having helped save the temples of Nubia during the construction of the Aswan Dam.
Even if the temple was transferred piece by piece from the port of Alexandria to Valencia and from there by truck up to Madrid in 1970, just think that the inauguration took place only in 1972. In fact it took two years for the Spanish archaeologists to put the pieces of this giant puzzle together, considering the limited data they had available! Today the temple is placed on a stone platform, and is oriented as it was originally, from east to west. A pool of water flows between the two access pillars in memory of the Nile as it was long ago.
While you admire the Temple's elegance, don't forget that this monument was erected an impressive 22 centuries ago in Debod, a town of Lower Nubia. It was later embellished and enlarged, and when Egypt became a Roman province even the emperors Augustus and Tiberius made additions and modifications. The temple was dedicated to Amun, the god of life and fertility, and to the goddess Isis.
Visiting the Temple is free, but only for a half hour and each visit is restricted to no more than fifteen people. It includes the Vestibule of Augustus, the Chapel of Adijalamani (which is the oldest part of the entire complex, with inscriptions referring to Ammon and reliefs with ritual scenes), and the Vestibule of Naos.
FUN FACT: behind the Temple of Debod you can take one of the best panoramas of the Royal Palace and the Almudena Cathedral, with the huge public park at your feet. One last tip: if you really want to feel like you're in the land of the pharaohs, come here at sunset. The sight of the Egyptian temple lit by the sunset will truly seem like an exotic mirage!
Thus ends our visit of the area around Museum Cerralbo in Madrid: MyWoWo thanks you for staying with us, and will see you at the next Wonder of the World!