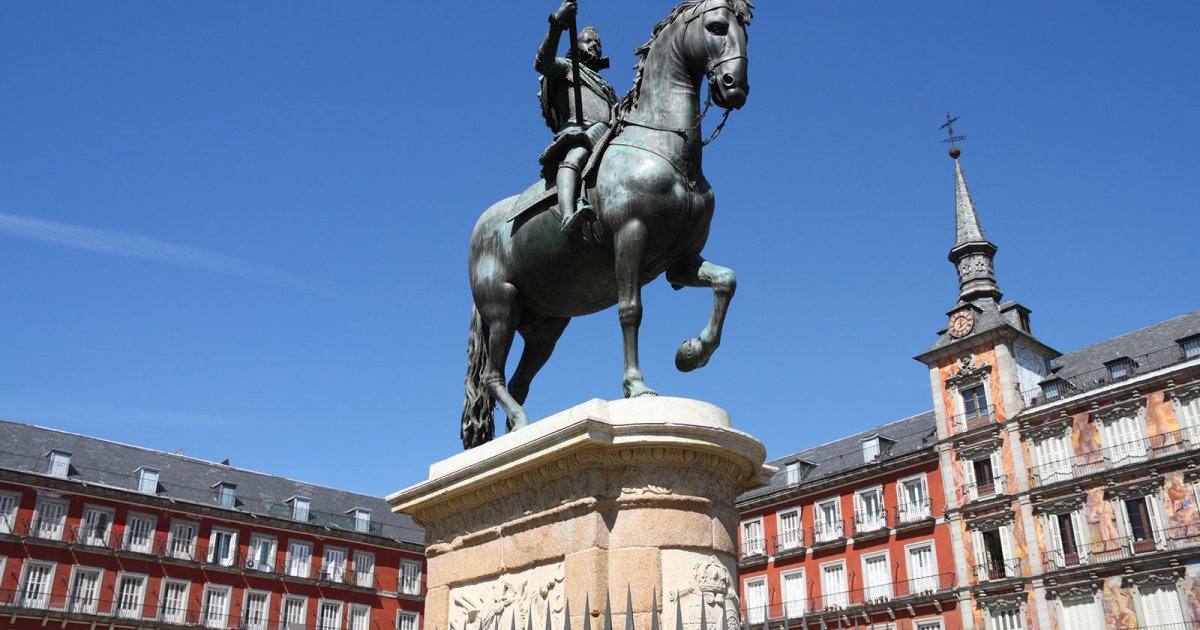 Audio File length: 2.40
Author: STEFANO ZUFFI E DAVIDE TORTORELLA

Language: English / USA
Plaza Mayor is surrounded by arcades, pinnacles, attics, slate roofs and, as you can see, by a large number of balconies. Don't bother counting them: there are 237. Why so many? There is a historical reason: at the time of the Habsburg monarchy of the sixteenth and seventeenth centuries, the balconies were sold or leased to the authorities. In fact, these exclusive vantage points were used to watch the different spectacles that were celebrated in the square: folk festivals, bullfights, processions, beatifications, and the dramatic "Autos de Fé", which were the executions at the end of the Inquisition trials.
Among the buildings of Plaza Mayor, your eyes will immediately be drawn to the frescoes adorning the facade of the so-called "Casa de la Panaderia", or the house of the bakery. This building dates back to the late 1500s, but has been rebuilt several times over the centuries and is so named because its ground floor originally housed the "tahona pública", a sort of bakery for the poor. Currently its "Hall of Columns" is the seat of Madrid's Central Tourism Office.
Under the arcades of Plaza Mayor you'll find various cafes, restaurants, and traditional locales, while Sunday morning you'll find a lively and renowned philatelic and numismatic market. In December the beautiful enclosure is occupied by the classic Christmas market where they sell everything from spruce to mangers, from moss to decorations, and from masks to wigs.
Now pause the audio and go in front of the Arco de Cuchilleros.
You are now in the south-western side of the square next to Arco de Cuchilleros, so called because it opens onto the street that was once home to knife shops.
Having descended the steep steps of Escalerilla de Piedra, or the stone stairs, turn right and note the height and inclination of the walls of the houses overlooking Calle Cava de San Miguel, which interestingly serve as buttresses to the western side of the square.
FUN FACT: Calle Cuchilleros is home to "Sobrino de Botin", which is in the Guinness Book of Records for being the oldest restaurant in the world, and has existed for nearly three centuries!