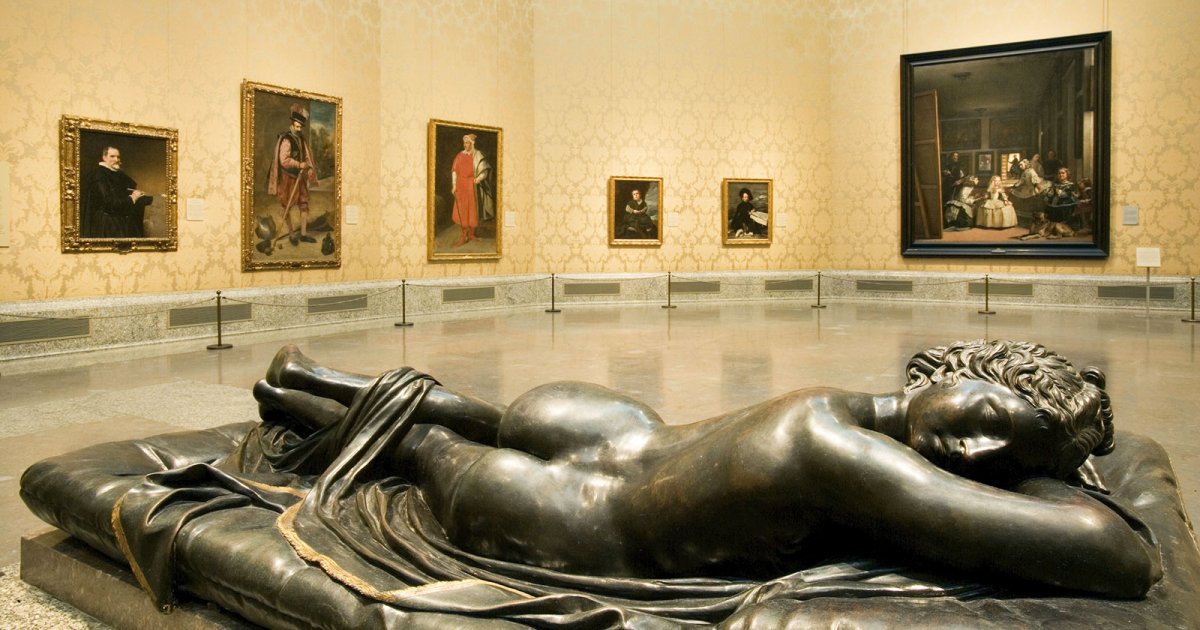 Audio File length: 2.15
Author: STEFANO ZUFFI E DAVIDE TORTORELLA

Language: English / USA
The first floor offers the most scenic part of the Prado, illuminated by skylights in the halls' ceilings.
In the large central hall, you can gorge on sixteenth-century Italian paintings and Spanish masterpieces from its "Golden Century" of art. However, the most important painting of them all, and the painting that is the museum's greatest symbol, is Las Meninas by Velásquez, which is the portrait of King Philip IV's family.
But the great number of works by Rubens are no joke either. The formidable Flemish painter of the early 1600s is both the declared heir of Italian Renaissance painting, and the favorite painter of the rulers of Baroque Europe, including of course the kings of Spain.
In these halls of the Prado, which are also the most grandiose, prepare yourself for fireworks of colors, action, figures, and a parade of large masterpieces of solemn subjects and powerful compositions. Even if we can distinguish between the Italian, Spanish, or Flemish masters, here the works of Titian and El Greco, Rubens and Caravaggio, and Carracci and Velasquez all blend into a single chain of memorable masterpieces.
This is probably the thing you'll most appreciate about the Prado: it is a great traditional Museum, how museums used to be, with few concessions for a more "modern" taste. Indeed, if there's one thing you should keep in mind while you visit these halls, it's that the Prado is the guardian and witness of the true "European" art that flourished between the sixteenth and seventeenth centuries: a wonderful relay race where the baton of great international art was passed from Venice to Madrid, in the collections of the Spanish kings.
FUN FACT: if you look closely at the portrait of Queen Margarita painted by Velásquez, you'll note two very important pieces of jewelry, the Estanque diamond and the pearl called Peregrina. The latter was found in Panama in the 1500s and is considered one of the most precious jewels of European history; it was also worn by Elizabeth Taylor after her husband Richard Burton gave it to her in 1969.