RETIRO PARK, Palacio De Cristal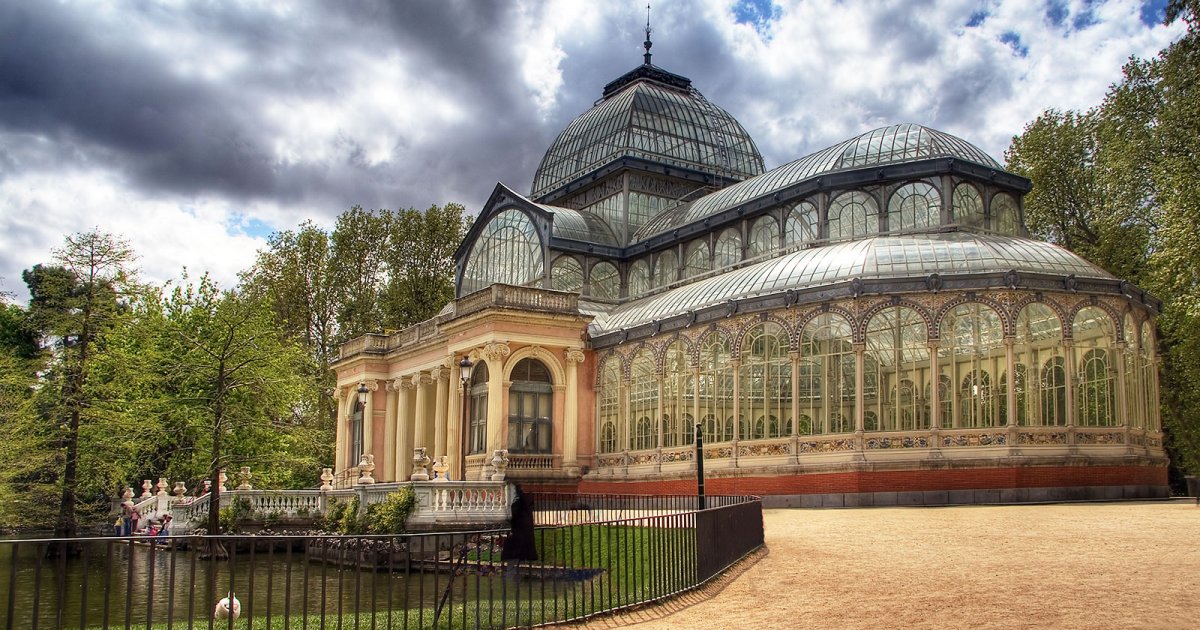 Audio File length: 2.46
Author: STEFANO ZUFFI E DAVIDE TORTORELLA

Language: English / USA
You are now in front of the most shining jewel of Retiro Park: the Palacio de Cristal, which is so beautiful that it takes away from the nearby and much lesser known Palacio de Velázquez, which we will go see next.
Both buildings are the work of the same architect, Ricardo Velázquez Bosco: be careful not to confuse him with the namesake famous painter that he has no relation to. This seductive, curvy building with glass windows known as Palacio de Cristal almost seems to be announced by the powerful jet of a geyser in the middle of the pond in front of the palace. It was built in the late 1800s as a huge greenhouse to contain the plant species that were collected at the Philippine Islands Exposition in 1887. Today it is a branch of the Centro Reína Sofía, and in addition to visiting the palace, you can also see one of the free exhibitions held there.
If you want to admire it from the best angle, I suggest going counterclockwise around the lake full of ducks and turtles until you reach a tiny cave with a beautiful waterfall; depending on the time of day and the sun's rays, the park's most fascinating building will almost seem like a fairy tale from this spot.
Now pause the audio and go to Palacio de Velázquez.
Just like the Palacio de Cristal, the Palacio de Velázquez in front of you also serves as a free exhibition space for contemporary art and is managed by the Centro de Arte Reína Sofía. The building was built at the "Exposición Nacional de Minería, Artes Metalúrgicas, Cerámica, Cristalería y Aguas Minerales"/National exhibition of minerals, metallurgical arts, ceramics, glassware, and mineral waters in 1883. Its surrounding sky-blue ceramic tiles will fascinate you, as will the amazing iron and glass roof.
FUN FACT: if you had been in the Crystal Palace on May 10th, 1936, you would have been quite surprised: a crowd of senators and delegates gathered there to elect the President of the Republic on that date. There were so many men present that the parliament wasn't big enough to accommodate them all!
And with this we have finished our tour of Retiro Park in Madrid: MyWoWo thanks you for staying with us, and will see you at the next Wonder of the World!