ROYAL BASILICA OF SAN FRANCISCO, Interior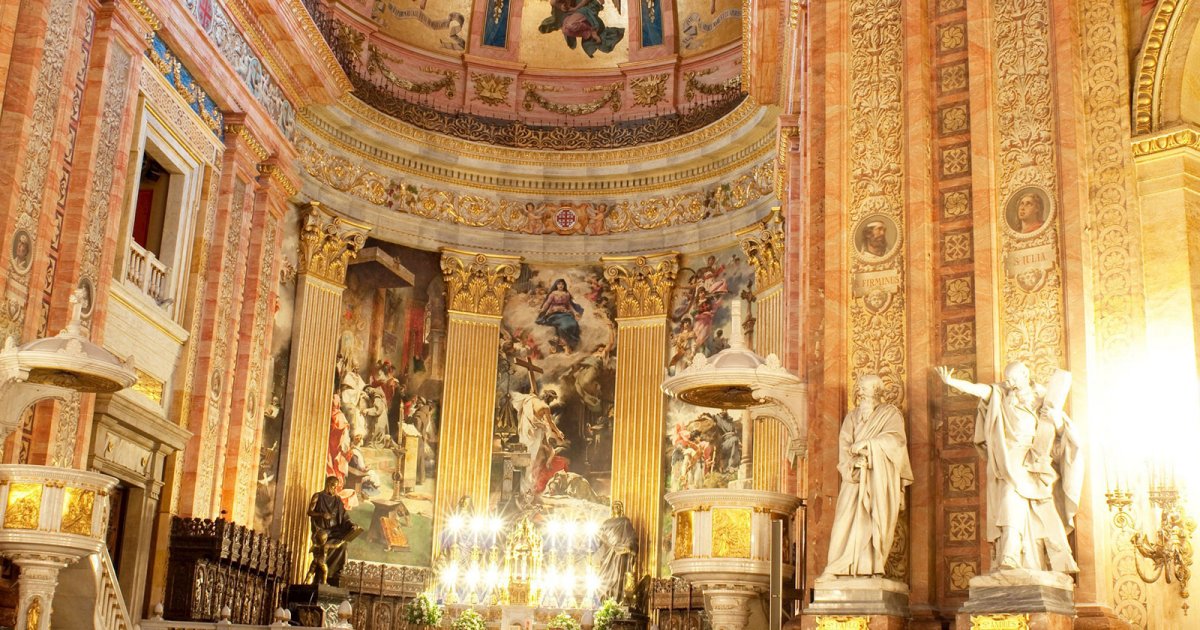 Audio File length: 2.24
Author: STEFANO ZUFFI E DAVIDE TORTORELLA

Language: English / USA
The church is preceded by a stunning atrium that is completely covered by mosaics and from which seven richly carved American-walnut wooden doors open onto the interior, almost preparing you for the magnificence inside. In fact, the first thing that will strike you is precisely the contrast between the opulence of the church's interior and the severe aspect of its external façade.
Even more so thanks to the recent work carried out where all the stuccoes, frescoes and gilding were renovated. If you go to the middle of the circle entirely covered with multicolored marble, you'll feel teeny tiny surrounded by the statues of the twelve apostles, all made in Carrara marble, which with their pedestals reach close to three meters in height. Look carefully at the beautiful murals decorating the giant dome as well, which are divided into eight major sectors. They are dedicated to Nuestra Señora de los Angeles, one of the many names for the Madonna, to which Pope John XXIII consecrated the basilica in 1962.
If you look at the six side chapels, with three on each side, you'll notice that their structure reproduces the structure of the majestic central circle, since each chapel is surmounted by a small dome with a corresponding lantern. Don't miss the first chapel on the left where you can admire an early work of the great painter Goya. In the painting, which is titled "The Preaching of St. Bernardino of Siena to Alfonso V of Aragon", Goya has also portrayed himself: you can see him on the left with a yellow shirt.
As is to be expected in a church dedicated to St. Francis, the main chapel has five large murals depicting various episodes from the saint's life; they are separated by four pillars and four majestic statues of the Evangelists on black marble pedestals.
As you walk towards the exit, don't forget to admire the spectacular pipe organ which was restored recently and is one of the best in all of Spain.
FUN FACT: the chapel known as "The Purisima" has a large Carrara marble altar with a very troubled history. Just think, its journey from Florence to Madrid lasted an impressive 12 years!