THYSSEN MUSEUM, Caravaggio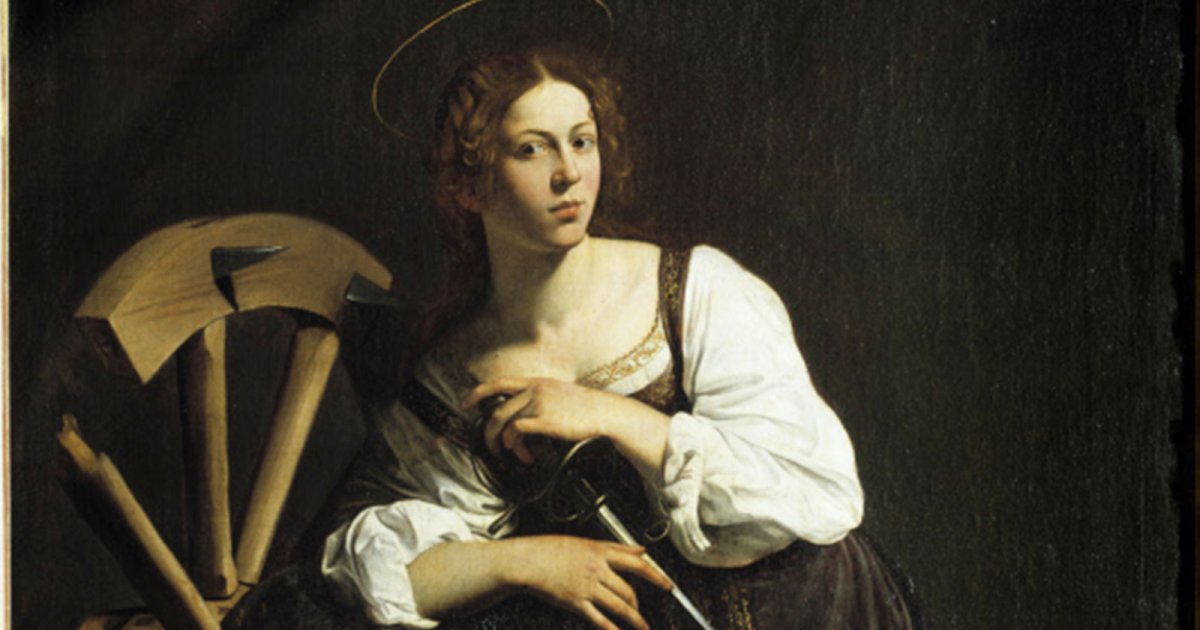 Audio File length: 2.34
Author: STEFANO ZUFFI E DAVIDE TORTORELLA

Language: English / USA
You're now looking at one of the most intense paintings in the museum, Saint Catherine of Alexandria, which was painted by Caravaggio in Rome shortly before the year 1600. With this work Caravaggio enlarged the size of his canvases and changed his style. The figures are highlighted monumentally through bright lights from the side that sharply mark shaded areas and brightly lit ones. In doing so, the characters appear silhouetted over the background and are almost three-dimensional, and the objects seem to acquire the tactile texture of the materials they are made of (metals, fabrics, wood, leaves).
The refined elegance of the colors and clothes might seem strange to you considering the painting's subject of martyrdom, which is alluded to in the forefront with the palm, the wheel, and the sword. Although most scholars presently cast doubt on the historical accuracy of the story, Catherine of Alexandria was one of the saints that was most often painted. Considering how she was a princess, and therefore a model noblewoman, she is depicted as a richly dressed girl, often with a crown. Her martyrdom was a rather complex affair, as you can see by the two instruments of torture: the toothed wheel and the sword. In fact, Catherine was at first tied to a wheel with hooks, but this terrible instrument of torture was miraculously broken, as Caravaggio shows us in the painting. So the saint was more summarily beheaded, and we can see the bloody sword in the painting.
Caravaggio scrupulously follows the traditional story, but transforms a devotional image into a credible human presence, dedicating himself with patience and precision to the high definition of the fabrics and veins of the wooden wheel, which are portrayed with great skill: the saint's face with her dark eyes rolling back and a band of shadow underlining the movement of her head and neck might remind you of the Lady with an Ermine painted by Leonardo in Milan.
FUN FACT: Caravaggio had a prostitute pose for him: her name was Fillide Melandroni, and she also reappears as a model in other works by the artist. Caravaggio was really fond of her and she caused him many a headache; he even painted her portrait, which was the only one he ever dedicated to a woman. Unfortunately it was destroyed in a fire in Berlin in 1945.