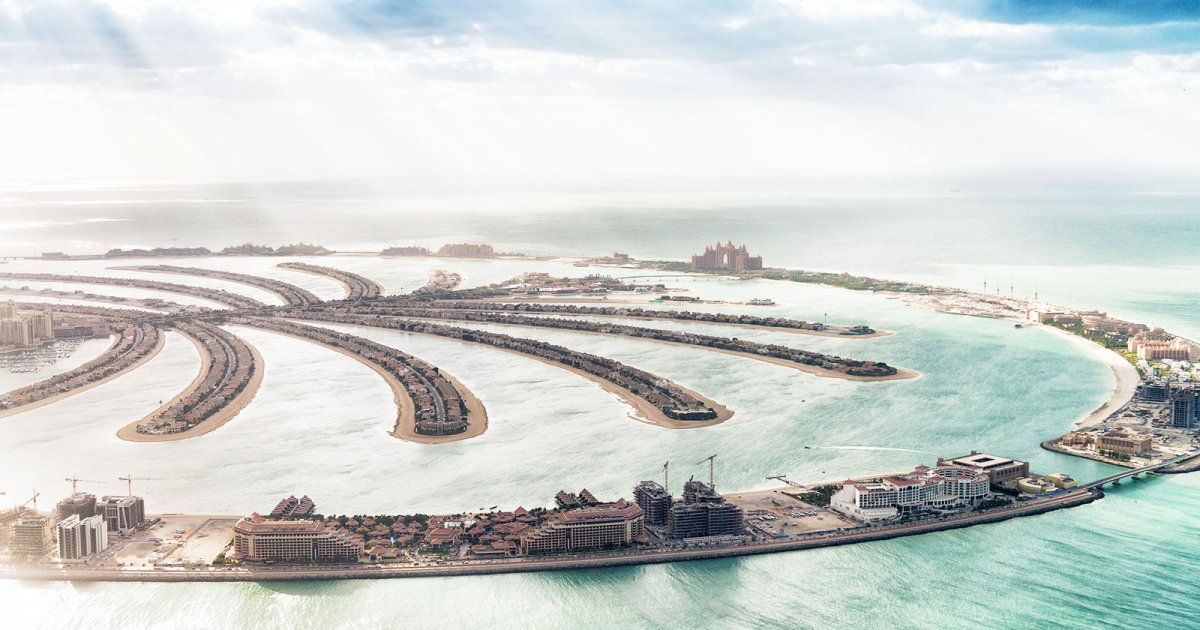 Audio File length: 2.11

Language: English / USA
As I mentioned in the introductory file on Jumeirah, along the coast of Dubai, you can't miss a truly unique island that from above looks like a stylized palm tree, hence the name: Palm Jumeirah.
If you're wondering whatever possessed someone to invest such an exorbitant sum of money in such a crazy project, there's actually a valid reason. The Dubai coastline isn't that long, and there's an incredibly high demand for residences on the sea front from extremely wealthy people who have chosen to come and live here, or simply to purchase a holiday home.
The construction of Palm Jumeirah has lengthened the coastline by 70 km, and 5000 exclusive villas have been built and sold for exorbitant amounts of money in the areas of the island built in the shape of the branches: those built on the tips of the leaves, which have the best views, can cost over 50 million dollars.
It's easy to visit the central part of the island, which forms the trunk. Here, you'll find some of the finest hotels in Dubai, such as the marvelous Hotel Atlantis, which is near the city's most incredible water park, Aquaventure, where I suggest you devote a whole day.
The most convenient – and most appealing – way to reach the island and travel out to the edges of it is the Dubai Monorail Jumeirah, which offers splendid views thanks to its height. Along the way, you can admire some fabulous private villas with beautiful gardens and swimming pools, as well as the city skyline.
An interesting fact: to stop the sea eroding the foundations of the island, made from 150 million tons of rocks and stones from the ocean bed, an artificial barrier has been built in front of them, using a further 7 million tons of sediment.
You might be wondering how so much material was collected? An entire fleet was put together to dredge the ocean bed and to bring up 100 tons of sand from it each week.
Our visit to Jumeirah ends here. MyWoWo would like to thank you - see you again at another Wonder of the World!