NATIONAL GALLERY, Presentation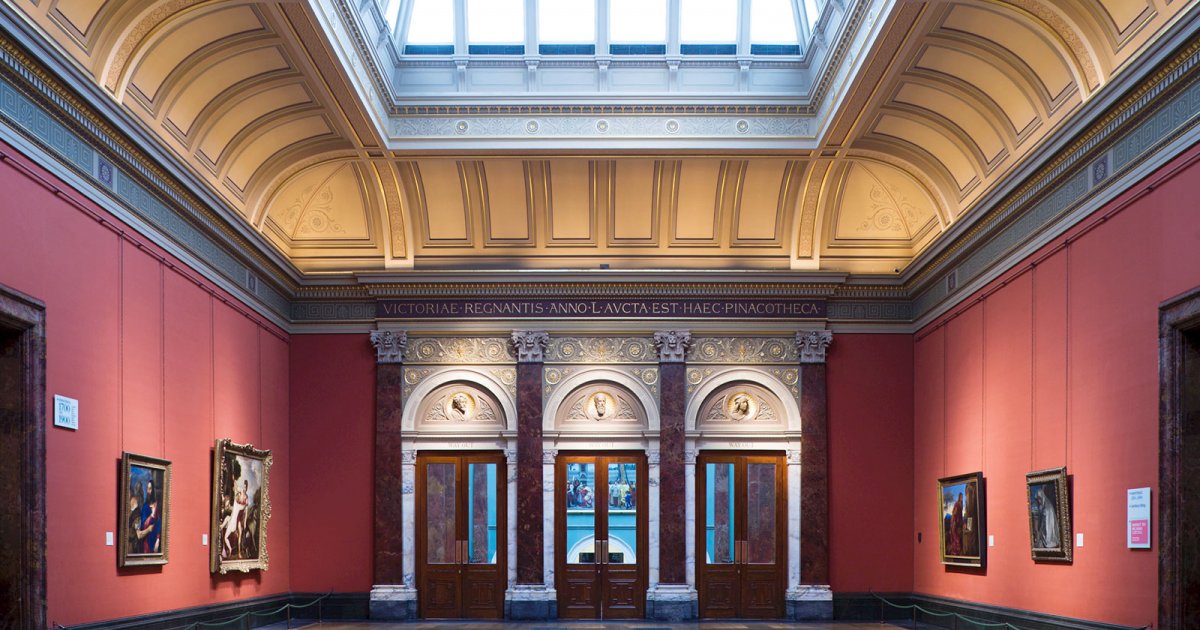 Audio File length: 3.06
Author: STEFANO ZUFFI E DAVIDE TORTORELLA

Language: English / USA
In addition to being one of the most extraordinary collections of paintings in the world, the National Gallery is definitely also the cheapest: it's free!
If you'd like to visit the gallery in chronological order, I suggest entering from the inner staircase of the Sainsbury Wing, upon which are sculpted the names of the main artists exhibited within. If you prefer to use the "official" entrance, take the main staircase and go to the lobby to choose your itinerary.
The collection is spread throughout the first floor in four groups of rooms that are divided chronologically: paintings from the 1200s to the 1500s are in the blue area, from the 1500s to the 1600s in the purple area, from the 1600s to the 1700s in the orange area, and finally from the 1700s to the beginning of the 1900s in the green area.
The collections are exhibited with the utmost care and intelligence: it's rare to see such an excellent museum layout. There isn't a light out of place, there are never two paintings randomly placed together or without some sort of criterion, the wall plaques offer all the necessary information, and after the controversy of the past few decades regarding excessive cleaning, the paintings are maintained impeccably.
The itinerary is simple and clear from the first rooms in the Sainsbury Wing: it's truly a pleasure to observe the "montage" of visual sequences among the works from different nations. The main rooms dedicated to 15th-century Italian art are a true masterpiece of artistic exhibition with their succession of grey stone arches culminating in Raphael's Crucifixion.
At the end of the newest wing, you can reach the rich rooms dedicated to the 1500s through a landing. You can admire an absolute masterpiece by Da Vinci in a separate room, sheltered from overly bright lighting: the incredible drawing of The Virgin and Child with St Anne and St John the Baptist.
Once you enter the nineteenth-century building, you'll admire one masterpiece after another; Italian artists prevail for a number of rooms until you reach the portrait The Ambassadors by Holbein, which marks the shift to the other European schools. The itinerary ends perfectly with a selection of Impressionist canvases.
All I can say now is enjoy your visit... a journey through seven centuries of great European painting!
FUN FACT: among the many donors who left works to the museum, the art historian Denis Mahon is probably the one who gained the most satisfaction from it.
In 1945, the curators refused to buy a Guercino painting from him for £ 200. When he left the painting to the gallery after his death, it was worth 4 million pounds!