NATURAL HISTORY MUSEUM, Tour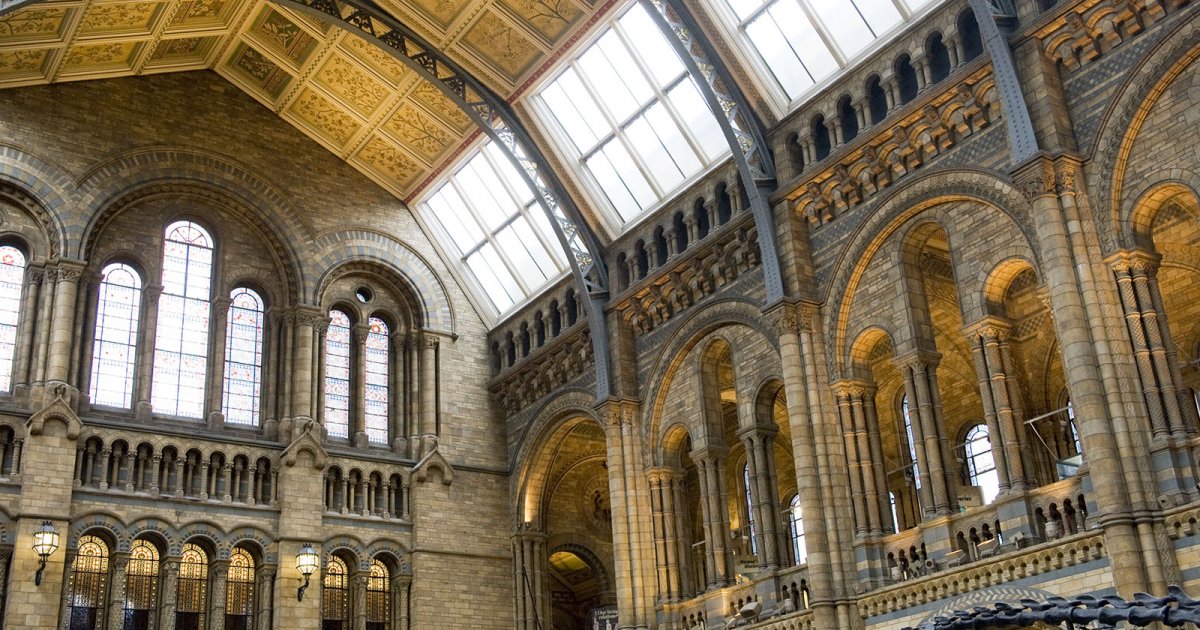 Audio File length: 2.40
Author: STEFANO ZUFFI E DAVIDE TORTORELLA

Language: English / USA
Your visit continues on the first floor, where you are immediately welcomed by a giant whale. This floor is mostly dedicated to mineralogy, gems, and geology. One of the most suggestive halls of the volcanology section lets you experience the effects of an earthquake in a department store: with impressive reality, you'll feel like the ground below your feet literally falls away while all around you things fly off the shelves. But the most interesting section is the one that literally presents "man's place in evolution". Starting with Darwin's revolutionary theory, it explains the relationship of the human species with the other inhabitants of the planet, beginning with its closest "cousins", the large monkeys that we share over 90% of our genetic code with.
You reach the second floor on an escalator that crosses the globe to reach the area dedicated to the planet. In a special gallery with the reconstruction of natural and man-made environments, you'll find yourself reflecting on urgent questions about Earth's future.
I suggest visiting the Darwin Centre right next to the museum, which can be visited in a guided group. It is a stunning and somewhat macabre collection of animals kept in glass jars, with the kind of specimens collected by Charles Darwin that led to his famous book On the Origin of Species. One of the most interesting pieces in the collection is the impressive giant squid with tentacles nearly 9 meters long!
An indispensable complement to your visit is the nearby Science Museum devoted to scientific and technological progress. The section with the 150 most important innovations in the modern world will blow your mind: it ranges from the steam locomotive to spacecraft. You will also be enchanted by the collection of naval models.
FUN FACT: one of the extinct animals you can see in the museum is the famous dodo, which is one of the characters in Alice in Wonderland. It seems that the author Lewis Carroll, who was actually named Dodgson, identified with the dodo because when he introduced himself and would be overcome with shyness, he would say, "Do-Do-Dodgson". Typical British humor!
And with this we have finished our tour of the Natural History Museum. MyWoWo thanks you for staying with us, and will see you at the next Wonder of the World!