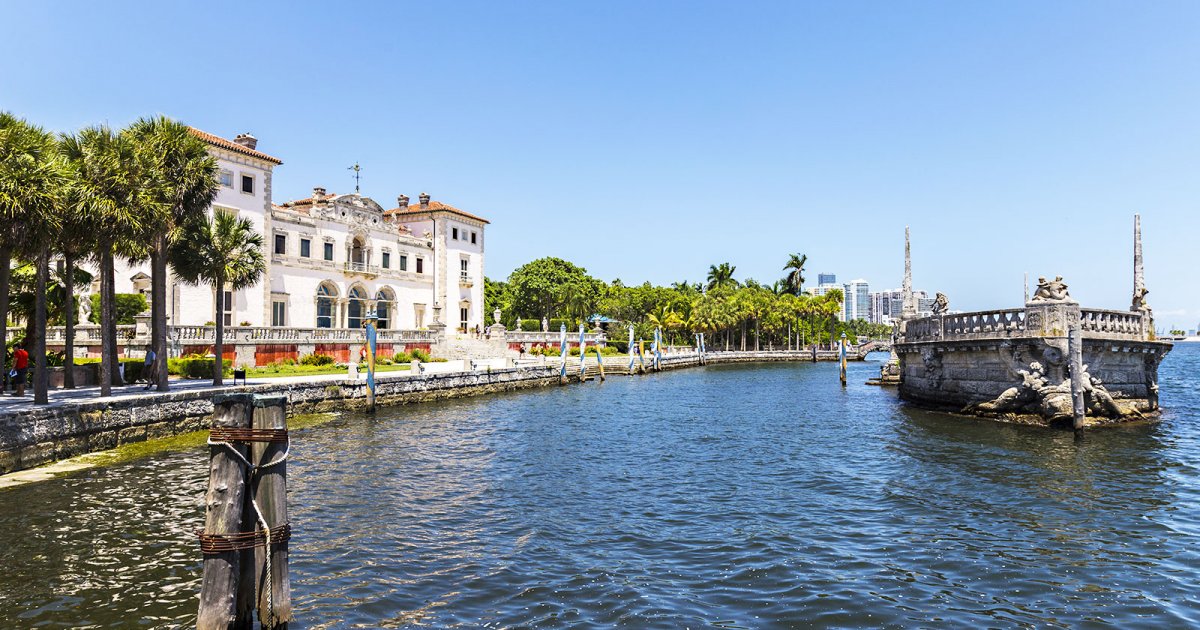 Audio File length: 2.25

Language: English / USA
When it came to naming his huge residence, James Deering chose a word from the Basque language, "vizcaya", meaning "a high place", a reference to the particular location of the villa, looking onto the bay from the top of a small rise. Building work began in 1914, and was completed just two years later. A whole army of one thousand people worked inside the villa: around 10% of Miami's population at the time.
The three-storey building has a total of 34 rooms. Once you enter the villa, you can admire the hall, decorated with wallpapers created in Paris, no less, at the beginning of the 19th century. Each room is embellished with tapestries, rugs, furniture, paintings and objects of all kinds collected by the rich benefactor on his many travels throughout his life.
The rooms on the first floor include a sitting room furnished with a tripod from the Roman age and a fifteenth-century Spanish carpet, as well as a music room decorated with ornaments from the Milan residence of the noble Borromeo family, and a dining room embellished with tapestries showing the story of Mercury, and a panel dating to the first century AD.
Opening onto the courtyard are the gates of the tea room, which once belonged to a Venetian palace, while in the "butler's pantry", you can admire fine crystal and china.
Villa Vizcaya is surrounded by a terraced garden spread out over four hectares, reminiscent of Italian estates from the Renaissance. There are two piers which go out into the bay, one for mooring boats and the other featuring a tea room. Between them is the striking Great Stone Barge, a breakwater in the form of an elaborately sculpted barge, reminiscent of the Venetian gondolas.
An interesting fact: in 1994, Villa Vizcaya had the honor of hosting the Summit of the Americas, attended by 34 government leaders from the nations that make up the American continent.
Our visit to Villa Vizcaya ends here. MyWoWo would like to thank you - see you again at another Wonder of the World!