EMPIRE STATE BUILDING, Observatory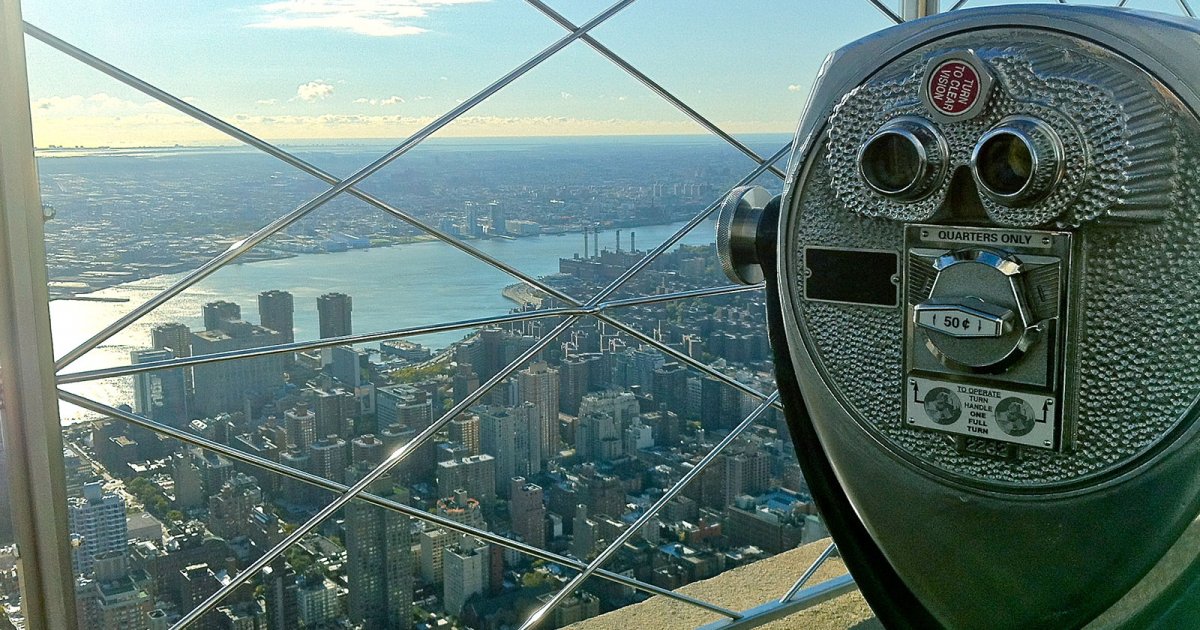 Audio File length: 2.29

Language: English / USA
Among the various Art Deco elements in the marble foyer of the Empire State Building, I'd like to draw your attention to the striking painting on the ceiling, in honor of the machine age, and, to the medallion on the wall behind the reception, in which the skyscraper is depicted as a kind of lighthouse with light radiating from the spire.
Now press pause and head towards one of the elevators on the second floor which, in a supersonic journey lasting just 60 seconds, will take you up to the first of the two observatories.
On the remarkable terrace of the 86th floor, if you're not scared of heights, you can enjoy breath-taking views of the entire city; on a particularly clear day, you can even spot the four States that border New York: Massachusetts, Connecticut, New Jersey and Pennsylvania.
You might be surprised to learn that this main observatory, which attracts thousands of people each day, was the saving grace of the skyscraper. When the building was completed, at the beginning of the Great Depression, most of the offices remained vacant, earning it the sarcastic nickname of "Empty State Building".
When the terrace you're standing on – at that time the first and, of course, the highest – was opened to the public, it saved the Empire State Building from bankruptcy, and soon became one of the city's major tourist attractions!
If you want to go even higher, on the 102nd floor there is another observatory. This covered observatory, at a height of almost 400 meters, is located at the base of the spire that the athletic King Kong reached – without using the elevators – in the 1930s film of the same name.
AN INTERESTING FACT: you will have noticed that this terrace is surrounded by solid metal bars that make it seem a little like a gilded cage. They were installed to prevent the numerous suicide attempts that had taken place since the building was completed, and which – save for a couple of incredible exceptions – were always tragically successful. The gruesome series began in 1931 with a laborer who had recently been fired, and unfortunately continued, with almost thirty people following his example…
Our visit to the Empire State Building ends here. MyWoWo would like to thank you - see you again at another Wonder of the World!