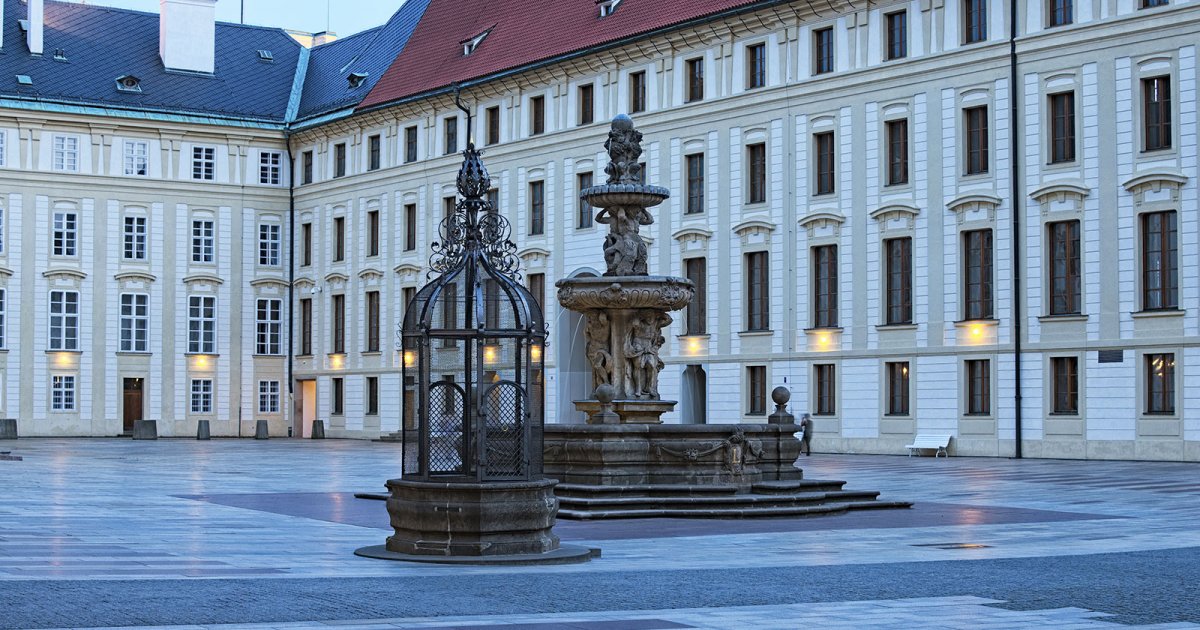 Audio File length: 2.46

Language: English / USA
The second courtyard, created by filling in a centuries-old moat, is the most austere and compact of those in the Castle. Its current appearance dates back to the mid-eighteenth century, and much of it is used as the residence of the President of the Czech Republic.
In the center of the little square is a well that provides the water for a Baroque fountain. On the northern side, a passage runs towards the Powder Bridge, built across the moat to reach the seventeenth-century riding school, today used for temporary exhibitions.
On the southern side of the courtyard is the eighteenth-century Chapel of the Holy Cross, designed by Italian architects. On display inside is the Treasure of Saint Vitus, a splendid selection of fine sacred objects, including reliquaries, crosses, liturgical ware and magnificent embroidered paraments.
In the wing that once hosted the stables, converted by the Slovenian architect Joze Plecnik in 1929, you can now find the Picture Gallery (Obrazarna), containing what remains of the art collections of Rudolf II. The Emperor had about forty Italian, German and Flemish painters at his service, as well as an international network of antique dealers who sought works for him, especially sensual paintings, his favorite. The collection once contained around 4000 paintings, but the looting that took place in Prague during the Thirty Years' War led to the loss of many of the works.
The Picture Gallery collection was built back up thanks to the reacquisition of many original works and paintings in line with imperial tastes.
The numerous canvases on display include an impressive section of German paintings, as well as masterpieces by the finest artists of the sixteenth century in Venice, such as Titian, Veronese and Tintoretto.
A large part of the Gallery is dedicated to the seventeenth century, featuring works by Rubens and Guido Reni.
From the delightful little garden on the "rock", a splendid little green space attractively landscaped by Joze Plecnik, you can admire the outside of the Rudolfinum Gallery and the Spanish Hall, both created between the 16th and 17th centuries.
An interesting fact: the Treasure of Saint Vitus, on display in the Chapel of the Holy Cross, should not be confused with the much more valuable Crown Jewels, which are held in a chapel in the Cathedral. The crowns, scepters and insignia of the Bohemian Crown are guarded safely under lock and key – seven different keys, to be precise – and are only partially visible on a few special occasions.