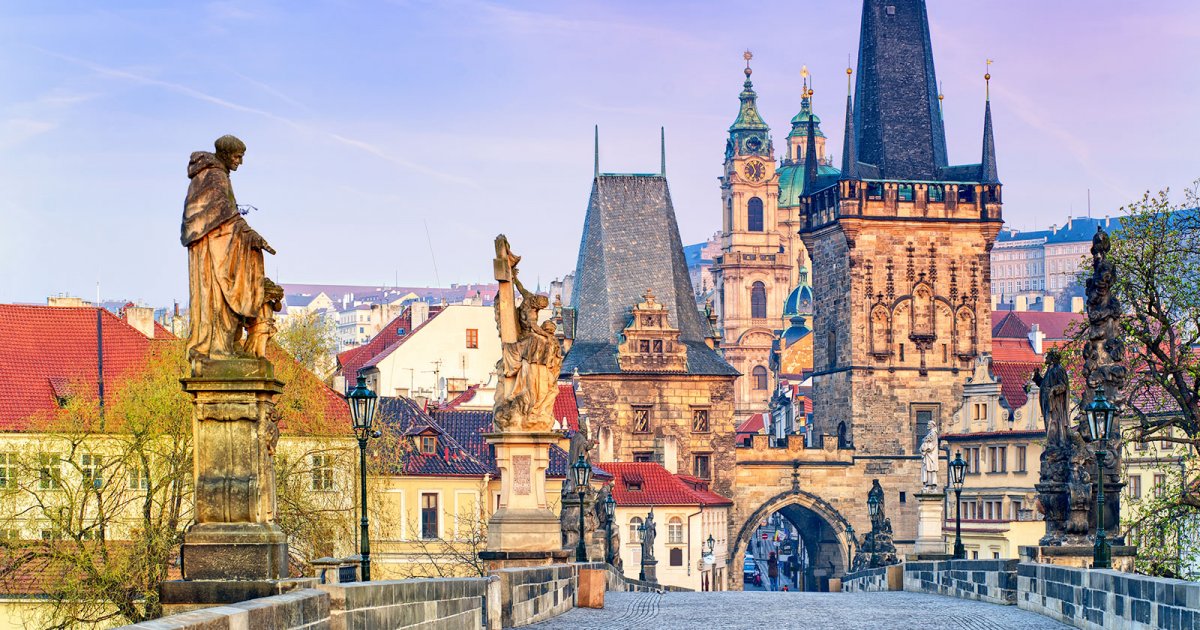 Audio File length: 2.24

Language: English / USA
As soon as you go through the gateways onto Charles Bridge, you'll notice that the balustrades are decorated, at the pillars, with a famous sequence of thirty stone sculptures in Baroque style, with golden details. They were created at the beginning of the 18th century by the finest local artists. The oldest is the Crucifix, dated 1629, on the third pillar on the right, which features gold lettering in Hebrew. The statues were commissioned by the Jesuits, but those we can see today are copies of the original works.
Just before it reaches the left bank, the bridge passes over Kampa Island, which can be reached by a stairway. This quiet, peaceful island offers an opportunity to take a relaxing break and to visit a nineteenth-century building that houses the museum of modern art, containing excellent collections of paintings and sculptures from the 20th century.
On Charles Bridge, you'll also find the famous statue of Saint John of Nepomuk, by Jan Brokoff, located at the point where, in 1383, the saint was drowned in the Vltava River by King Wenceslas IV for refusing to reveal, even under torture, the secrets entrusted to him by the queen during confession, thus becoming the patron saint of both the drowned and of confessors. The statue was built in 1683, 300 years after the events, and became the prototype for the numerous portrayals of the saint in Europe.
After the narrow "channel of the devil", the Bridge ends with the gate that leads into the Malà Strana neighborhood.
In the high fifteenth-century Gothic tower of the gate, you can see an exhibition on the history of the bridge, while the balcony offers one of the most beautiful views of the Old Town.
The bridge is always packed with tourists, musicians, streets artists and vendors selling objects of all kinds, and offers an unforgettable view of the hill of Malà Strana and the Castle.
An interesting fact: stroking the base with the scene of the martyrdom of Saint John of Nepomuk is said to bring good luck, and the elderly generation in Prague still recall that until a few decades ago it was customary for passers-by to raise their hat to the saint.
Our visit to Charles Bridge in Prague ends here: MyWoWo would like to thank you - see you again at another Wonder of the World!