MUNICIPAL HOUSE, PRESENTATION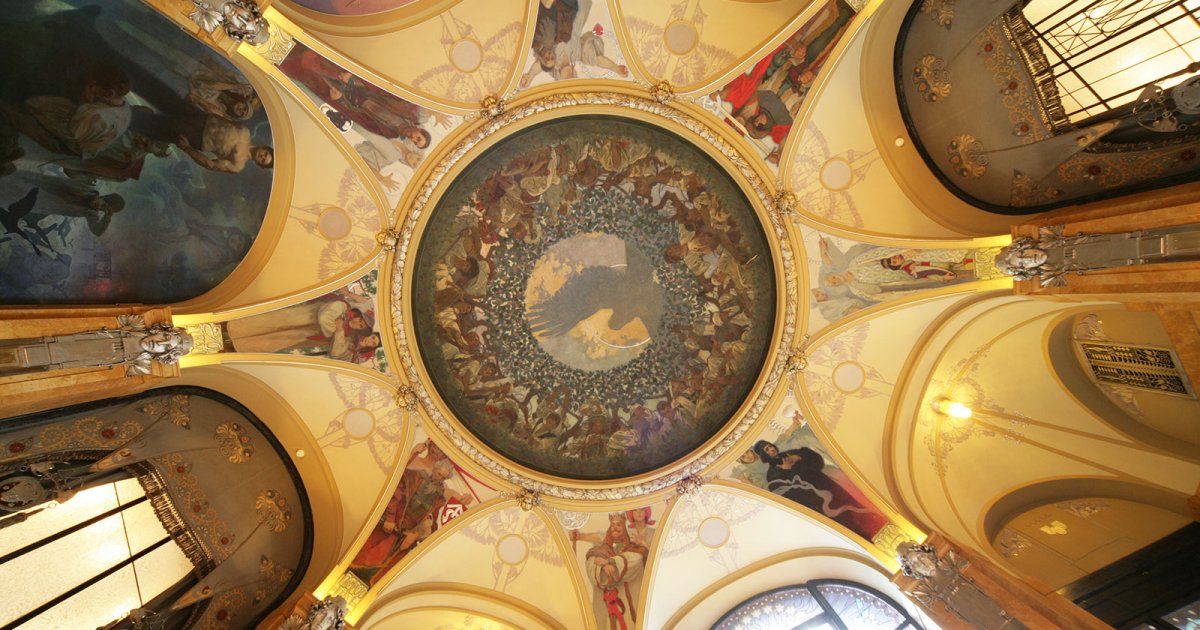 Audio File length: 2.40

Language: English / USA
Hi, my name's Rick, and I'm your personal guide. Along with MyWoWo, I'd like to welcome you to one of the wonders of the world: the Municipal House.
The Municipal House was built between 1905 and 1912, after the area had been cleared of buildings in a state of disrepair. It was built on the site of the Royal Court Palace, the residence of the kings from 1383 and 1485, demolished in the early 20th century. Conceived as a cultural and leisure-time venue, featuring restaurants, theaters, games rooms and meeting rooms, it is a masterwork of the Secese movement, the Bohemian version of Art Nouveau, which takes its name from the Secession proclaimed by Czech artists seeking to break away from the preceding styles.
It is no coincidence that the palace and its decorations are the result of a collective effort from the finest Bohemian artists of the time, including the great Alfons Mucha, who designed the decorative elements in the entrance hall and in the "mayor's office". The mosaic above the entrance, entitled Homage to Prague is by Karel Spillar.
The Municipal House features a huge variety of materials and colors, with frescoes, decorative windows and compositions with tiles, mosaics and period furnishings. The high point of the building is the spectacular Smetana Hall, dedicated to the great Bohemian composer, used as a venue for concerts and cultural events. It also hosted the first meeting between Vaclav Havel and the delegation of the Communist Party then in power, in 1989.
The Municipal House is next to the Powder Gate, dominated by the imposing Powder Tower, not to be confused with the one in the Castle, which was said to have housed Rudolf II's alchemy laboratory.
The monumental construction, with a solemnity reminiscent of a triumphal arch at the entrance to the capital, was partly destroyed during the Siege of Prague by the Prussians in 1757 and then used to store explosives. It was restored in the 19th century. You can go up to the panoramic terrace and enjoy a 360-degree view over the Old Town.
Before I go, an interesting fact: when it was inaugurated, the Municipal House was well ahead of is time in terms of technology, with 28 electrical and hydraulic elevators, a remote-controlled ventilation system, a pneumatic dispatch system, a modern telephone exchange and a kitchen equipped with an ice-making machine and a cold storage room.