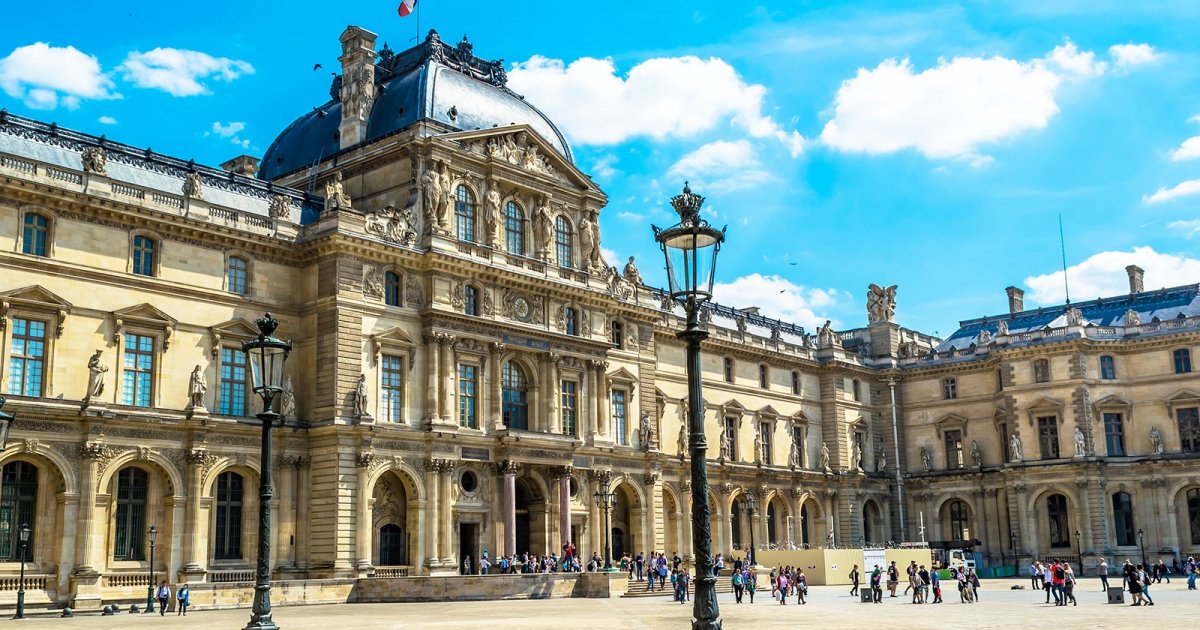 Audio File length: 2.51
Author: STEFANO ZUFFI E DAVIDE TORTORELLA

Language: English / USA
Hi, I'm Ed, your personal guide. Together with MyWoWo, I'd like to welcome you to one of the wonders of the world.
Today I'll accompany you through the Louvre Palace.
The Louvre is one of the most spectacular and scenic spots in Paris!
It is an exceptional architectural work with an equally intriguing story that goes on for eight centuries and is closely linked to France and its kings. So don't go into the museum immediately, and remember that the building itself is a monument of extraordinary intensity, and that visiting it, even just from the outside, is truly interesting. Firstly, you should know that there are two hypotheses on the origin of the name "Louvre": it might come from the name for a fence or cage for wolves, or it might come from the word "leowar", which in ancient French means "fortified place".
Your itinerary starts right in front of the Louvre's main façade. All you have to do is glance at it to understand what kind of architecture the Sun King Louis XIV preferred: it's solemn, monumental, and inspired by the classic models but in gigantic proportions. The greatest European architect of the time, Gianlorenzo Bernini, was even contacted for a design while he was visiting France: the Baroque virtuoso had designed a very original façade, with the ground floor made up of a fake hill of rocks. But the project was too expensive and extravagant, and he preferred Claude Perrault's solution with a noble and austere row of columns.
Note how stark the contrast is between the Colonnade, as the palace's façade is called, and the Gothic church of Saint-Germain-l'Auxerrois standing right in front of it, which for centuries was almost regarded as an outer chapel of the Louvre.
With its multi-faceted octagonal bell tower standing tall next to small spires, the façade with its tapered point, the giant rosette window, the portico and its lights and shadows, Saint-Germain gives off a note of cheerful fantasy. Apart from the additions, supposed embellishments, and restorations, the church was built in two periods that correspond to different phases of the Gothic style: the portal and the back section including the chorus dates back to the 1200s, while the portico and naves were built two centuries later during the mid-1400s.
FUN FACT: the Church of Saint-Germain-l'Auxerrois was the protagonist of a bloody story of history. In fact, its bells announced the beginning of the terrible massacre of St. Bartholomew on August 24th, 1572, where Catholics killed nearly 30,000 Protestants in just a few days.