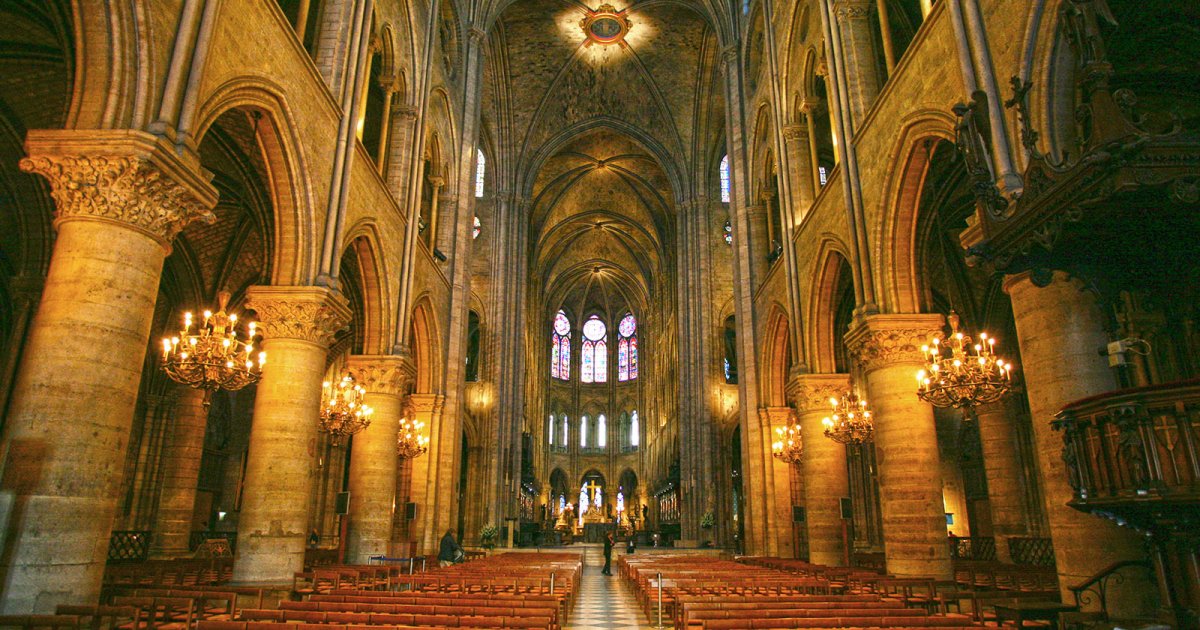 Audio File length: 2.56
Author: STEFANO ZUFFI E DAVIDE TORTORELLA

Language: English / USA
And now you can finally go inside Notre-Dame cathedral.
Don't be put off if it seems too noisy; Notre Dame is always crammed with visitors, and not even the frequent announcements over the loudspeakers can establish silence. But if you can get past the auditory impact - and perhaps even some jostling - you can't help but be impressed by the architectural harmony of this monument.
With its 5 naves crossed by a double horizontal corridor behind the main altar, this grand cathedral is 130 meters long, 48 meters wide, 35 meters high, and can accommodate over 6,000 people! Admire the slender Gothic arches supported on pillars, and the elegant gallery of three-sided windows that runs along the central section and continues around the choir. In spite of the restoration work carried out in the 19th century, the interior architecture exudes a sense of great purity. Once you've taken in the overall effect, go to the back and visit the numerous side chapels.
Apart from the superb Gothic rose side windows and sculpted screens of the choir, there are not many medieval works inside Notre-Dame. The great paintings, both French and Italian, are mostly 17th-century, and the superb sculptures near the main altar are mainly 18th-century. See King Louis XIII and King Louis XIV in prayer, and the marble group of the Pietà. The wooden seats in the choir are also from the 18th century.
In the sacristy you can visit the Trésor de Notre-Dame, where you will see religious objects, priestly vestments and precious relics, such as a holy nail and a fragment of the Cross from Sainte-Chapelle that was brought here by Saint Louis IX.
The most important one is the Crown of Thorns that was placed on Christ's head before the crucifixion. It is kept in a chapel at the back, in a case that is only open to the public on rare occasions.
The items in the treasury are relatively recent, since the holy goldsmiths were raided during the Revolution.
Before you leave, take a look at the organ opposite the facade; it dates back to the second half of the 1800s and has 8,000 pipes, 110 stops and 5 keyboards.
FUN FACT: if you happen to hear a strange buzzing sound when you visit the sacristy, don't be alarmed; there's been a beehive on the roof since spring 2013, installed and operated by a famous bee-keeper. So you could say it really is... divine honey!
This is where our visit to Notre-Dame cathedral in Paris ends. MyWoWo thanks you for staying with us, and will see you at the next Wonder of the World!