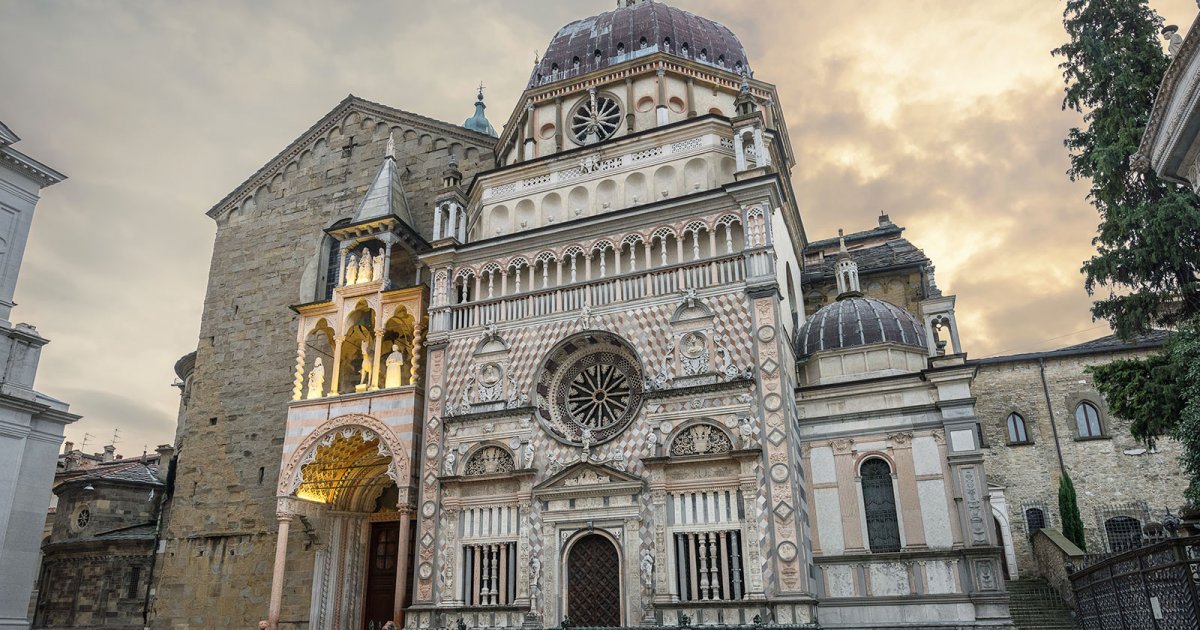 Audio File length: 2.35

Language: English / USA
Hi, my name's Rick, and I'm your personal guide. Along with MyWoWo, I'd like to welcome you to one of the wonders of the world: the Colleoni Chapel.
This funeral monument tells the story of an exceptional man: Bartolomeo Colleoni, who during the 15th century was a very famous captain of a band of mercenary soldiers.
Brash, audacious and consumed by a craving for success, Colleoni, a native of Bergamo, switched allegiance on several occasions between Milan and Venice, accumulating enormous wealth and even attempting to become Lord of Milan.
When it came to his burial, he felt a tomb inside a church was not enough, and wanted his funeral monument to look onto the square where everyone could admire it. Thus, this magnificent chapel was built in just five years, starting from 1472, and the design was entrusted to one of the most promising young artists of the time, Giovanni Antonio Amadeo, who created one of the period's most important works.
To understand the degree of skill demonstrated by the architect, consider the spectacular effect it has on the visitor. The chapel's aim was to overshadow the nearby Basilica of Santa Maria Maggiore; since the Basilica is much bigger, Amadeo designed the impressively ornate decorations to captivate and delight observers, making them forget the church behind the chapel.
All this was designed to glorify the Captain, and here you can discover the images comparing him to the heroes of ancient times, such as Hercules, figures from the Old Testament such as Moses, or symbols of the Christian Virtues. Even the large rose window was conceived as a wheel of fortune, blocked forever at the point in which Bartolomeo, whom we can recognize in the soldier at the top, was at his peak – it's as if even time ground to a halt before a personage of such importance!
The twelve columns that form the spokes of the wheel resemble cannons, a reference to those Colleoni maneuvered so adeptly in battle, allowing his fame to exceed even that of the emperors depicted in the two busts above the two windows.
An interesting fact: Colleoni's real surname was Colionus, which means testicles. Bartolomeo was so proud of this that he had three pairs of testicles added to his coat of arms.
Touch the shiniest coat of arms on the gate into the Chapel – it's said to bring good luck!