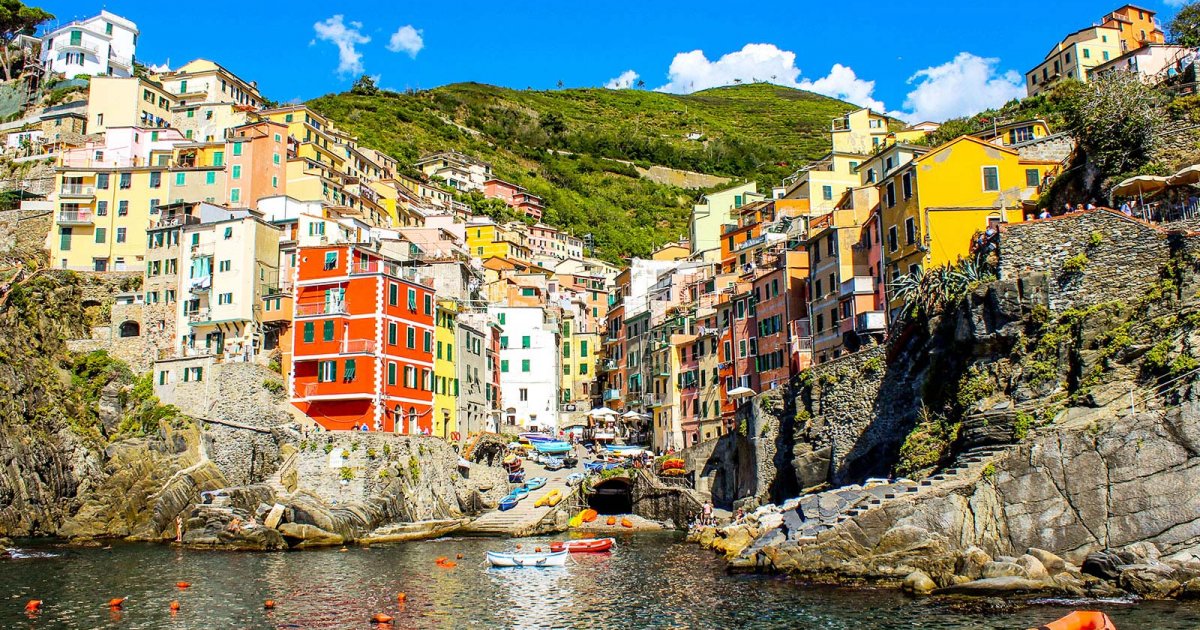 Audio File length: 2.51

Language: English / USA
Hi, my name's Marcy, and I'm your personal guide. Along with MyWoWo, I'd like to welcome you to one of the Wonders of the World: Riomaggiore.
Riomaggiore stretches out along the steep valley of the former Rio Major torrent that gives the little village its name. Some time ago, the torrent was covered over, and where it once flowed is now the main street of the village.
Riomaggiore was founded towards the end of the first millennium. Before that, the coasts of Liguria were overrun with Turkish pirates, so the people lived up in the hills for fear of falling prey to them. It was not until Genoa became a major seafaring power that the seas here became safer and villages began to spring up along the coastline.
All the villages were fortified, however, because the risk posed by piracy remained high, so in 1260, a small castle – now seat of the local government – was also built in Riomaggiore.
Like all the Cinque Terre villages, the hallmark of Riomaggiore is its colorful tower houses, built together in long rows broken up only by narrow lanes known here as carruggi. I suggest exploring these romantic little streets at your leisure, discovering the delightful surroundings and beautiful views.
If you walk to the top of the village, you'll find the triple-nave church of San Giovanni Battista, built in 1340. The oldest of the churches here, however, is Sant'Antonio, in the village center, built by the villagers themselves around the 13th century. Everything you see here was built by the local people, such as the sixteenth-century oratory of Santa Maria dell'Assunta, where you can admire three fine paintings and a wooden statue of the Madonna, used in religious processions to ask for protection from the pirates.
When you reach the beautiful little harbor for fishing boats, you'll see two paths carved out of the rock. The one on the right is the famous Via Dell'Amore or Lovers Lane, built in the 1900s, which leads to Manarola. Part of it is now closed, but I suggest you take a walk along the stretch that remains open, because the views are breath-taking.
The path on the left leads to a pleasant beach, isolated from the village, where you can enjoy a swim, weather permitting.
Let me leave you with an interesting fact: the old path to Manarola, above the hills, was so arduous that the villages were virtually cut off from one another, to such an extent that, despite the proximity, two different dialects are spoken.