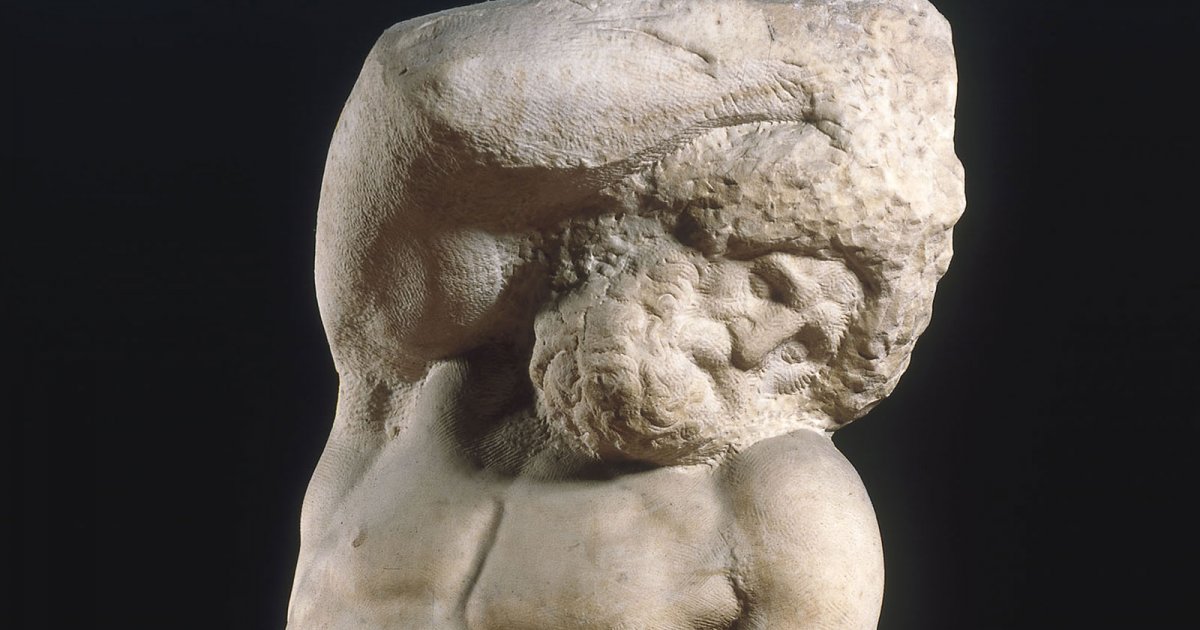 Audio File length: 2.38
Author: STEFANO ZUFFI E DAVIDE TORTORELLA

Language: English / USA
Few museums in the world can offer you an itinerary as spellbinding as the Galleria dell'Accademia. After the first room where you saw remarkable Renaissance sculptures and paintings, go to the left and enter the hall where six marvelous marble sculptures by Michelangelo await.
The hallway that precedes the Tribune where David proudly stands has four large nudes known as "Prisoners" or "Slaves" and St. Matthew, which was sculpted by Michelangelo in the early 16th century for Florence's Cathedral. Placed on both sides of the hallway, these imposing statues welcome you into a space that was designed as a true temple dedicated to Michelangelo's artistic universe; so don't rush right to David but start with the Prisoners, which Michelangelo began at the end of the 1520s but never finished, and take some time to enjoy the splendor that these enormous nudes transmit.
The Prisoners or Slaves were made for the tomb of Pope Julius II, who kept Michelangelo busy for forty long years, and who the artist himself called his tragedy. The Prisoners should have been at the base of the pontiff's funeral monument. There are also two others which are kept in the Louvre in Paris.
Beyond their original meaning, the Prisoners speak of timeless ambition; that is, of the struggle against the limits that oppress mankind.
The first on the left is the so-called Young Slave, and on the other side of the hallway you have the Awakening Slave. Further down on the right is the Bearded Slave, and opposite him you can see the last Slave known as Atlas. Of the four, Atlas seems to be the least completed work, while the almost freed form of the Bearded Slave indicates that the work had reached a much more advanced phase. When compared, the four Slaves in the Accademia illustrate different moments in the sculptural creation process. The first overwhelming impression they give you is that they're struggling to free themselves from the stone block they're imprisoned in, which they desperately want to get out of. Despite their unfinished state, or rather, maybe thanks to it, once you see them it won't be easy to forget them.
FUN FACT: at the end of the Renaissance, the four Slaves were even used as "garden sculptures": in fact, Bernardo Buontalenti had positioned them in the corners of the Artificial Cave in the Boboli Gardens.