PIAZZALE MICHELANGELO, San Miniato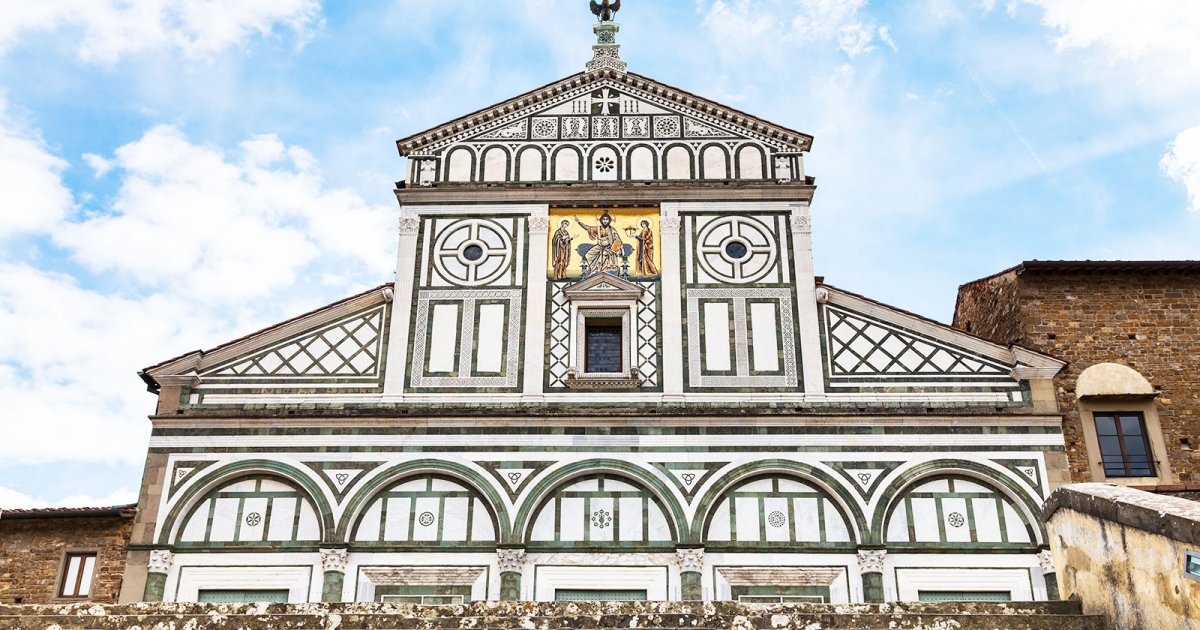 Audio File length: 2.41
Author: STEFANO ZUFFI E DAVIDE TORTORELLA

Language: English / USA
The back of Piazzale Michelangelo is crossed by "Viale dei Colli". The stupendous road passes through the hills above Florence, offering a new breathtaking view of the city at every turn.
Just behind the square you'll find the Church of San Salvatore al Monte, an important Renaissance construction built at the turn of the year 1500.
Keep climbing to reach the area occupied by the "Porte Sante", or Holy Doors cemetery. Among the remains of forts and fortifications, you can see the Palazzo dei Vescovi, or Palace of the Bishops, with its 14th-century appearance, but more importantly youl'l see the wonderful basilica of San Miniato al Monte, which together with the Baptistery are the most important buildings in Florence from before the Gothic era.
As you can see, the church stands in a fantastic panoramic position, and its white marble façade is a definite reference point in the city's skyline. The thousand-year old basilica was built starting in the year 1018, and despite some subsequent touch-ups, its clear Romanesque forms have remained the same.
Look at the façade: it is covered by a geometric face made of white marble from the Apuane quarries and green marble from Prato. At the bottom you can see five serene arches; up high, above the central window, there is a gold background mosaic from the 1200s with Christ Enthroned between Mary and St. Minius, the evangelizer of Florence.
But just wait until you go inside, with three naves supported by columns and pillars, and just like the outside a fine geometric pattern of white and green marble. The floor is also marble, with seven inlaid squares with different decorations. The fifteenth-century Chapel of the Crucifix is at the center of the church. And behind in the choir, notice the remarkable group of Romanesque sculptures, all worked with inlaid marble in multiple colors: there is a transenna gate, main altar, and pulpit with a reading stand supported by expressive statuettes.
Even the basilica's apse is in the same refined alternation of white and green marble, plus a large mosaic with Christ Blessing from the 1200s.
FUN FACT: you might find it strange that the top of San Miniato has a golden copper eagle instead of a cross. The eagle clutches a bale of wool between its claws, which is a symbol of the powerful corporation of Florence which, in reward for the work and money it spent for the church, got the clergy's approval to put their symbol on top.
And with this we have finished our tour of Piazzale Michelangelo in Florence. MyWoWo thanks you for staying with us, and will see you at the next Wonder of the World!