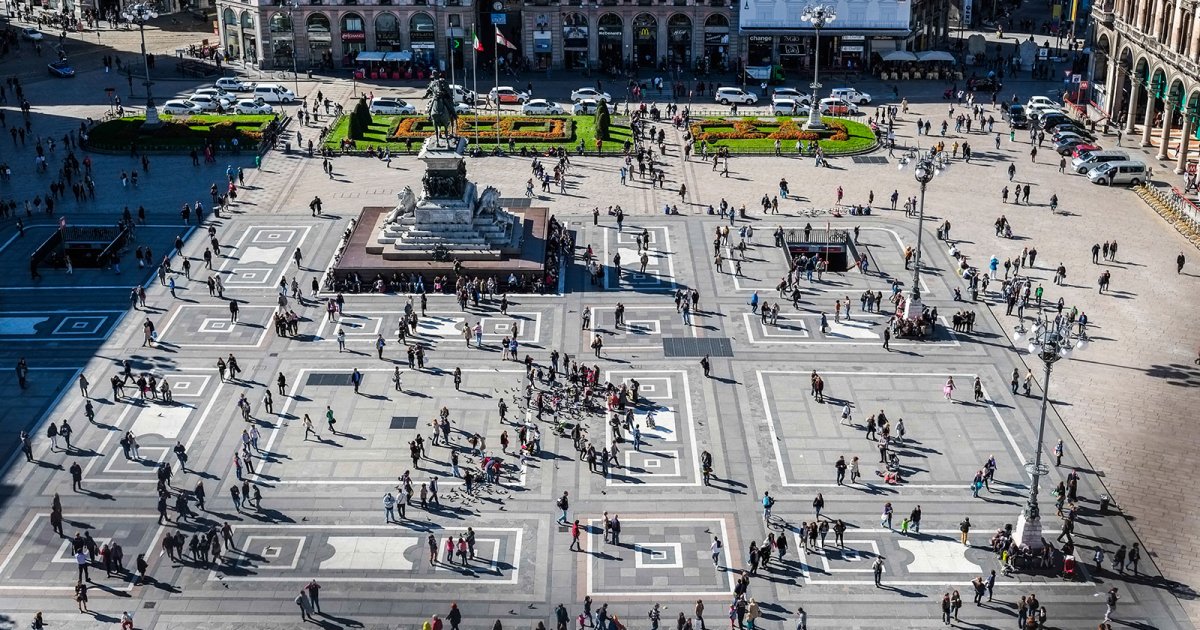 Audio File length: 1.45
Author: STEFANO ZUFFI E DAVIDE TORTORELLA

Language: English / USA
You are in Cathedral Square: if you're a fan of selfies, now's the time to take one with the most Milanese background in existence!
There's an old Italian comedy that you might have seen where two naive peasants come to Milan looking for a nephew. Not knowing how to find him, the two immediately go to Cathedral Square, convinced that sooner or later the boy will pass through there. Already from this example it's easy to understand that you're in the heart of the heart of Milan.
The square was conceived as an immense churchyard in front of the Cathedral's façade, but it isn't perfectly harmonious because it has been repeatedly extended and modified since the 1700s, and its end has not yet found a definitive arrangement. Even today, further modifications have been designed: for example, a few palm trees and some banana trees were transplanted in the square in February 2017.
To best observe the square, view it from the massive monument of Vittorio Emanuele II on horseback, a work that was finally finished after enervating delays in the late nineteenth century.
To the left of the Cathedral's façade, you'll notice the great arched entrance to the Vittorio Emanuele Gallery. The Gallery also dates back to the end of the 1800s and was designed by Giuseppe Mengoni, the architect who designed the arcades on either side of the square.
FUN FACT: about twenty years ago a fountain was installed on one side of the square whose water jets imitated the shape of the cathedral with its spires; the effect was really impressive, and it's too bad that it has been removed!