CERTOSA SAN MARTINO, Church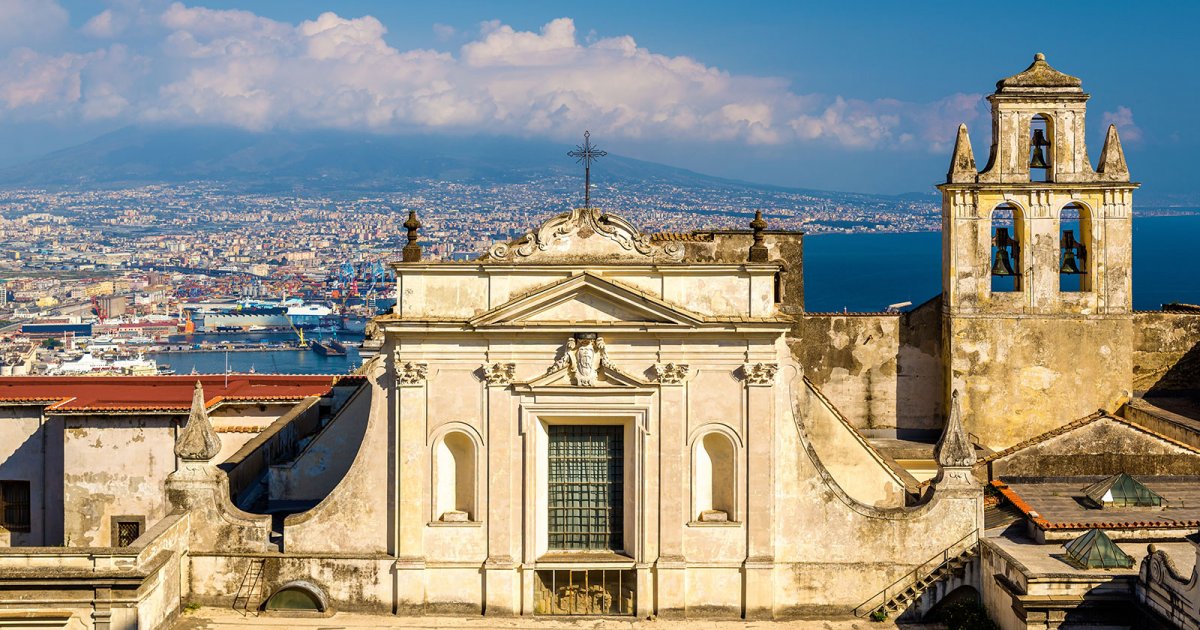 Audio File length: 2.49
Author: STEFANO ZUFFI E DAVIDE TORTORELLA

Language: English / USA
The church is naturally the heart of the Certosa complex, which can be entered by crossing a courtyard and a 14th-century portico that was renovated at the end of the 16th century. Reducing the number of arches from five to three, space was cut out from the sides of the portico for the Chapel of St. Joseph and the Chapel of the Rosary. On the top of the façade you can see a very simple structure with two pairs of half-columns flanking a central window.
The interior isn't very big but it's gorgeous, with only one nave with six side chapels that were built where the old naves of the original Gothic church had stood. The decoration of marbles, stuccoes, inlays, and above all paintings and frescoes is so rich that you'll feel like you're in an art gallery of the 17th-century Neapolitan school. Paintings decorate the nave, the chorus, and even the lavish side chapels.
I'd like to point out the Cycle of the Twelve Prophets by Jusepe de Ribera along the pillars: he was Spanish but active mainly in Naples.
Near the high altar you can see the large Washing of the Feet by Battistello Caracciolo in front of the equally magnificent Communion of the Apostles by Ribera, and on the inner façade the large and solemn Deposition of Christ by Massimo Stanzione next to two more powerful canvases by Ribera: Moses and Elijah.
All of these paintings demonstrate how the Neapolitan pictorial school of the seventeenth century passed from an early naturalism inspired by Caravaggio to a much more fictional and theatrical painting style that progressively opened up to the clear, fresh colors of the eighteenth century.
You can also make interesting comparisons with Emilian artists and others from central Italy: the nave's vaults are decorated with a pictorial cycle by the Emilian Giovanni Lanfranco, and on the back wall a beautiful Nativity scene stands out by the Bolognese artist Guido Reni.
Lastly, at the back of the church go through a sumptuous hallway to reach the beautiful chapel of the treasure, whose ceiling reveals a bright and incredibly spectacular fresco: it is the Triumph of Judith, the last work by the great Neapolitan painter Luca Giordano, who died the year after painting it.
FUN FACT: the Certosa di San Martino is the only point in the city that offers a view of the entire Gulf of Naples, from Punta Campanella to Posillipo.