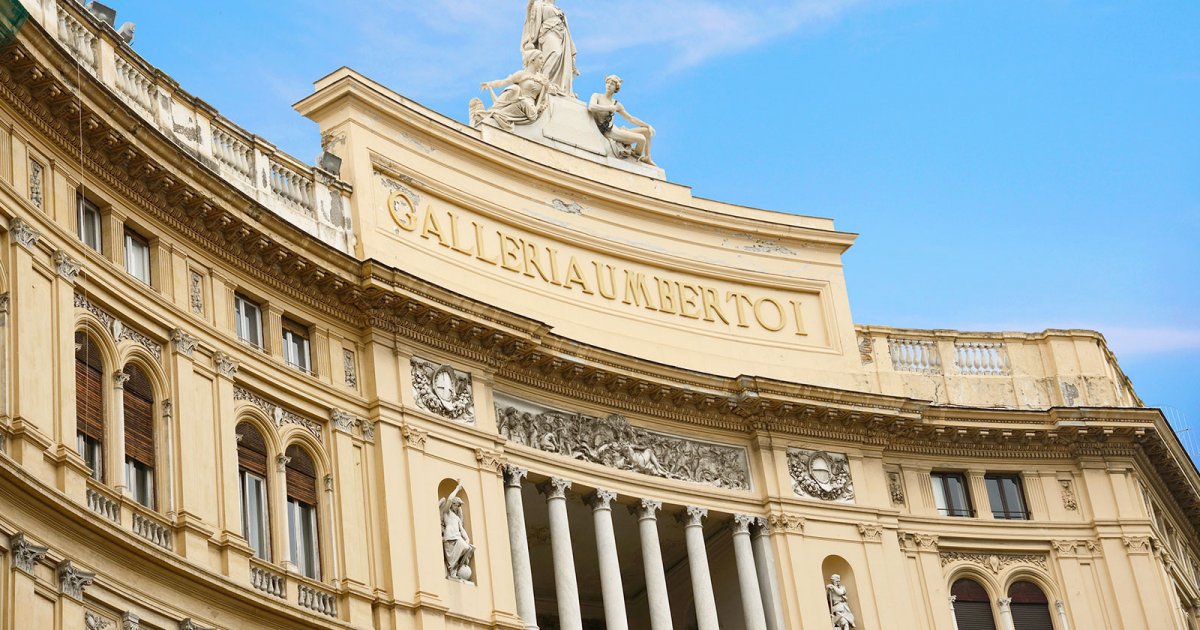 Audio File length: 2.36
Author: STEFANO ZUFFI E DAVIDE TORTORELLA

Language: English / USA
On the three smaller façades that open onto Via Toledo, Via Santa Brigida, and Via Verdi, you can admire many decorative stucco details. Now go under the entrance to discover the spectacular and harmonious architecture inside this building that is so reminiscent of Milan's Vittorio Emanuele II Gallery, who was the first king of Italy and Umberto I's father. Moreover, the royal couple of Umberto and Margherita isremembered with particular fondness in many Neapolitan traditions: the famous "margherita" pizza is named after the queen, in honor of whom mozzarella was added for the first time ever, not only to enrich the taste but also to create a pizza whose ingredients had the colors of the Italian flag!
Go straight to the central octagon that's formed by the intersection of the two main corridors, and admire the floor mosaics that reproduce the winds and signs of the zodiac, then take in the Gallery's elegant palaces that have clothing stores and restaurants on their first two floors, and finally look up to admire the evocative glass and iron vault.
At the sides of the dome's four semicircular windows you can see eight female figures in copper, and if you have good eyesight you'll be able to see the Star of David in the middle of the windows. You'll be surprised to learn that in the past this building was home to a masonry company: most of its decorations and even its structure are more or less explicitly connected to this association, as if the Gallery was a mysterious temple for beginners.
I'd also like to point out the Church of Santa Brigida right next to the Gallery; it's unobtrusive on the outside, but has a fantastic Baroque interior full of excellent paintings. Inside you'll find the tomb of one of the greatest painters of the Neapolitan school, Luca Giordano, who died at the beginning of the 18th century, as well as several of his paintings, including the dome's frescoes with the Glory of Santa Brigida.
FUN FACT: the Umberto I Gallery was also the "kingdom" of the now-disappeared "sciuscia", a dialectical form that arose during World War II from the English word shoeshine. The shoeshiners were just young boys who made a little bit of money by shining the shoes of the allied officers and soldiers. These same kids were the protagonists of the famous movie Sciuscià by Vittorio de Sica that won an Oscar in 1947; the movie tells a story about their poverty and delinquency.