PIAZZA DEI MIRACOLI, Baptistery Interior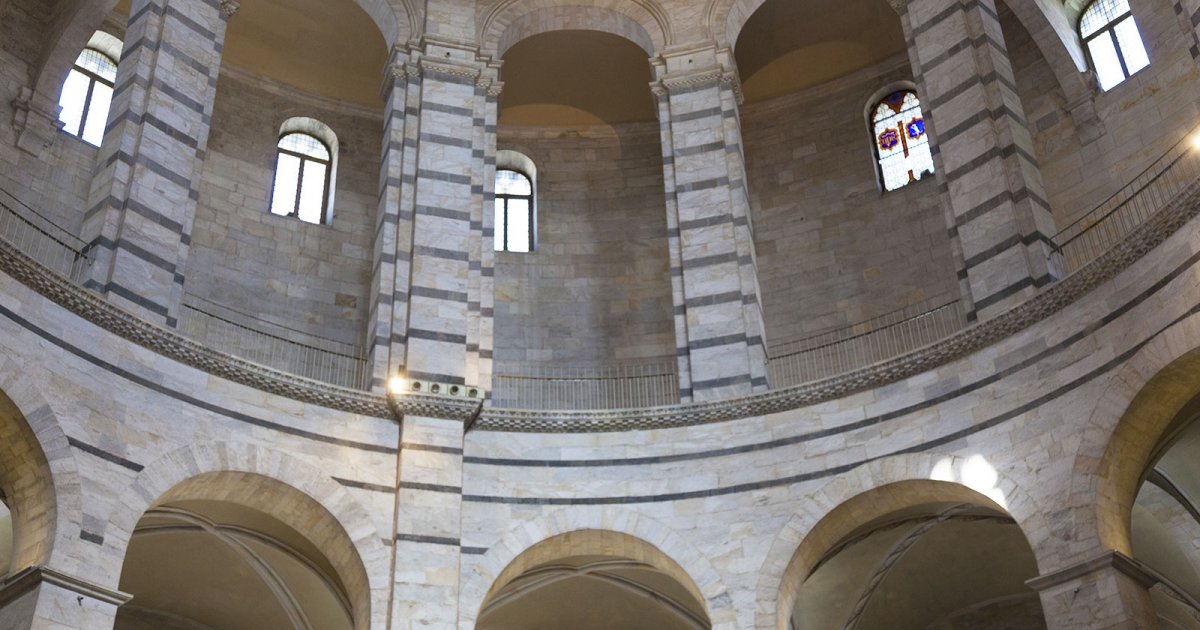 Audio File length: 2.51
Author: STEFANO ZUFFI E DAVIDE TORTORELLA

Language: English / USA
The first thing that strikes you once you enter the Baptistery is its sobriety: it lacks decorations, but certainly doesn't lack grandeur. The alternation of light and dark stripes of marble is powerful enough to immediately captivate you.
Cross the circular corridor and go to the large central hall, passing under the imposing ring of arches that in the lower level stand on columns, and in the upper level on rectangular pillars. After looking up to admire the majesty of the building and the truncated cone-shaped dome I mentioned in the previous file, concentrate on the great octagonal baptismal font of the 13th century standing on a podium with three steps. The bathtub decorated with marble shapes was used to baptize both adults and infants.
But the highlight of the Baptistery is its extraordinary pulpit that was made in the second half of the 1200s by its own architect: Nicola Pisano. Take a few minutes to walk around its hexagonal structure: as you can see, it is particularly elaborate with columns standing on lions or monstrous creatures, which represent the sin that will be defeated by the sacrament of baptism. The hexagonal shape is an absolute novelty: before then pulpits were always square or rectangular. The artist of Apulian origins depicted some episodes of the life of Christ on the parapet's panels: the Nativity, the Announcement to the Shepherds, the Adoration of the Magi, the Presentation in the Temple, the Crucifixion, and the Last Judgment. But it is not merely the hexagonal shape that makes this work a milestone in the history of Italian sculpture: more than that, it's how the numerous and powerful figures participating in the events are depicted with great personal involvement, and you can see their emotions in their expressions and gestures. You can also see the influence of the classical models, for example in the figure of Mary in the scenes of the Nativity and the Adoration of the Magi, who looks more like a Roman matron than a Gothic Virgin. The sculptor was probably inspired by the many Roman sarcophagi in the nearby Cemetery, which he carefully studied when he first came to work and live in Pisa.
FUN FACT: don't forget to visit the Byzantine-inspired galleries called the matroneums, which you can reach by climbing a spiral staircase. From above you will be able to admire the intricate geometry of the floor around the altar, with a clearly Arab flavor. You'll also notice the exceptional acoustics of the world famous Baptistery; in fact, every 30 minutes the caretakers play a few notes so you can hear the echo, which is absolutely amazing!