PIAZZA DEI MIRACOLI, Square - Introduction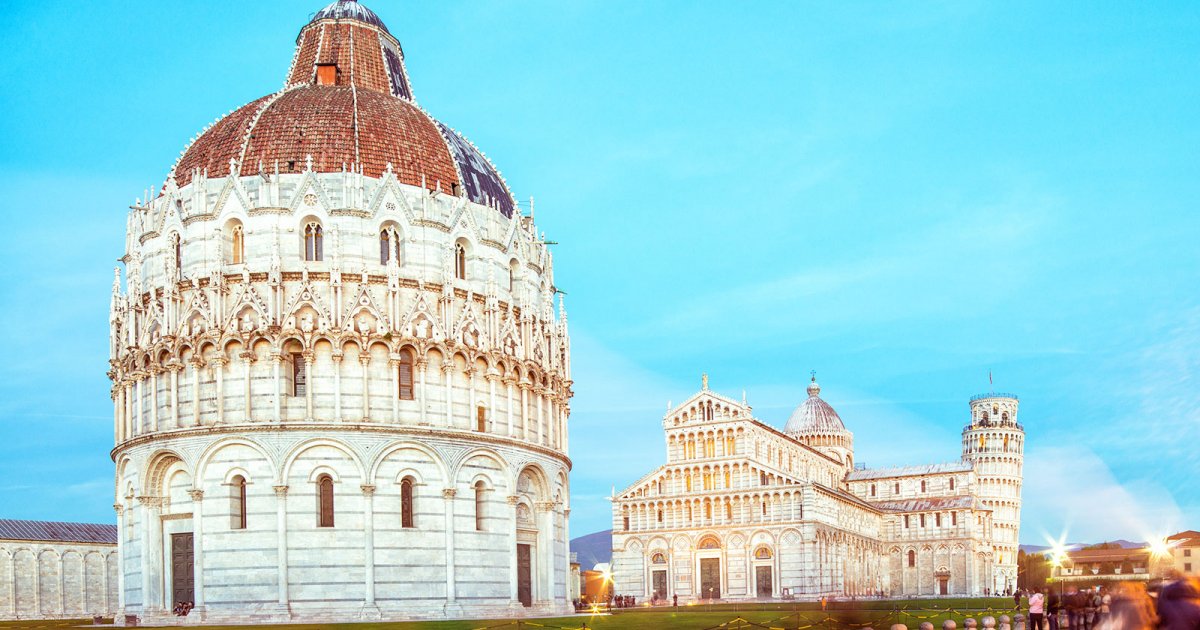 Audio File length: 2.48
Author: STEFANO ZUFFI E DAVIDE TORTORELLA

Language: English / USA
Hi, I'm Gale, your personal guide. Together with MyWoWo, I'd like to welcome you to one of the wonders of the world.
Today I'll accompany you through the Campo dei Miracoli, which is also called the Piazza dei Miracoli.
This square is one of the world's most concentrated areas of artistic masterpieces!
This group of marble monuments has universally been made famous by the presence of the Leaning Tower. You should know that even among the extraordinary wealth of medieval architecture and art in Italy, these four masterpieces in Pisa are a splendid exception. In fact, the Cathedral, Baptistery, Tower and Cemetery are not located in the historic city center, but in an open area: a large emerald-colored meadow near the walls that surround the ancient city. It's crazy to think that thanks to this isolated location, and of course also thanks to their size, the monuments can be seen from quite far away, even as far as the highway!
All this wonder comes with just one wrongdoing: it makes you forget about the rest of a city that is truly full of history and beauty, as well as quite proud of its university traditions.
After the victory against the Turks in Palermo in 1063, the Maritime Republic of Pisa wanted to demonstrate all its power and wealth with the construction of the beautiful Cathedral, followed by the Baptistery, and the Bell Tower, mostly using beautiful white marble from the quarries of the nearby Apuan Alps. A large open area was chosen to the north of the historic center on the right bank of the Arno, near one of the city's entrance gates and protected by the walls, which are still visible in the background.
The buildings rose up one after the other as a close group over almost three centuries; their style evolves from Romanesque to Gothic, but they are perceived as a unitary set because they're made of the same marble and also thanks to the presence of galleries of columns and decorative sculptures of the highest quality. Other, more distant buildings have been refurbished, and since their restorations they have been home to interesting museums.
If you are looking for a good viewpoint to take in the complex as a whole, I suggest going to Putti Fountain with its Baroque angel sculptures, located at the corner of the square and Via Santa Maria.
FUN FACT: in Pisa, the year began on March 25th, which is the first day of the Aries sign in the zodiac. That's why the monuments in the square are arranged like the Aries constellation.