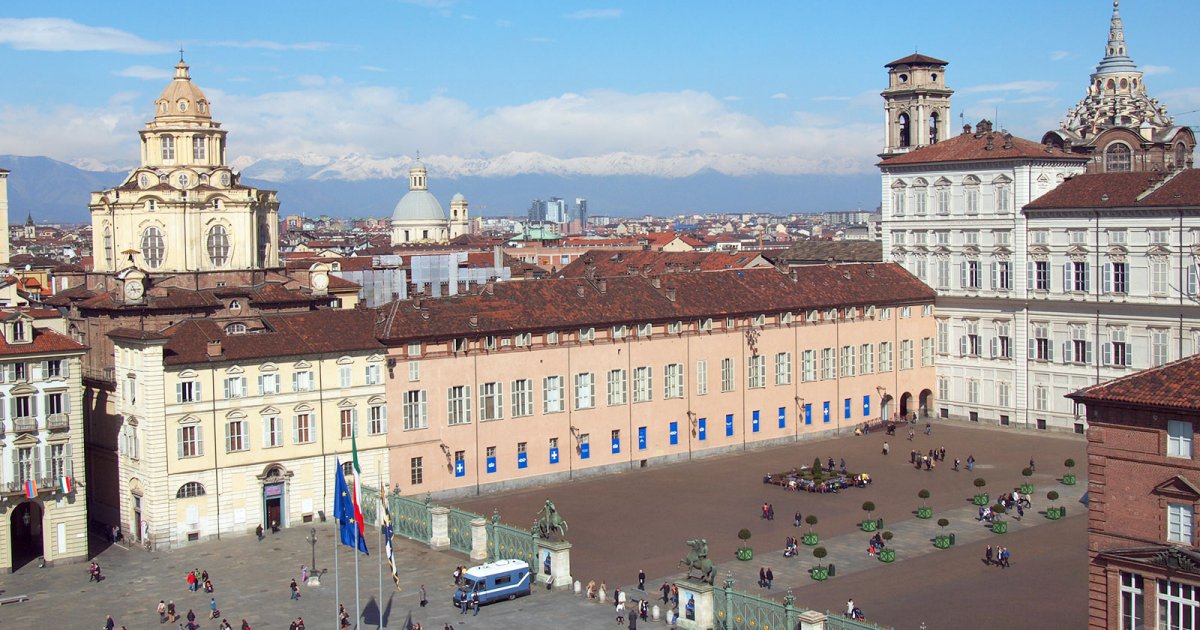 Audio File length: 2.32
Author: STEFANO ZUFFI E DAVIDE TORTORELLA

Language: English / USA
Continuing on our rounds of Piazza Castello, go to the beautiful 19th century gate that divides the square from the Royal Palace, behind whose sober façade you can see the dome of the Chapel of the Shroud of Turin.
Immediately after you'll see Palazzo Chiablese, which when seen from the square seems pretty bare, but if you admire it from the Cathedral on the other side of the entrance hall, you'll find both the exterior and the first floor's halls much more glitzy. The ground floor often welcomes beautiful exhibitions of ancient and modern art.
The Royal Palace Complex that extends from the wings of the Library and Armory reaches the arcade that closes the wing of the gardens. Walking along you'll reach the façade of Regio Theater. The 18th-century building was almost completely destroyed by a fire in 1936: some of its surviving parts are connected to the State archive's palace that's also from the 18th century. The current theater was reopened in 1973 and is a beautiful example of functional architecture, with excellent acoustics.
The beautiful Via Po begins here, which was traced in the second half of the 1600s; like a rich aristocratic scene, it diagonally divides the quarter and is one of the few exceptions in a city where the streets almost always intersect at right angles! With its symmetrical buildings with porticoes, the street takes you toward the river and finishes in the large Vittorio Veneto Square.
Continuing our tour of Piazza Castello, pass in front of the rear façade of Palazzo Madama, which has kept its appearance of a 15th century castle with brick towers and Gothic windows. It is surrounded by large bronze monuments that remind us of the Savoy's Army Corps.
The side of the square to the right of Via Po is the most lively, and offers many cafes and shops where you can take a nice break. An elegant nineteenth-century tunnel connects the square with one side of Palazzo Carignano. At the opposite end of the square you can see a skyscraper, which is the only unmatched part of the square compared to the rest of its ambiance and proportions: it was built with the typical Italian rationalist style of the 1930s.
FUN FACT: Emanuele Filiberto of Savoy gave Palazzo Chiablese to his mistress, Beatrice Langosco. The legend says that the Duke would frequently visit her father, who was the Grand Chancellor of the Savoys, to bring him documents to be studied. And while her father studied, the Duke would pass his time with the beautiful Beatrice.