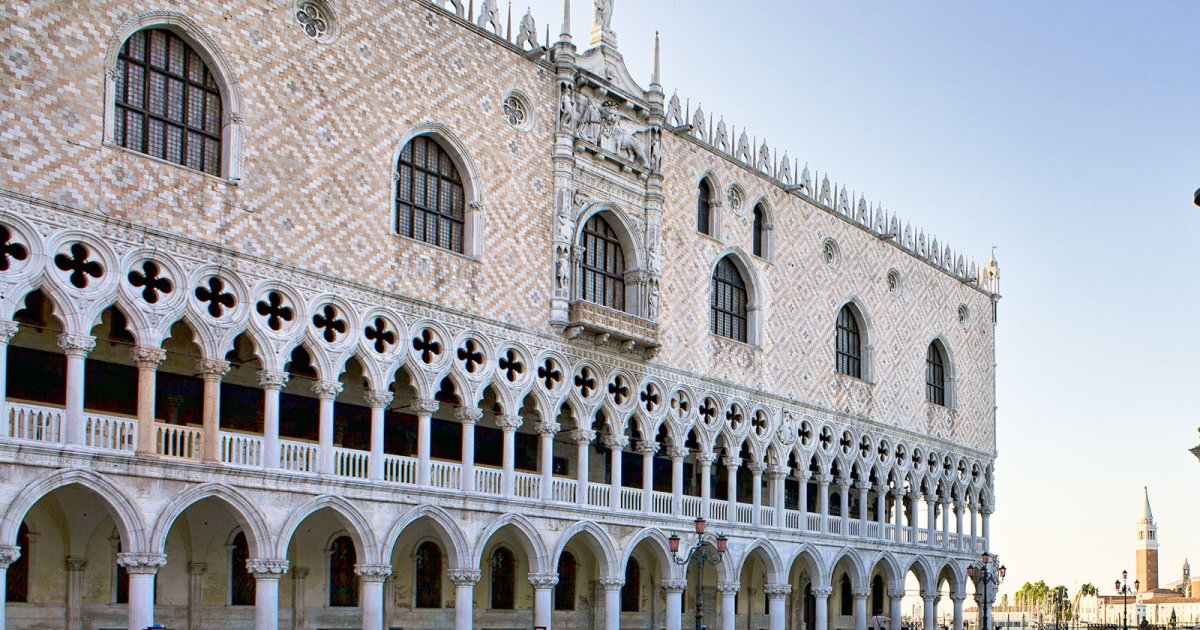 Audio File length: 2.38
Author: STEFANO ZUFFI E DAVIDE TORTORELLA

Language: English / USA
Hi, I'm James, your personal guide. Together with MyWoWo, I'd like to welcome you to one of the wonders of the world.
Today I'll accompany you through the Doge's Palace, which is one of the strongest symbols of Venice!
As you can see, it has a perfect position between the waters of St. Mark's basin and the monumental area between the Piazzetta and the Pier. For the over one thousand years of the Republic of Venice's existence, the Doge's Palace was the center of power: it was the doge's home, the government's center, and the hall of justice. You'll find few buildings in the world that can rival this level of art, architecture, and glitz.
I suggest admiring both sides of its exterior first before visiting its interior. It will be like plunging into the history of Venice, the queen of the seas!
You should know that the Doge's Palace was founded 12 centuries ago in a strategic area: near the sea and next to the basilica of the city's patron saint. Imagine it as originally being like a castle with high defensive walls and four towers. After several medieval reconstructions, in the middle of 14th century it was completely rebuilt according to a design by architect and sculptor Filippo Calendario: the construction work lasted about a century.
As a representative building of the city, it had to have rooms that were suitable for a great number of meetings, and an imposing structure that was at the same time innovative and special. The result is a perfect example of uniqueness, in line with the miracle that is Venice: a palace built almost "upside down", with the lighter loggias on the bottom and the bulkier part on top.
The exterior has kept the same 14th/15th century appearance, while the interior had to be rebuilt in the second half of the 1500s. In fact, a frightening fire destroyed an entire wing, including the palace's largest hall. Just think, entire centuries of glory went up in smoke in one night, including masterpieces by Titian and Giovanni Bellini.
Even though Andrea Palladio, the official architect of the Republic during the time, proposed to rebuild it with a late-Renaissance Classic style, it was instead decided to restore the exterior of the building and decorate the interior with completely modern furnishings.
FUN FACT: as incredible as it may seem, the entire Doge's Palace rests on a kind of large raft of larch logs, which is covered with an Istrian stone base. Incredibly, all the palaces in Venice are built this way.