ST. MARK'S, Cathedral - Exterior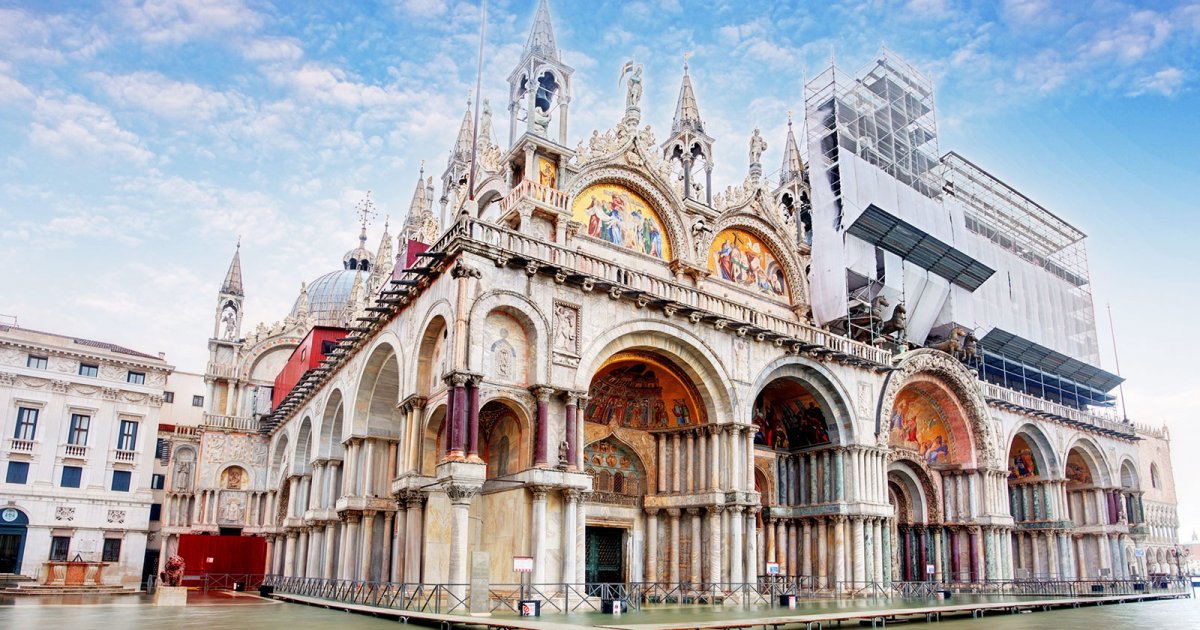 Audio File length: 3.00
Author: STEFANO ZUFFI E DAVIDE TORTORELLA

Language: English / USA
If you want to physically witness the absolute singularity of Venice and its cultural and historical position as a splendid capital on the border between the East and West, you couldn't choose a better building than the patron saint's cathedral.
You should know that St. Mark's wasn't originally the cathedral of Venice, but "simply" the chapel attached to the Doge's Palace. It was founded not only for the functions associated with the doge's activities, but above all to guard the relics of the evangelist Mark, which were transported here from Alexandria in the year 828.
The construction and decoration of the basilica continued for eight centuries up to the 17th century, while always maintaining the original layout with a square cross shape, domes, and a portico at the entrance. If you look at the architecture, mosaics, and sculptures, here and there you'll recognize Byzantine, Romanesque, Gothic, and Renaissance parts. Still, despite the abundance of marble, arches, and balconies outside, and the golden mosaics that completely cover the interior, the great church appears harmonious and united. The large façade with balconies perfectly concludes the square's scenery, and in a grand way.
Perhaps not even true Venetians can say that they really know all the cathedral's treasures: from its ancient statues to the secret geometries of its inlaid floor, it's an uninterrupted series of wonders of painting, sculpture, and goldworking.
So let's begin to look at these wonders, starting with the four emperors called the tetrarchs that embrace each other at eye level at the corner of St. Mark's and the Doge's Palace. These porphyry statues were made at the beginning of the Middle Ages and are the moving symbol of the end of the ancient world, but are also the most famous among the antiquities placed outside the cathedral, which collects and in a sense recycles the fragments of the dissolved empires of the East and West. Columns, pillars, capitals, disks, slabs, fretwork, reliefs of various origins have all been brought to Venice from the cities of the late-ancient Mediterranean era. If you get close enough, you'll be able to admire the amazingly high quality of the late-Gothic sculptures that adorn the façade's crowning: busts of prophets, bunches of foliage, and figures of patron saints.
FUN FACT: the façade's mosaics have been renovated several times, except for the lunette on the far left depicting the relocation of Saint Mark's relics. Here you can see what the cathedral looked like in the 1200s, and see the four bronze horses on the balcony which came here after the famous plunder of Constantinople at the beginning of the century.