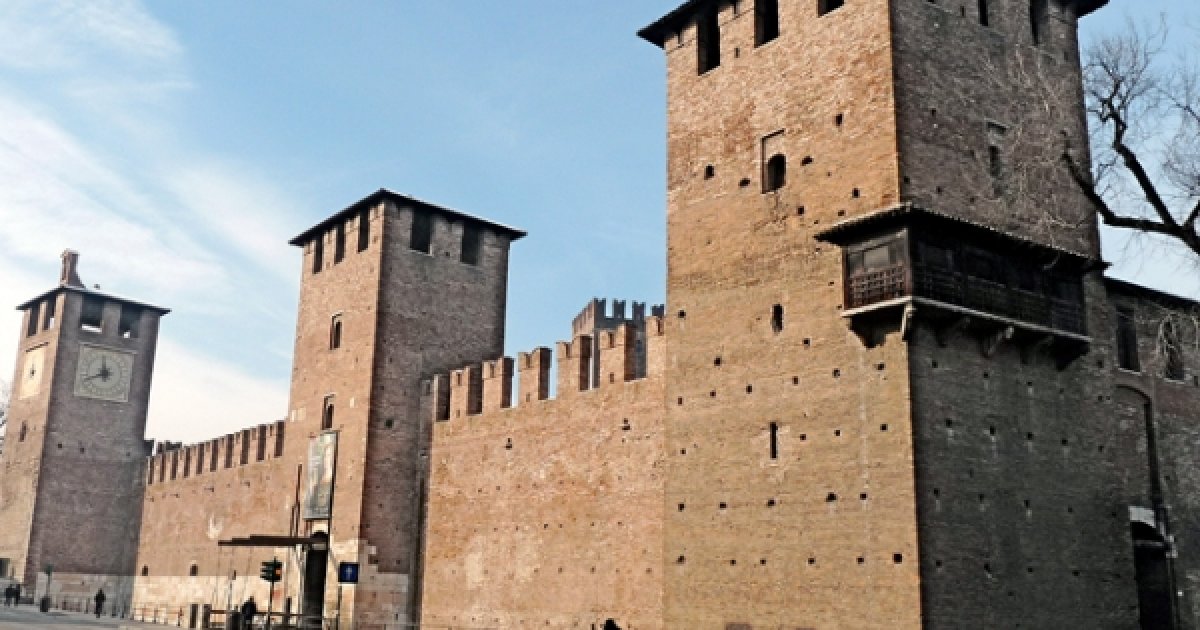 Audio File length: 2.47

Language: English / USA
Hi, my name's Rick, and I'm your personal guide. Along with MyWoWo, I'd like to welcome you to one of the Wonders of the World: Castelvecchio, in Verona.
Castelvecchio is an impressive medieval castle that takes us back to the time of the Scala family, the ambitious Lords of Verona who ruled over the city in the 14th and 15th centuries.
Three sturdy stone towers facing the city and long rows of merlons distinguish the fortress, built in 1354 both for defensive purposes and as a noble residence. One of the city's most important monuments, the castle sits along the banks of the Adige, straddling the city walls, built the previous century.
Walls divide Castelvecchio into two parts: on the right, the rectangular place-of-arms forms the larger courtyard; on the left, the residential part, protected by two rings of walls. The central area is dominated by the entire building and the highest tower, the main architectural feature of the whole complex. The magnificent three-arch Ponte Scaligero bridge rises across the Adige River from the tower.
This fine example of fourteenth-century civil and military engineering is an integral part of the castle's defense system. Open to pedestrians only, it offers splendid views over the river.
Following its initial period of splendor in the 14th century, Castelvecchio experienced a troubled history. With the fall of the Scaliger dynasty, it was dismantled and turned into an ammunition depot, and later, into barracks.
General restoration work began in 1923, involving the repair of the sections that had fallen into ruin. Gothic porticoes and windows taken from buildings damaged when the Adige flooded the city were added.
Since then, the castle has housed the Civic Museum and other cultural institutions.
In January 1944, the castle witnessed a dramatic historical event: the trial ordered by Mussolini of a number of leading figures of the Fascist regime (including his son-in-law, Galeazzo Ciano), who were executed on the charge of treason.
Bombed during the war, Castelvecchio remained sadly empty for over 10 years. Exemplary restoration and reorganization work began in 1957, under the direction of Carlo Scarpa, a genius of museum design.
An interesting fact: In 1945, when the Second World War was almost over, the Ponte Scaligero bridge was blown up by the retreating German army. It was reconstructed with the original materials, recovered from the riverbed.