CASTELVECCHIO, Museum Part I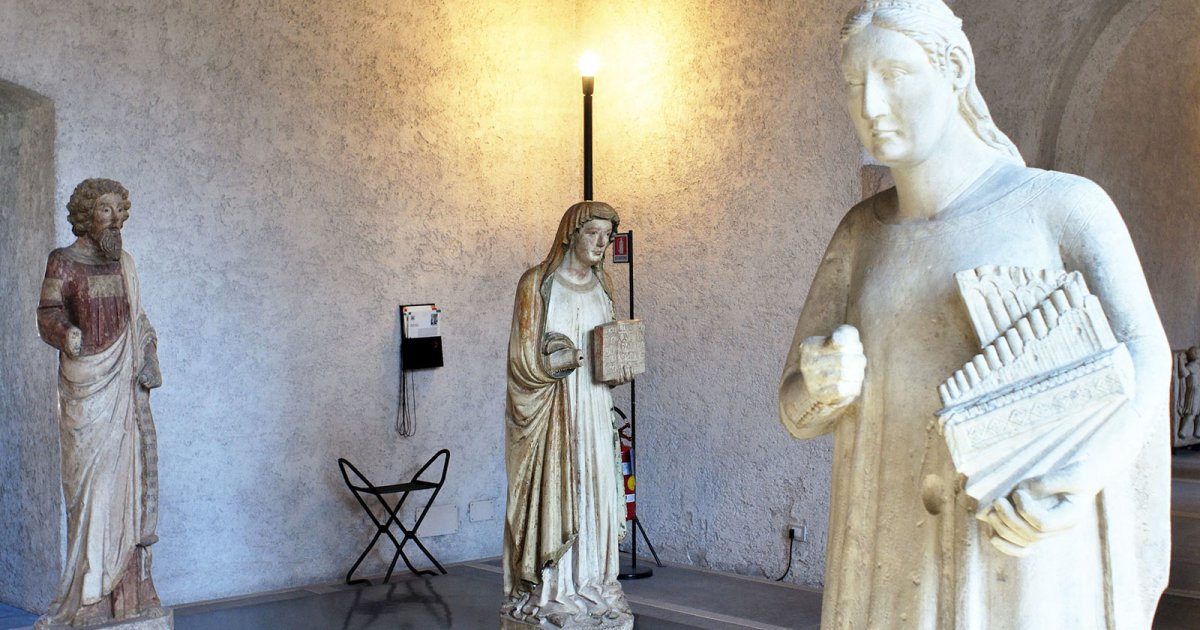 Audio File length: 3.07

Language: English / USA
Castelvecchio Museum boasts a large, impressive collection of artworks from Verona throughout the centuries, from the Middle Ages until the end of the 18th century.
The ground floor is dedicated mainly to sculpture, and the upper floor mainly to painting, but some noteworthy examples of the applied arts are also present.
The visit begins with the sequence of rooms that start with a number of fine goldsmith works from the Longobard period, and are mostly dedicated to Romanesque and Gothic monumental sculpture. Of particular importance are the large stone sculptures from the 14th century and the golden age of the Scaliger dynasty.
The splendid figure of Saint Cecilia, displayed with her back to visitors to show off her long plaits, is one of the symbols of the museum.
At the end of this series of rooms, press pause and go to the beautiful rooms of the Reggia Scaligera, the Scaliger family residence, with windows looking onto the Adige and the remains of decorative frescoes on the walls.
The Late Gothic works from the 14th and 15th centuries mark the start of the part of the museum dedicated to painting, offering an exceptionally complete overview of the evolution of this art in Verona and in the Veneto. In the larger rooms, you can admire some particularly striking frescoes and large paintings, but perhaps the finest, most beautiful works are to be found in the smaller rooms behind them.
Now press pause and press play again when you reach the Pisanello Room:
The Madonna of the Rose Garden, a wistful work painted on a gold background, is especially delightful. It was probably painted by Michelino da Besozzo from Lombardy, with the Madonna sitting in a garden, surrounded by busy angels picking roses. This work bears comparison with another fine painting, the Madonna of the Quail, an excellent example of works painted by Pisanello in his youth.
Both of the works have a fairytale-like quality, although they feature details, flowers and animals taken from nature.
Other animals, depicted in a rocky landscape, can be observed in the important Saint Jerome in Penitence by Jacopo Bellini, the father of the famous family of Venetian painters.
An interesting fact: in November 2015, 17 works – including some fine paintings by Pisanello, Mantegna, Tintoretto and Rubens - were stolen from the museum. Thanks to a complex international investigation, they were all tracked down, fortunately undamaged, in Ukraine and Moldova, and the thieves were arrested, together with the museum keeper, who had supplied them with inside information. The works were returned to the museum just before Christmas 2016.